The flexibility of a cryptocurrency like Bitcoin (and its smallest unit, the Satoshi) shines especially in gambling, where risk is lowered significantly thanks to the digital coin.
By allowing you to play with tiny amounts of money, known as Satoshis (0.00000001 Bitcoins), BTC is not only flexible but absolutely worth looking into for gambling.

Three key benefits are:
Allowing you to bet just 1 Satoshi as a starting point.
Risk being lowered significantly during a wager.
Giving you choice, unlike traditional casinos.
With so much of the traditional casino scene focusing on asking lots of money upfront to trade in with chips (100s of $ in cash), cryptocurrencies have flipped the coin on its head.
Wager as much as you want—that's the rule in crypto.
And that's why Satoshis are great for gambling.
The 3 Major Benefits of Gambling with Satoshi
Also known as micro gambling, using Satoshis as a way to play casino games is a reality no one would have predicted a few years back. Yet the benefits are clear…
Especially if you're a beginner and need to get your feet wet with game concepts, there's no need for you to purchase fake casino sets, gather friends, and "pretend" you're gambling.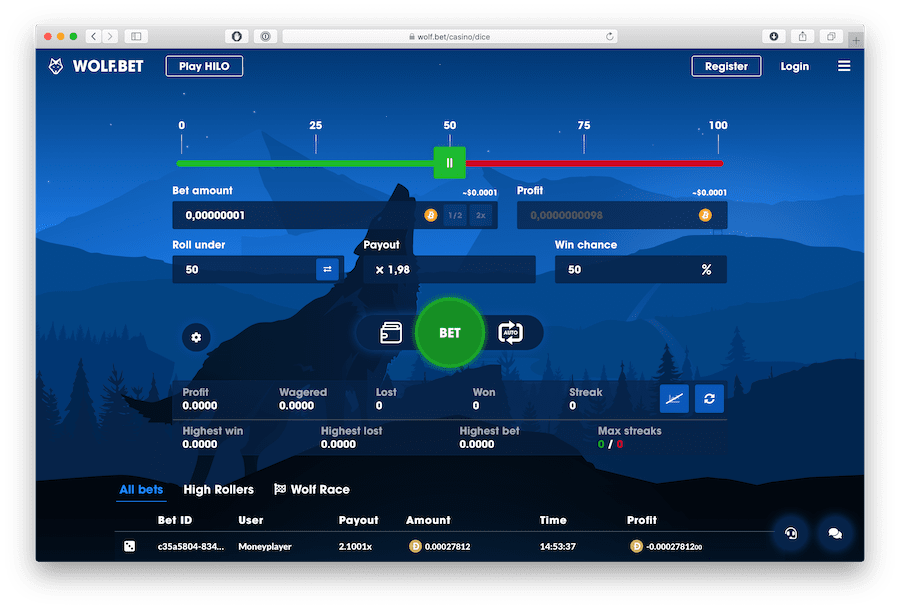 Satoshis lower the risk to a fraction of what it used to be…
So you can play the real thing from the get-go!
Also, Satoshis are fairly simple to acquire thanks to some Bitcoin faucets still giving out decent amounts of them in exchange for watching ads and completing some actions.
Benefit of Satoshi Gambling #1: Wager as Low as Your Heart Desires
Playing at a casino like Wolf.bet, you can literally wager as little as 1 Satoshi (or 0,00000001 BTC) and learn about the mechanics for games like Dice, Hilo, and Limbo.
This gives you the flexibility to learn about potentially high-risk features like Auto Bet without much of a risk. Just bet 1 Satoshi with your chosen autobet strategy and learn as you go.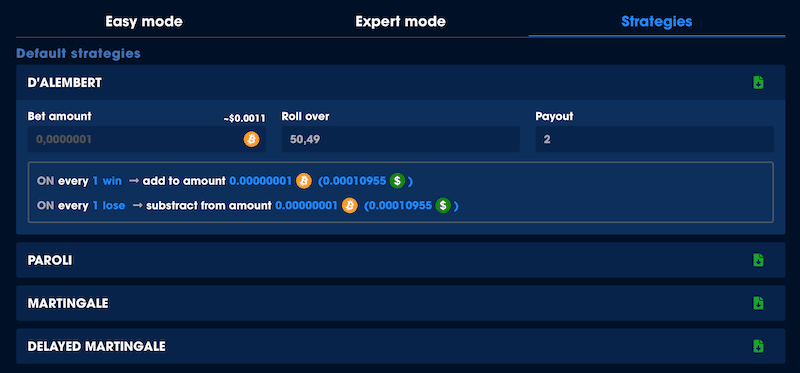 Of course, you won't get much out of betting Satoshis. The maximum multiplier in Dice is x9900 but it's not that easy to land and—even if you do—you still get little in return.
Wagering with small amounts of Satoshi is a beginner tactic.
For example, you could grow your BTC wallet this way:
Use a high-paying Bitcoin faucet to cash out some Satoshis
Deposit BTC to your Wolf.bet account to get started
Start playing with small amounts of Satoshi
Aim for 2 to 5x multipliers in Dice
Start leveraging autobetting
If you can find a strategy that consistently delivers, you can keep wagering low amounts of BTC until you hit the next threshold. Say, going from 0,00001 to 0,0001 BTC.
That's nothing to sneeze at as you're first starting out since the rules of gambling will apply just the same way if you were betting much higher quantities.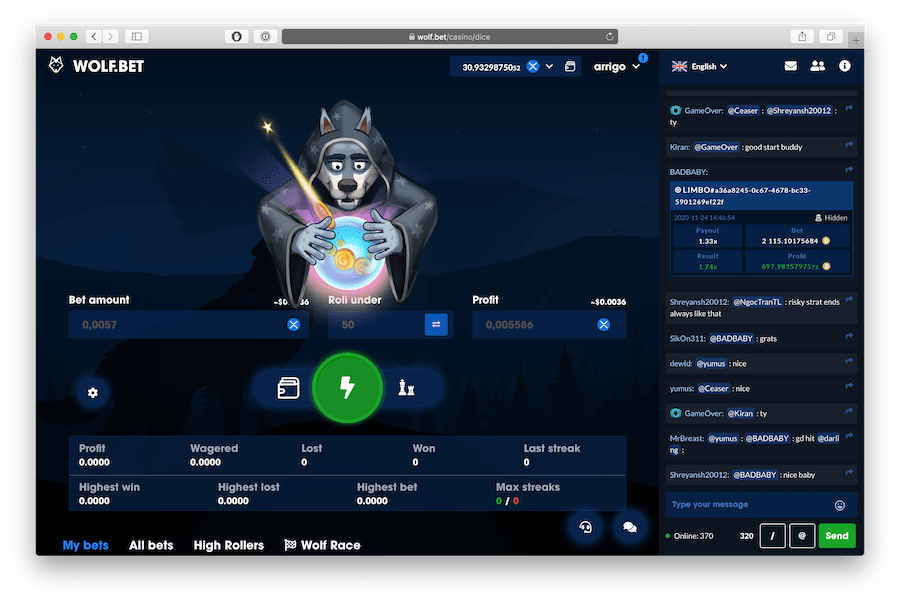 As you get more comfortable with how Satoshi gambling works, you can increase the minimum bet to at least 10 Satoshis and use a feature known as Flashbet to speed up autobetting.
The less Satoshi you use, the higher you want your multiplier to be. We recommend starting with manual betting first, then auto betting with low roll limits, and finally Flashbet.
Benefit of Satoshi Gambling #2: Lower Risk to the Bare Minimum
You can't go lower than wagering with Satoshi in the gambling scene. It's the lowest barrier to entry, and it significantly lowers the risk of losing money when you wager Bitcoin.
Remember that many games like Bitcoin Dice and Hilo are games of both luck and strategy. The randomness factor does play a role, but you can win by outsmarting the house.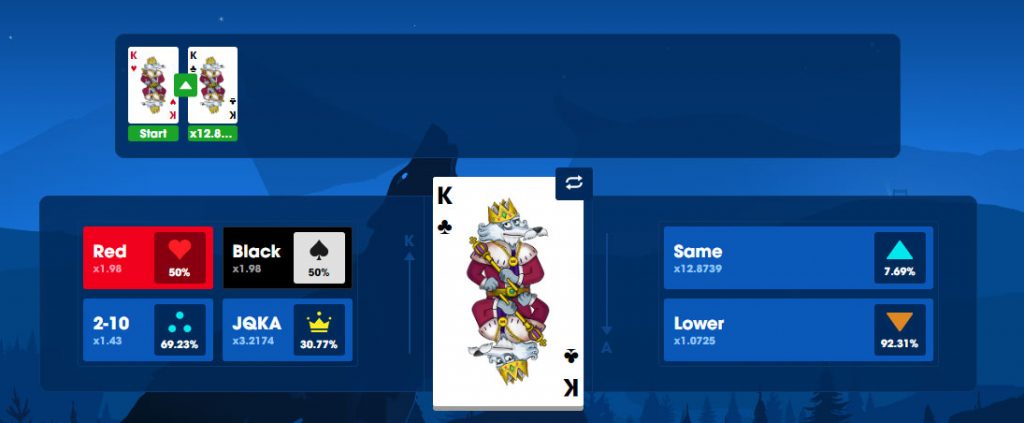 For example, you can implement a few strategies in Higher or Lower (Hilo in short) to get a better chance of winning big against the house. Luck will do the rest.
By lowering your risk to just 0.00000001 Bitcoin, you can pretty much make any bet with the confidence to know that you're not going to lose any significant amounts of money.
Benefit of Satoshi Gambling #3: Choose Your Style of Play
Traditional casinos have always forced your hand in how you play by giving you chips rather than letting you bet directly in your FIAT currency, whatever that may be.
With crypto, you're looking at the opposite.
Bitcoin lets you choose your style…
Manual, slow, and steady? Check.
Fast-paced but with low wagers? Check.
Fully automated with bet % increases? Check.
There's so much you can do with Satoshis in terms of play style, and the way that it works gives you total control over win chances, payout multipliers, and bet amounts.
Sounds like a win?
We think it is.
---
All of these benefits while still spending quality time gambling: you experience the adrenaline rush, the will to fight for a big win, and the time flying by as you have lots of fun.
Satoshi Gambling: Where To Play with Small Bet Amounts
Many crypto casinos will offer Satoshi gambling as a way to help beginners get started, but features are often locked away if you want to play the full experience.
Websites that mimic traditional casinos but offer crypto as a payment method generally err towards the so-called milliBitcoin, or mBTC (0,001). But that's a lot for new players.
1 mBTC = 100000 Satoshis = ~$20
1 uBTC = 100 Satoshis = ~$0.02
… where uBTC stands for microBitcoin.
You see, betting with mBTCs carries decently high risk. Whereas betting with uBTCs is still extremely low in terms of risk… But you still have Finneys and Satoshis.
(A Finney is only 10 Satoshis, and we love them at Wolf.bet)
In fact, you can run Flashbets with as low as 1 Finney.
So don't get fooled by casinos trying to upsell you on mBTCs or uBTCs. You can absolutely start with Satoshis, you just won't get much out of it and will eventually grow tired of them.
At Wolf.bet, you can bet any amount, lower your risk, and choose any play style. It's the best place to gamble with Satoshi, and a place where you can do so as much as you want.
Join the wolf pack and start gambling with Satoshi today.
(We even give you free BTC the more you play!)