Shortly after Satoshi Nakamoto introduced Bitcoin in 2009, several Bitcoin faucets with payouts as high as 5 BTC per hour went live.
At today's prices, that's about $80,000 (!!!).
While Bitcoin faucet payouts aren't what they used to be, you can still depend on them as an "easy" way to earn small amounts of BTC, especially if you're just getting started.
The way faucets work is simple: perform a quick micro-task such as watching an ad or clicking captchas and, in return, you'll receive instant rewards in Bitcoin.

Although they are known for their simplicity, choosing a good faucet can get complicated. Below, you'll find our pick for the best, highest paying Bitcoin faucets for 2021 and beyond.
Finding a Bitcoin faucet that isn't full of scammy malware, low payouts, and affiliate links can be challenging. With BTC prices rising, there are now more faucets than ever before.
This makes the search for a legit faucet even harder.
But one of them has stood the test of time…
Moonbit.co.in is one of the oldest and most trusted Bitcoin faucets, coming into the scene way back in 2014. Today, the site still focuses on quick payouts without withdrawal fees.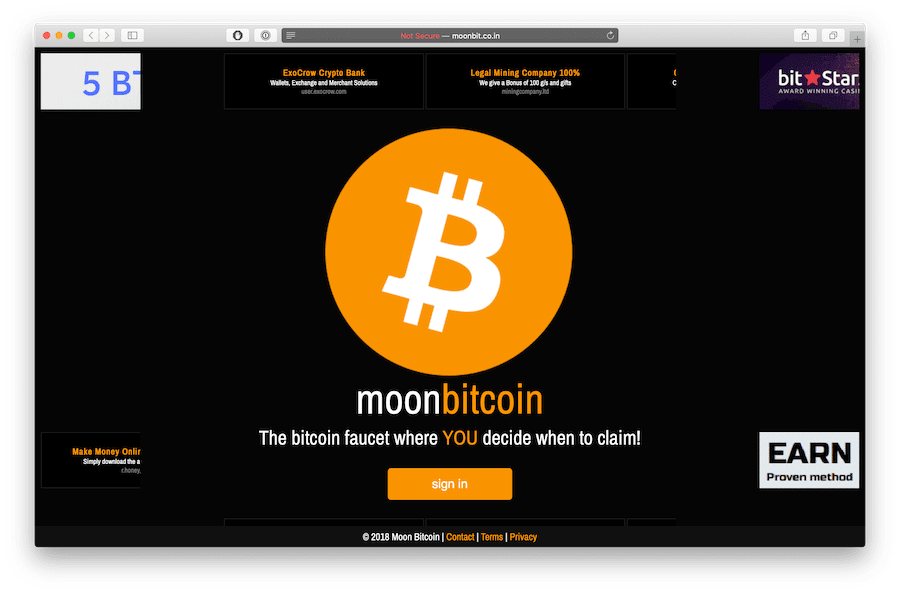 Even when other faucets advertise higher payouts, Moonbit.co.in guarantees that you're getting at least something out of your time spent on the website.
No hidden fees whatsoever.
As you click through ads to reach the roll button, the amount of satoshis populating your BTC is exactly what you withdraw, making it by far the highest paying Bitcoin faucet.
Users averaged earnings of 317 satoshis during daily tests compared with 300 or less using other trusted Bitcoin faucets. The longer you keep at it, the higher the earnings.
Here are some of the best features Moonbit.co.in offers:
Free withdrawal: This is a big deal. Withdrawal fees are usually where you end up losing most of the advertised payouts on other sites. Moonbit.co.in offers free withdrawals, so you earn exactly the BTC amount you see displayed.
Fully integrated wallet: Earn and withdraw BTC directly to the wallet created at sign up. It's secure enough to accumulate the digital coin without having to worry too much, but since transfers are free, there's no penalty for withdrawing!
Passive income: You don't have to sit on Moonbit.co.in all day long, clicking thousands of ads to increase your take. The less often you claim your Bitcoin, the higher the payout becomes, with a 500% upper limit.
Bonus galore: On top of the 500% increase in payouts for delayed claims, Moonbit.co.in offers several bonuses. Daily loyalty bonuses, referral bonuses, offer bonuses, and mining bonuses all give opportunities to up your earnings.
Unlimited claims: Many Bitcoin faucets place limits on how many times you can claim BTC per day. With Moonbit.co.in, you can claim as many times per day as you want—no limits. You only get a higher BTC payout if you claim less often.
Thanks to its long-standing presence on the web, Moonbit.co.in was able to establish itself as the default Bitcoin faucet. Sure, the design isn't pretty, but we can't complain.
Not many faucets can offer such a feature list after all… However, just in case you're curious about some alternatives, we have some of the highest paying listed below.
The Highest Paying Moonbit.co.in Alternatives
In 2021, you're spoiled for choices when it comes to "high" earning Bitcoin faucets. While Moonbit.co.in is our pick for the best, here are some solid alternatives: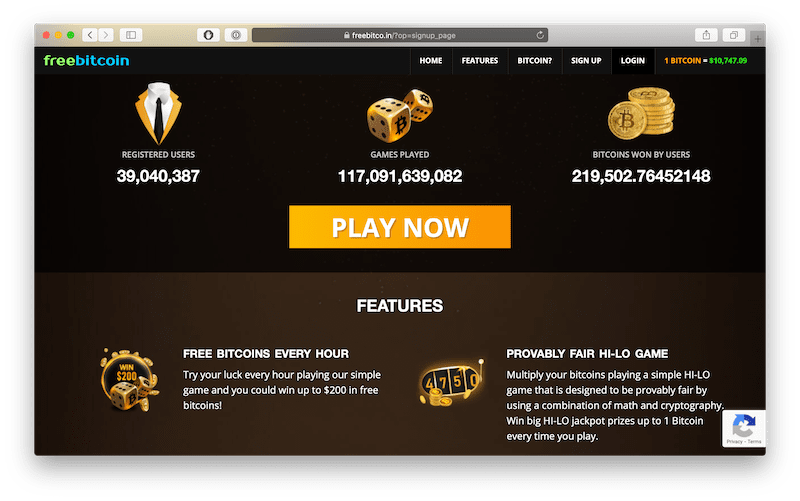 As a long time favorite among Bitcoin enthusiasts, Freebitco.in has amassed quite a following. It's a trusted BTC faucet that runs a provably fair operation with decent payouts.
Unlike Moonbit.co.in, it lacks an increasing payout option for waiting to claim your BTC which is why it's not as compelling of an option.
Otherwise, it's still a fairly solid faucet!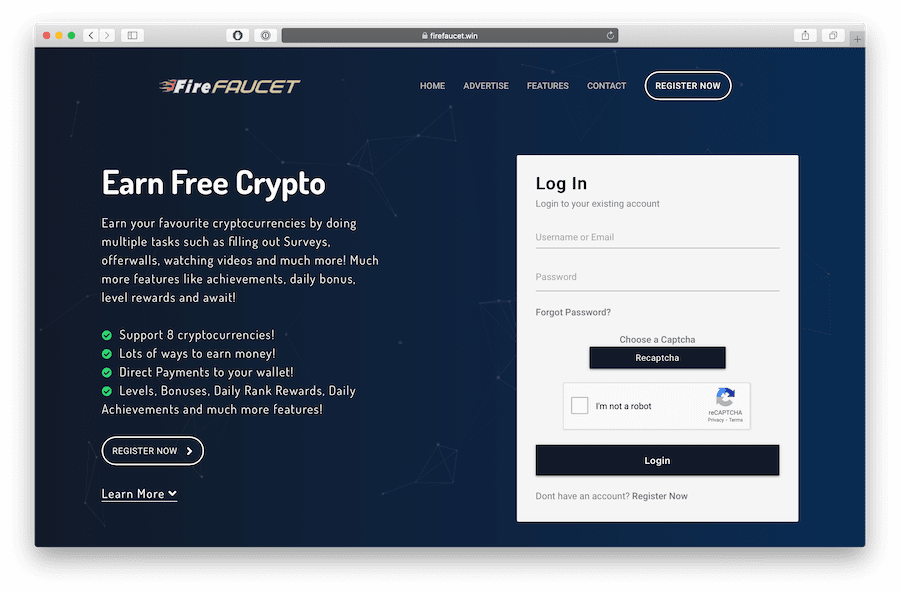 Fire Faucet is an automatic BTC faucet that claims and deposits the coin in your wallet. With a built-in bot that does the work for you, Fire Faucet is an interesting proposition.
The model is a win because you can literally earn Bitcoin while you sleep. The downside, as you might expect, is that the BTC payout isn't as high as other faucets.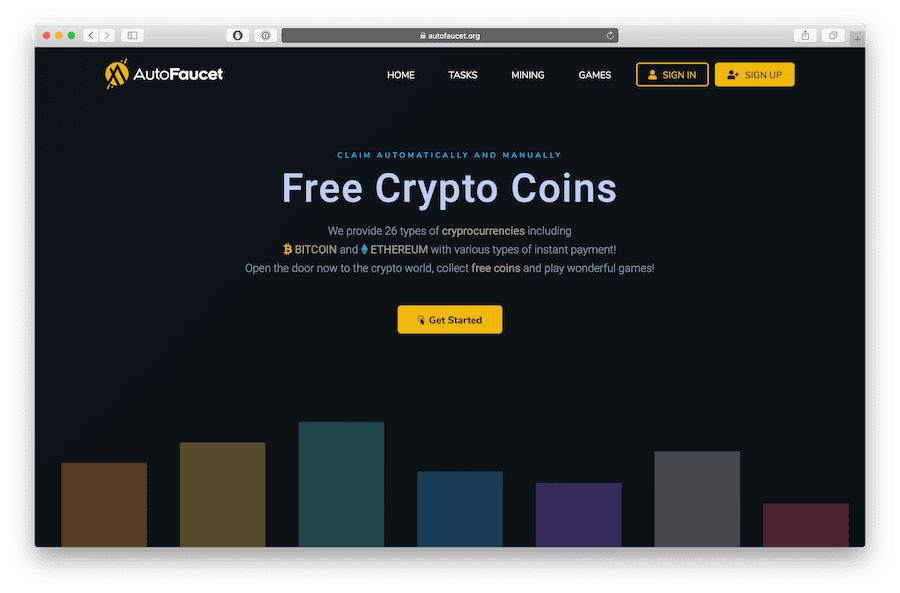 Similar to Fire Faucet, Auto Faucet allows you to automatically claim BTC using a built-in bot. Set the faucet to "auto claim" along with how often it should claim.
Boom, you're done!
Auto Faucet offers a wide array of cryptocurrencies outside of Bitcoin—a nice feature if you want to diversify your crypto holdings and experience other types of coins.
---
While you should manage your expectations with Bitcoin faucets, the ones shown above are, by far, the highest paying we've found around the web.
If you're interested in a more practical solution to increasing your Bitcoin wealth than using faucets, we have an alternative that may be perfect for you…
The Perfect Alternative to Bitcoin Faucets
Faucets are an excellent way to get started with Bitcoin, but you shouldn't expect to get rich on these ad-riddled websites. They're great for beginners but become tiresome.
The next logical step?
Multiplying your faucet withdrawals.
Turning your 1000s of satoshis into 100K+ isn't impossible to think of. This can all be achieved with games like Bitcoin dice. Who knows, maybe you'll even rake up 1 BTC.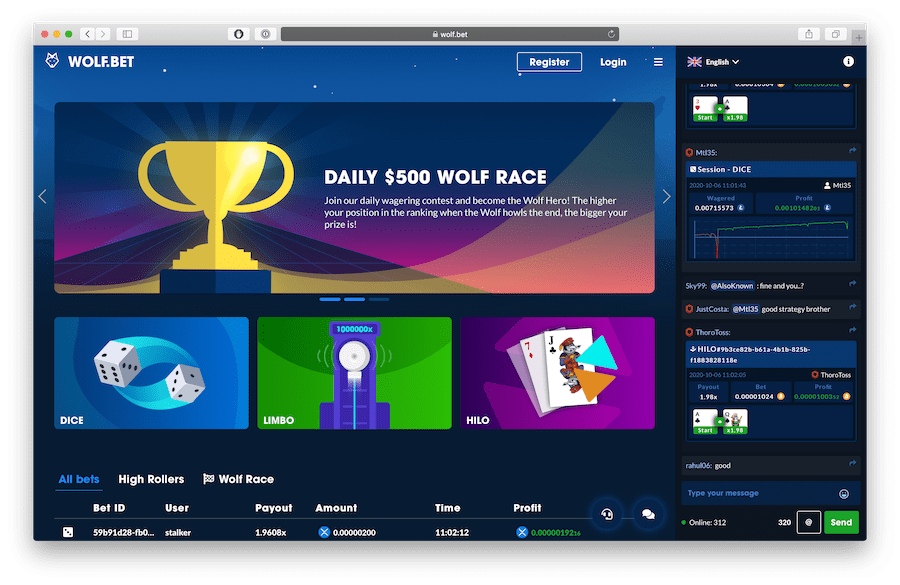 With a bit of ingenuity and patience (and using the appropriate strategies), you can turn faucet earnings into a source of passive income. All of this while having tons of fun.
On top of dice, there are other games you can play with BTC:
Hilo: a card game where you have to guess whether the upcoming card is higher or lower than the card currently displayed (strategies apply here too!).
Limbo: a game similar to Dice but with the possibility of achieving much higher multipliers. All you need is the right combination of luck and ingenuity.
And if you're a bot aficionado, the autobetting features offered will give you much more satisfaction than any of the Bitcoin faucets currently available on the market.
So, which game will you start with?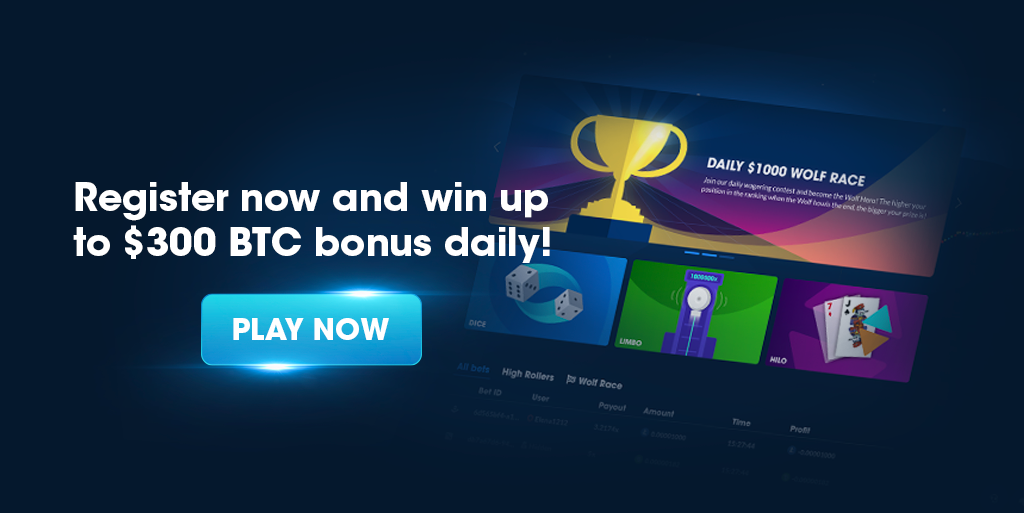 ---
Frequently Asked Questions
What is a Bitcoin faucet?
A Bitcoin faucet is a website or web/mobile application offering free Satoshis (the smallest unit of Bitcoin) in exchange of actions such as clicking on ads, downloading other apps, or playing some games. These can vary in use case and offer many different feature.
Are Bitcoin faucets profitable?
No, they're not. You can make a few dollars' worth of money if you stick to using them for a while but you should manage your expectations. When we say "highest paying," it's compared to other faucets… You can only gain so much with clicking a few ads!
What is the best live Bitcoin faucet?
The best Bitcoin faucet currently live is Moonbit.co.in. Even though its interface is outdated and it hasn't been updated in a while, it still works and does its original job: giving Satoshis out for free. And yes, you can make some of them with this faucet, just not that many.
Is there a Bitcoin faucet that pays the most?
There are quite a few faucets that are viable for Bitcoin beginners: Moonbit.co.in, Freebitco.in, FireFaucet, and Autofaucet. Check out the article for a more in-depth explanation of the faucets' features and how they can benefit you.