Bitcoin faucets are rich in digital currency history, starting as a legit way to promote the use of cryptocurrencies and spread the word specifically about Bitcoin.
It's Bitcoin Foundation's founder Peter Vessenes that built the very first Bitcoin faucet after developing a simple site that would pay as much as 5 Bitcoin at once.
(That would amount to about $45K today!)
Although back then, Bitcoin wasn't nearly as popular as today.

Time passed since the original faucet was released in 2010, and Peter's honest legacy has waned into all kinds of improbable takes on the faucet model, including tons of scams.
So, the question stands strong to this day…
"Are Bitcoin faucets legit and worth my time?"
What Is a Bitcoin Faucet Anyway?
A Bitcoin faucet is a website or app that gives you "free" Bitcoin in exchange for watching ads, completing captchas, playing games, or doing other actions that favor the vendor.
They're essentially a way of hogging internet traffic by promising free money when, in most cases, you'll only get tiny portions of Bitcoin equating to cents of traditional currency.
A faucet can present itself in many ways:
An app you can install on your phone;
A random website popping up in your Google search;
An integrated plugin on web platforms such as WordPress, or;
Some sort of fake crypto wallet promising a constant Bitcoin drip-feed.
While the first three options can be legitimate, you should always steer away from the last one. These are absolute scams as they ask you to purchase and deposit crypto on their behalf.
Even then, legit faucets aren't that much better…
Most are infested by spammy advertising.
If you want to know whether you should take the first step with a Bitcoin faucet, it's worth knowing that there's a default answer to 90% of the cases…
Why Bitcoin Faucets Aren't Worth Your Time
Before we even get to discussing the various Bitcoin faucets and how they operate, you should know that—in the long-term—they are absolutely not worth your time.
There you go, question answered.
But, as all things go, there are a few things to consider. If you've landed on this article, it's probably because you don't have much experience with crypto yet.
In that case, welcome!
This is a good place to start on crypto culture.
The big reason why faucets have become a thing in the first place is that crypto is still new to many people (millions who could potentially get on board soon!).
But where do you start?
Should you turn your hard-earned cash into a currency you have no acquaintance with and which most of the shops you visit don't even accept?
Most people aren't happy with that proposition.
And that's exactly why faucets exist…
Legit Faucets Are a Gateway Into Bitcoin
For the uninitiated (i.e. people who still haven't opened a crypto wallet and barely know what crypto is), faucets are a good way to start playing around with small amounts of Bitcoin.
This, among other use cases, is the only time a faucet is worth it. But you have to pay attention because, in a sea full of people who are just starting out, there are also tons of sharks.
(Scammers, that is.)
You should only sign up to a faucet if:
You've heard of Bitcoin but never really jumped in;
Acquiring tiny amounts of Bitcoin sounds like a good proposition;
You have some time on your hands (hours upon hours), and;
You've done your research on scams and potential threats.
While the first three points are easily solved, we'll spare you the time on the fourth one (you'll need as much as you can to make anything out of a faucet!) and give you the answer.
3 Bitcoin Faucets You Can Trust
While most faucets died over the years, there are a few that stood the test of time and which are somewhat profitable thanks to various different features implemented.
Let's look at three legit Bitcoin faucets that you can trust…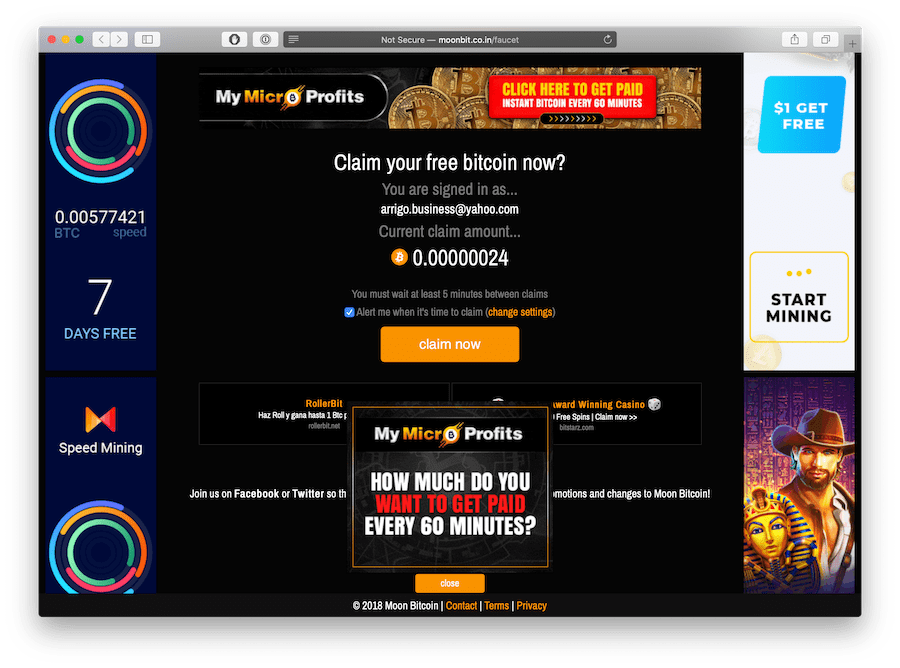 Pretty easy to set up and start with, Moon Bitcoin is one of the original faucets which stood the test of time since its early days in 2014 (the pitch hasn't changed much!).
Moon Bitcoin comes first in the list because it's the fastest-paying faucet in the game thanks to its direct integration with Coinpot—a so-called "microwallet" you can actually trust.
Unlike Free Bitcoin (below), Moonbitcoin doesn't have any fees on transfers so you always make what you see on the screen, even if it usually amounts to a few cents.
Every five minutes, you get a chance to claim more Bitcoin by clicking the orange button buried beneath dozens of advertisements… At least it actually pays something!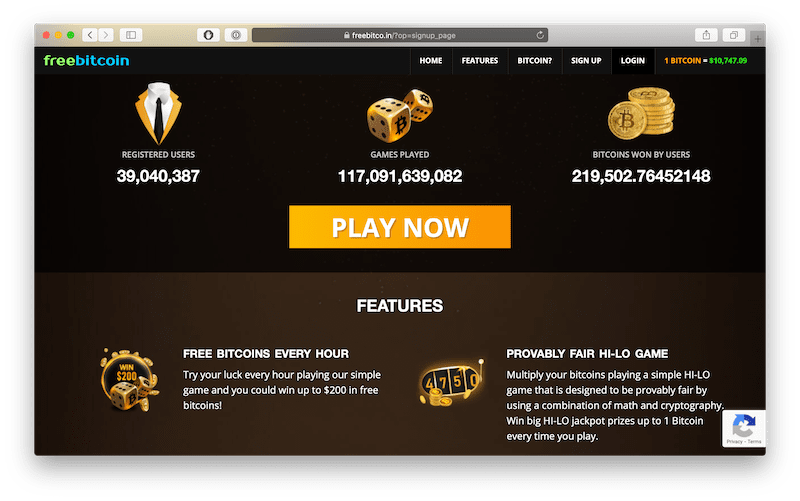 Similarly, Free Bitcoin offers a way to claim small amounts of BTC based on a random number generator that works a bit like our Dice game (but a lot less fun and intriguing).
It's a neat way to make some Satoshis (the smallest unit of Bitcoin) but it effectively equates to gambling without all the features of a modern crypto casino like Wolf.bet.
If you're into waiting one hour apart to gather 0.00000019 BTC every so often (the odds of winning any higher option are close to none), Free Bitcoin is your top choice.
But in all other cases, it's much better to go with a casino game like Dice. Both are provably fair, but Dice will give you hours of real entertainment instead of clicks, clicks, and more clicks.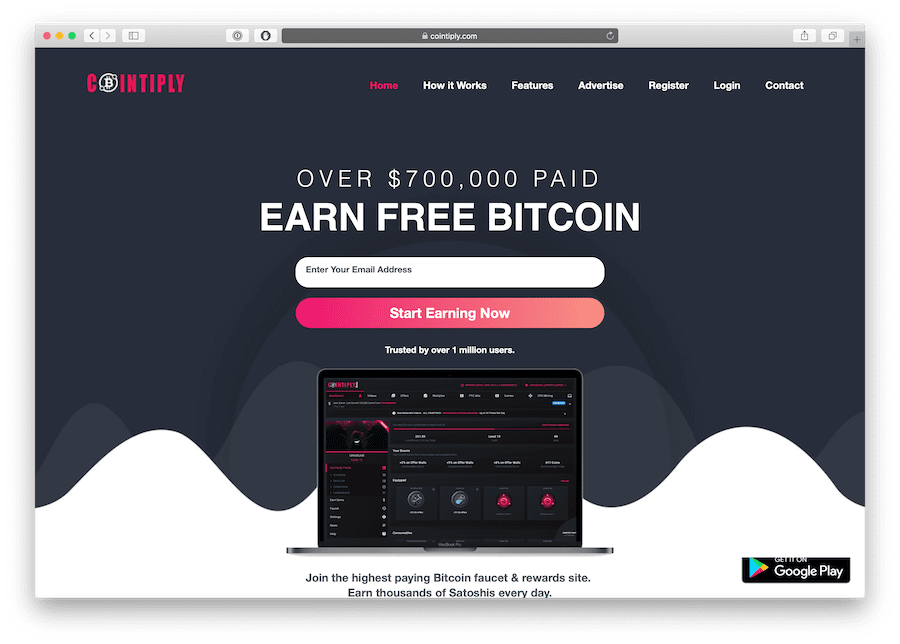 Finally, Cointiply is an interesting take on the faucet model where you gain small amounts of Bitcoin by completing various activities, not just pushing a button.
These include watching videos, playing mini-games, downloading apps, and—of course—pushing buttons. Out of all three, Cointiply pays the least.
(Not that the previous two pay that much anyway.)
If you still want to get a headstart in the world of Bitcoin but don't want to sit in front of your computer waiting for the next claiming session, you can download Cointiply's app.
It's still full of random advertisements that you'll have to sit through to win something but it can pay off if you want to reach, say, a maximum of $5 in Bitcoin worth.
You really can't ask for more with faucets these days…
---
One thing to keep in mind once you start using these sites is that you'll want to detach yourself from them as soon as you start getting acquainted with Bitcoin.
They're just not worth it at all in the long run.
A Better Alternative to Bitcoin Faucets (Still Legit!)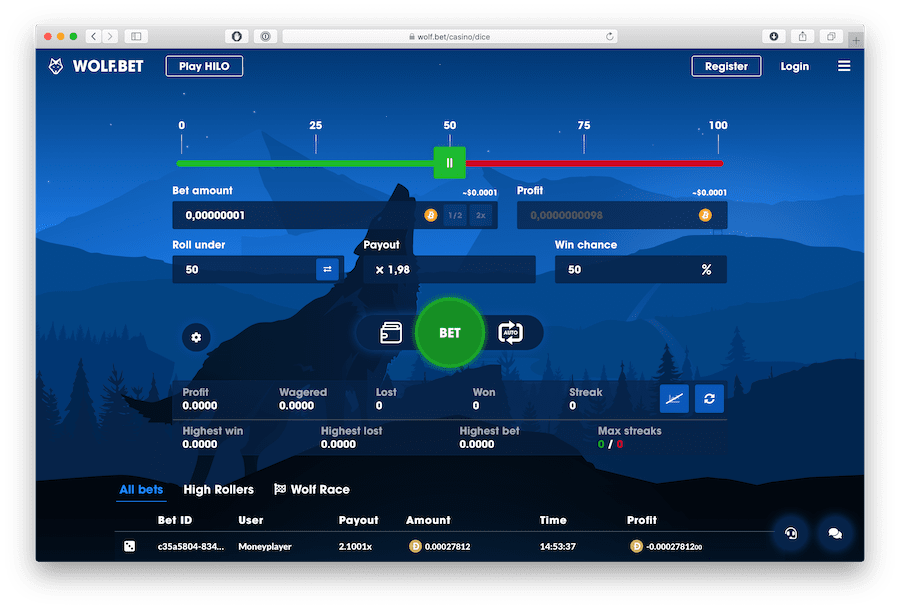 In many ways, Bitcoin faucets are like crypto gambling, except that they lack all the benefits of the latter: choosing the odds, making bets, employing advanced game strategies…
These are all things that can help you win a lot of Bitcoin.
And best of all, you don't have to start big.
The smallest bet you can place is the same amount faucets usually pay you: one Satoshi. If you think about it, faucets are riskier than actual gambling time-wise.
So, if you're impatient to start seeing some real results with your Bitcoin, a better alternative is to play at a trusted crypto casino where you can actually choose the odds of winning.
Fancy a try?