Getting the most value out of your Bitcoin casino experience is a top priority, so we went ahead and identified 7 gambling sites with the best integrated faucets of 2021.

In this list, we're diving right into what makes each site's faucet appealing for gambling purposes but please note that there is no particular order for each Bitcoin casino listed.
Bitcoin Casino 1: Wolf.bet
With a bit of a different approach to claiming your free Bitcoin, the Wolf.bet crypto casino allows you to get started without depositing a single Satoshi.
The signup process is really quick: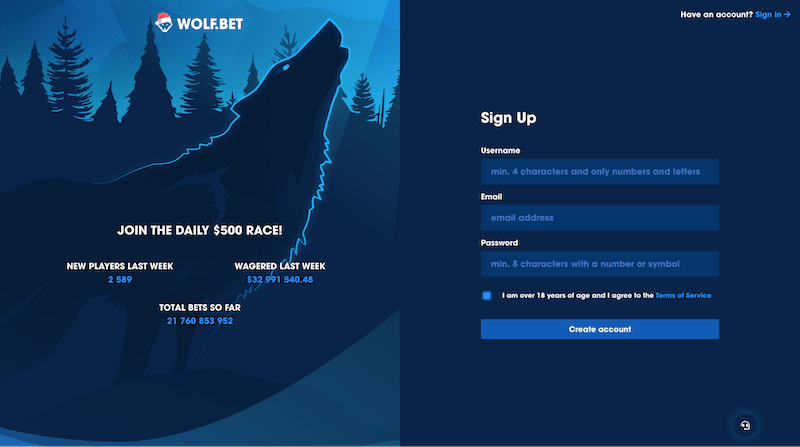 Enter username, email, and password, and you're good to go. The way Wolf.bet presents you with free Bitcoin is in the form of daily logins rather than a traditional faucet.
This is called your "7-Day Streak":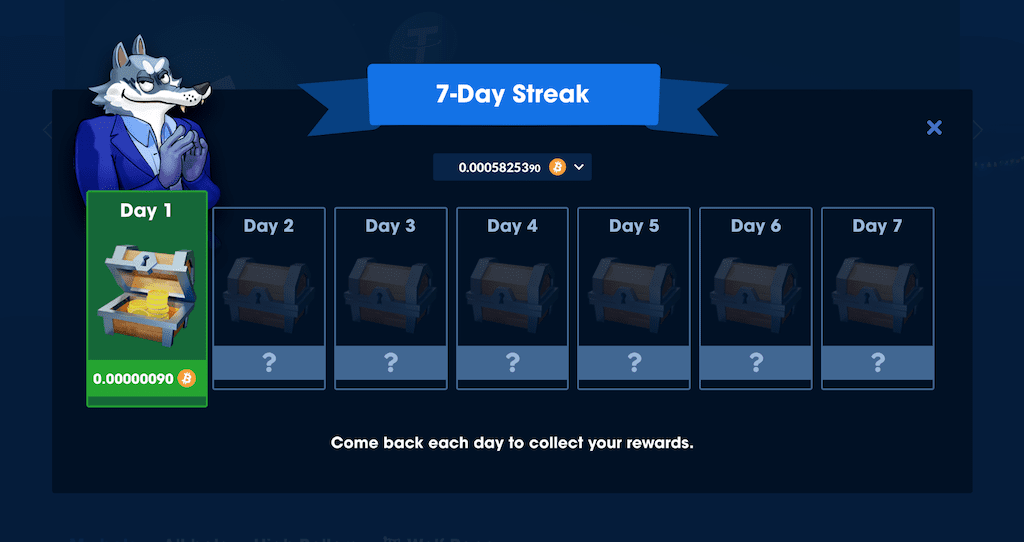 The more times you visit the site in a row, the bigger the reward. This is huge for players that are just getting started as it gives you the opportunity to gain more and more each day.
On day 2 for example, you're already getting 30 Satoshis more: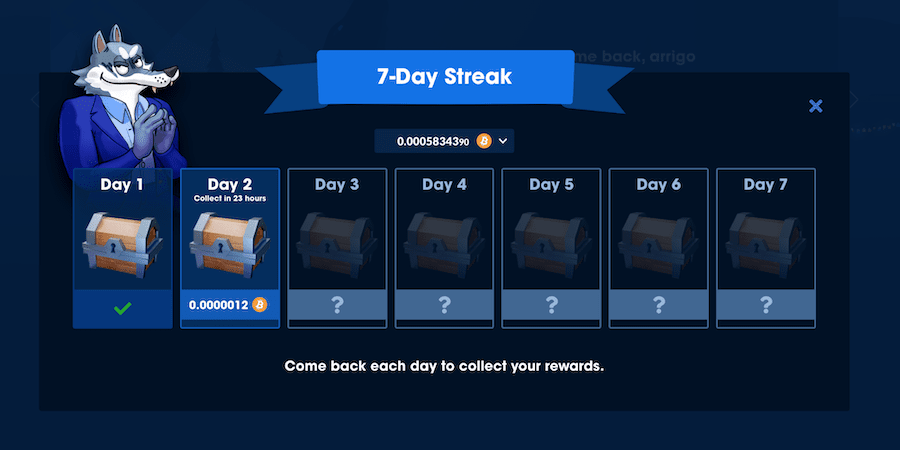 And the best thing is, you have access to this as soon as you activate 2-factor authentication (or 2FA in short). No need to deposit anything, just log in and go!
Here's what a game of dice looks like in Wolf.bet: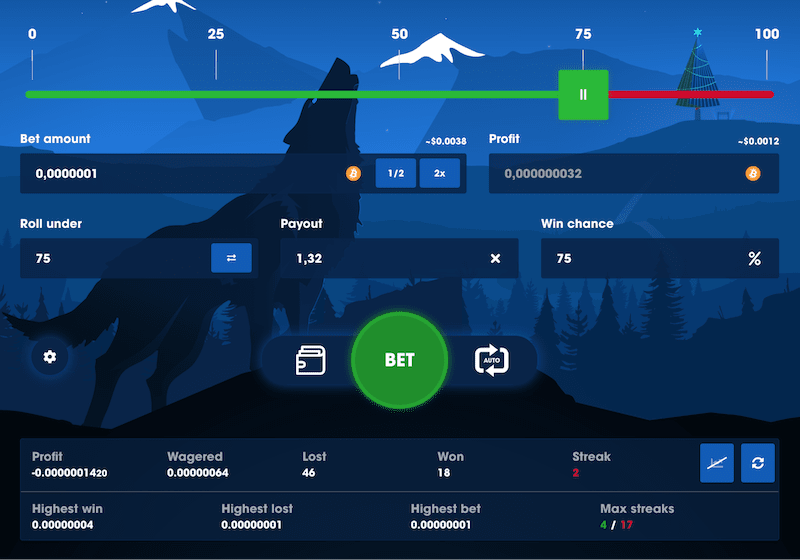 The next casino in line has a min. Bet Amount of 50 Satoshis which you can't work around, so even if you get started with your Bitcoin claim today, you may lose it in 2 rolls.
That is not the case with Wolf.bet…
Want to play with just 1 Satoshi?
At Wolf.bet, there are no limits as to how much you can wager, meaning that even if you'd lose all of your bets (ouch!), you'd be able to roll up to 90 times, compared to 2 at other casinos.
That's a big difference, especially if you're a beginner. Having more rolls at your disposal means you can learn to play the game and increase your chances of winning big.
Plus, the more BTC you wager, the more you can "rake" back: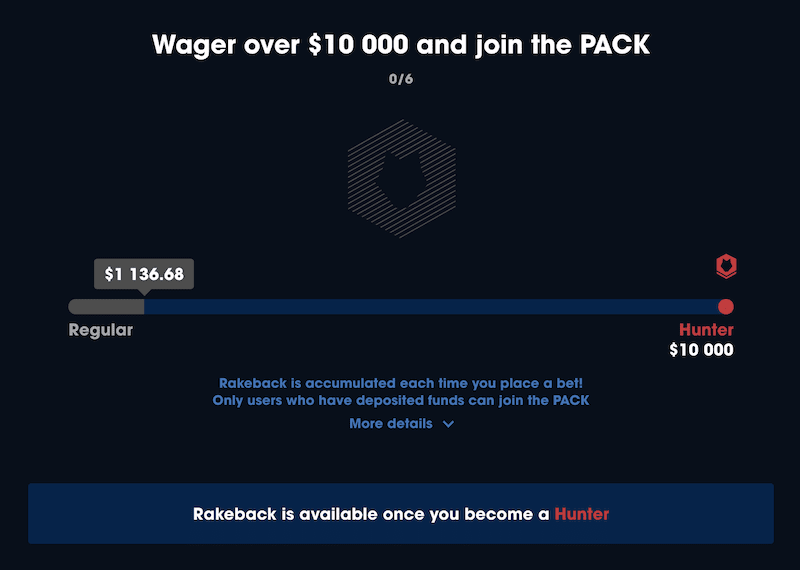 Our total of $1136 in wagers may sound like a lot, but they represent both your wins and your losses, meaning that you could get up to $10K in wagers without ever losing a cent.
Once you reach "Hunter" level, you get 10% back on all your bets, effectively reducing the house edge. This means you're always getting something, even out of your losses.

More ranks are available in the "VIP" section of Wolf.bet. Register today to find out what they are and claim your first 90 Satoshis to get started with these three games:

With its focus on all things crypto gambling, TrustDice has a ton of different features going for it, including a faucet that still works great for starting out your Bitcoin casino journey.
At sign up, you are greeted with a message offering free BTC: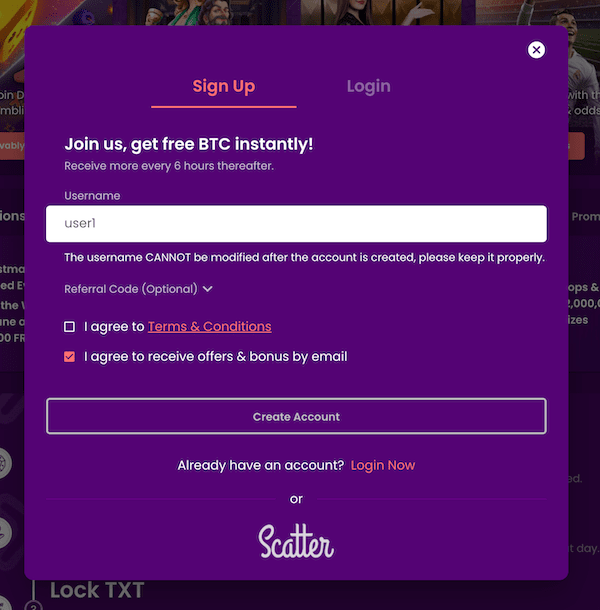 This promise isn't just a scammy way to get you to sign up, it actually works as soon as you verify your email address. TrustDice has a "Task Center" for this type of action: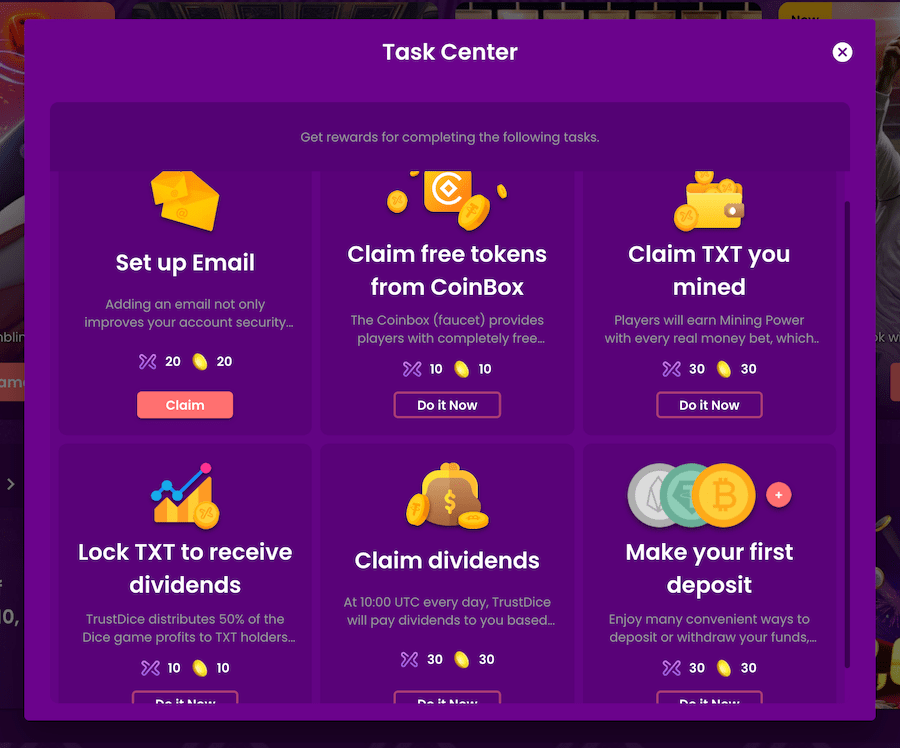 The more stuff you do in the casino, the more types of coins you can gain, including Bitcoin. It's an interesting take on the crypto casino craze and will definitely help you get started.
But the thing you'll be most interested in is TrustDice's Bitcoin faucet: a fully-integrated faucet that allows you to claim any crypto currency they offer in one central hub.

Also known as the "Coinbox," the TrustDice faucet gives you access to crypto every 6 hours, with a reduced cooldown for people with a higher "Satoshi Club" level.
On TrustDice, you can literally choose the crypto you want:

Click on "Claim" and you're good to go. The funds are stored directly in your balance for you to play with. It's one of the fastest casino faucet experiences we've experienced.
Once you claim your chosen crypto, the countdown will start:

With this method of acquiring Satoshis (100 per claim), you can get to 1K fairly quickly. One thing to note is that the min. bet on TrustDice is 50 Satoshis, so you may lose them fast.
Here's what a Dice game looks like on TrustDice: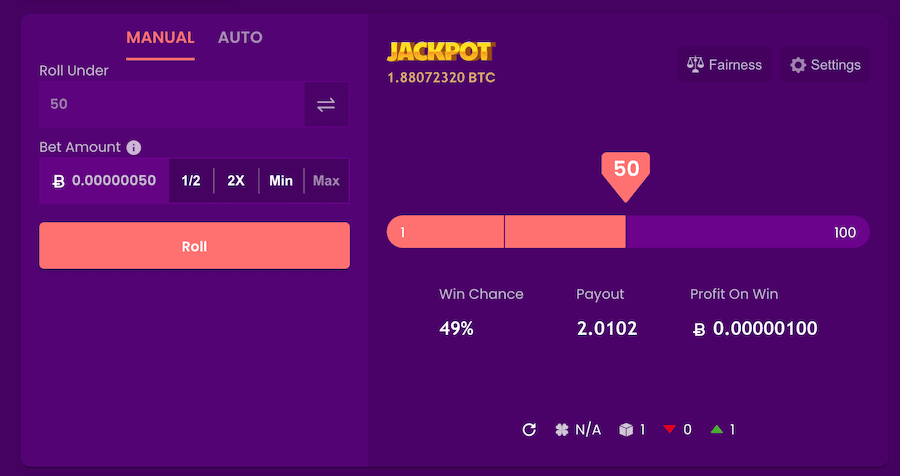 As you can see, the Bet Amount is locked at 50 Satoshis.
To prevent losing your claims, considering using a Dice strategy. The more you get used to playing with small amounts of BTC, the higher the chances you'll increase your riches.
In just half a day, we made around ~300 Satoshis:

With a bit of practice and—undoubtedly—some degree of luck, you may as well get up to 1 BTC without depositing a single cent on TrustDice. That's a pretty good value proposition!
LuckyFish is another crypto casino with its own unique way to handle a built-in faucet, where you can claim a small amount of coins for any crypto only if your balance is zero.
(That is, they don't offer just Bitcoin…)
When you're first starting out with LuckyFish, here's what you see: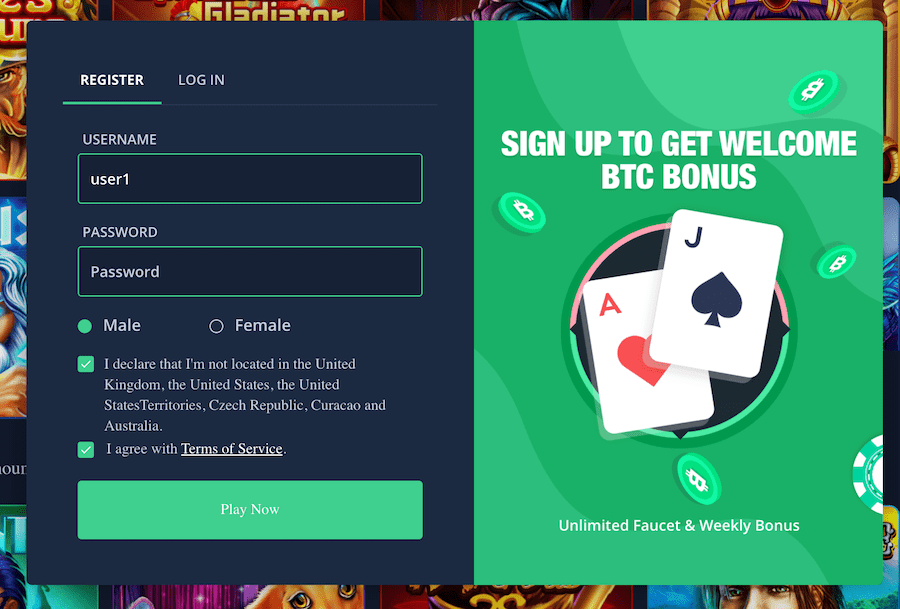 Just like most other crypto casinos, setting up your email address or 2FA is a way to ensure that you're the real owner of the account. We're talking about real money after all!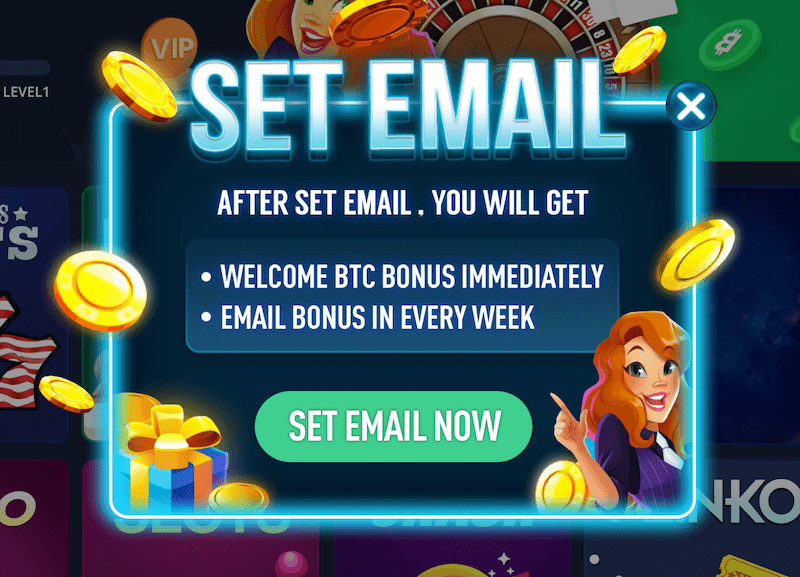 It's worth noting that TrustDice has some of the lowest claims we've seen during the research process for this article, so don't expect to get rich anytime soon here.
See for yourself: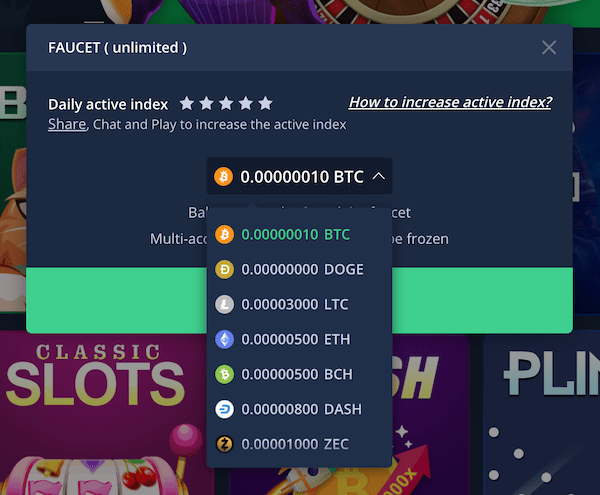 These are the exact numbers from the faucet.
On top of that, you cannot request more coins if your balance isn't empty, meaning that the fun ends quickly. Either you win a lot or you're stuck with 10 Satoshis—over, and over again.
Here's the message you get with a non-empty balance:

LuckyFish officially states that the faucet is meant to help beginners get started only. It's not meant to give back on a daily basis. For that, you have other types of bonuses.
The good thing is that you can request a bit of crypto or any coin. The bad thing is that it won't last you long at all. The dice experience is also a bit plain on LuckyFish: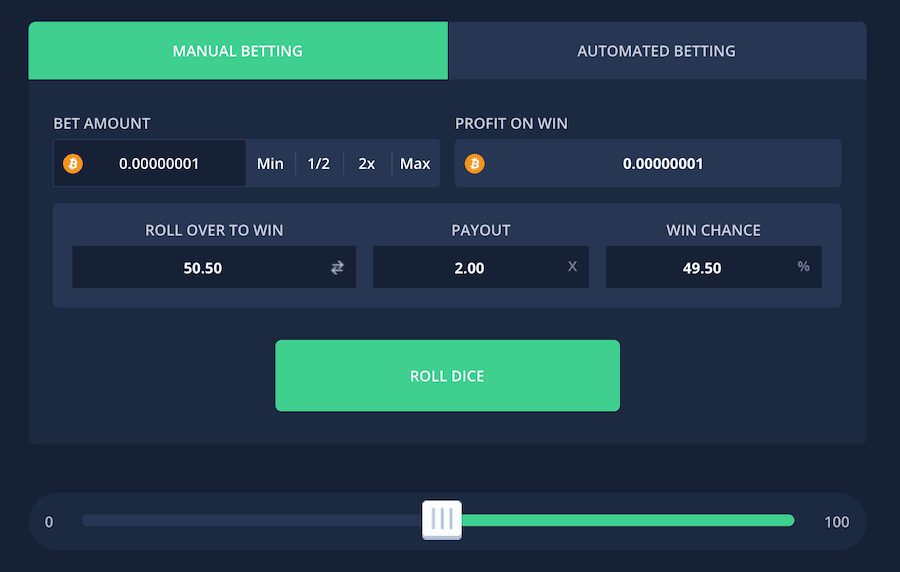 But hey, you can't complain about free crypto, right?
Very different from the first three casinos listed in this post, CryptoSkull is a simple yet enticing concept where you start with a min. roll and try to climb your way up the ranks.
The interface is incredibly simple: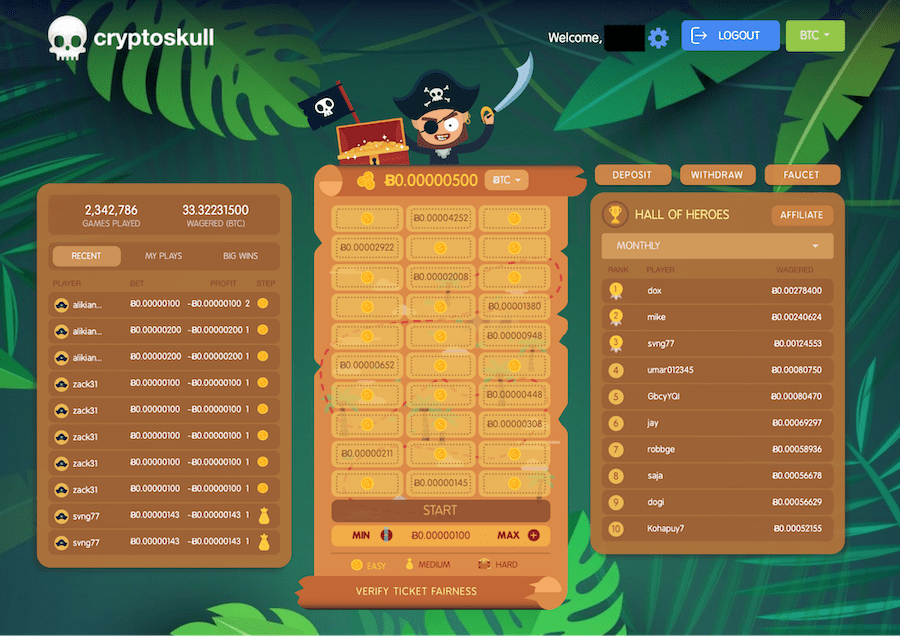 The gameplay?
A lot of fun.
CryptoSkull offers a simple faucet that gets you up to 600 Satoshis if you're willing to confirm your email address, otherwise "only" 500. It's one of the better casino faucets.
All it takes is just one click: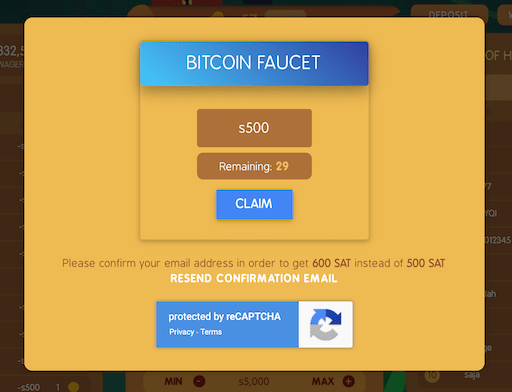 You'd be surprised by how many games we were able to play with 500 Satoshis. At some point, we got up to 3K Satoshis, only to lose most of them in the next rounds…
But it's not all bad news…
While CryptoSkull puts a total limit as to how many times you can claim your Satoshi (30 for us), you can do so every 30 mins, meaning that you could gain a significant amount quickly.
The signup process is easy and quick: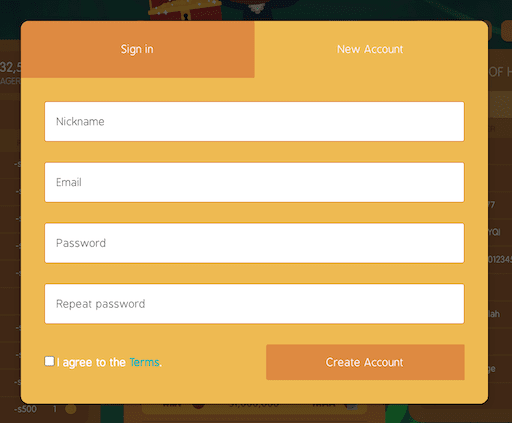 And with such a fun and unique gameplay, we can't recommend CryptoSkulls enough. It's truly a one-of-a-kind experience that will keep you busy for hours upon hours.
Bitcoin Casino 5: DuckDice
Focusing specifically on crypto dice, DuckDice has a unique way of presenting the popular game. With a super-fast signup process, the casino allows you to play anonymously: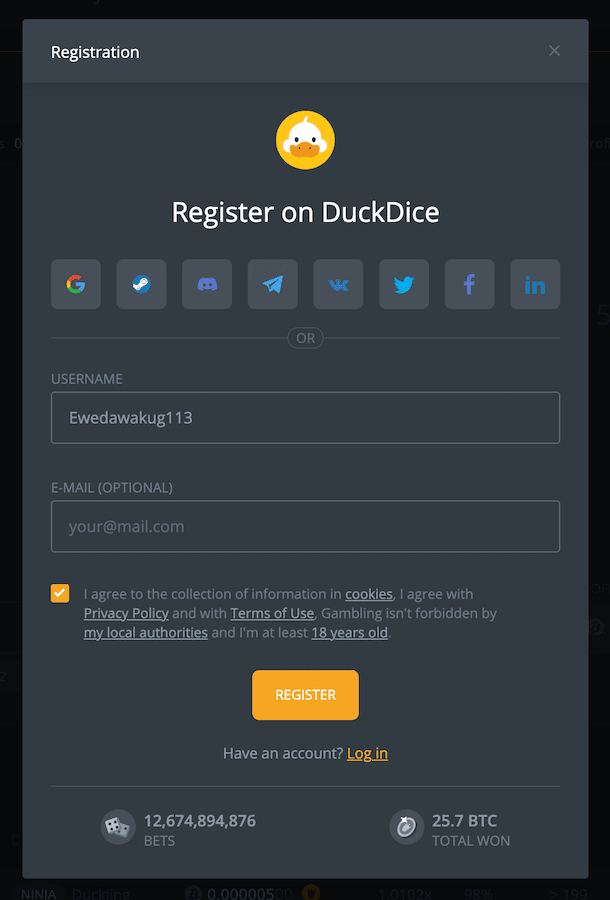 The catch is that you won't be able to use the integrated faucet unless you enter your email address. This is common across casinos and done for security purposes.
Like other casinos, DuckDice only allows you to gather Bitcoins: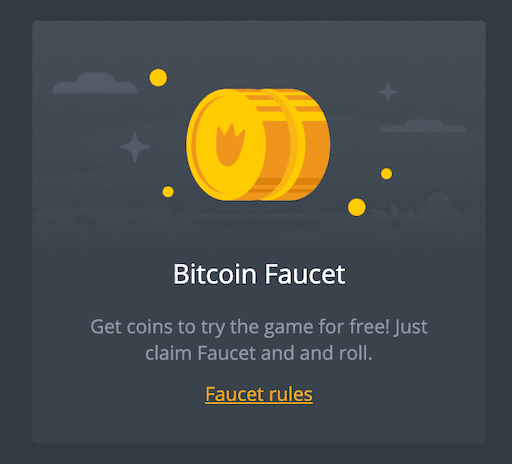 With each claim, you get 150 Satoshis. But you can only claim when your balance is empty, similar to how LuckyFish operates. You're getting more BTC, but only BTC. Nothing else.
The faucet is displayed in your home page:

Click on it and you'll be presented with a new button on the right-side of your screen. Here is where you'll be able to get your 150 Satoshis when clicking on the "Claim" button:

If you've looked around your home dashboard in DuckDice, you'll have noticed the bizarre Dice setup with duck eggs going from 0 to 9999. We find it hilarious and fun to play with…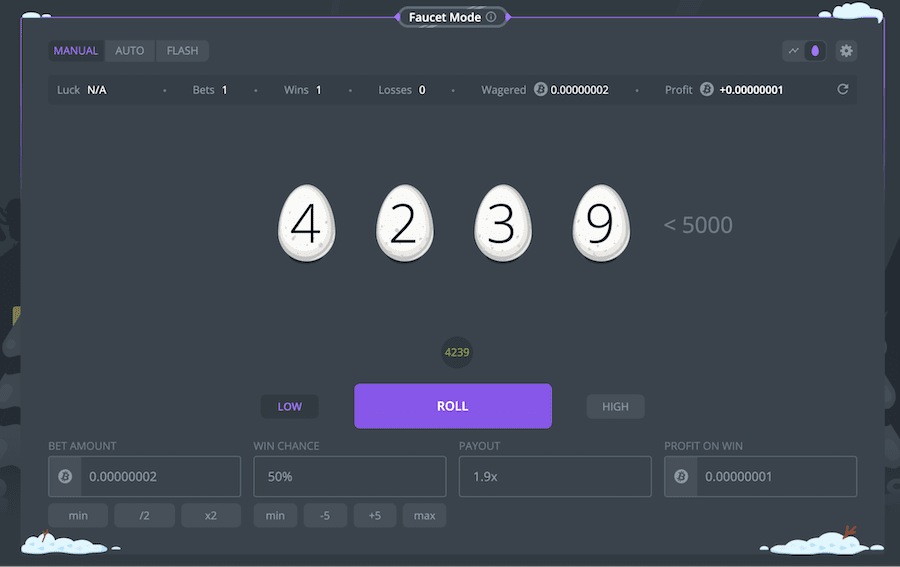 But even more bizarre is how you claim your free Bitcoins on DuckDice. Don't expect to just click and go here because you'll have to sharpen your Tic Tac Toe skills—seriously!
DuckDice puts you against other players when claiming BTC: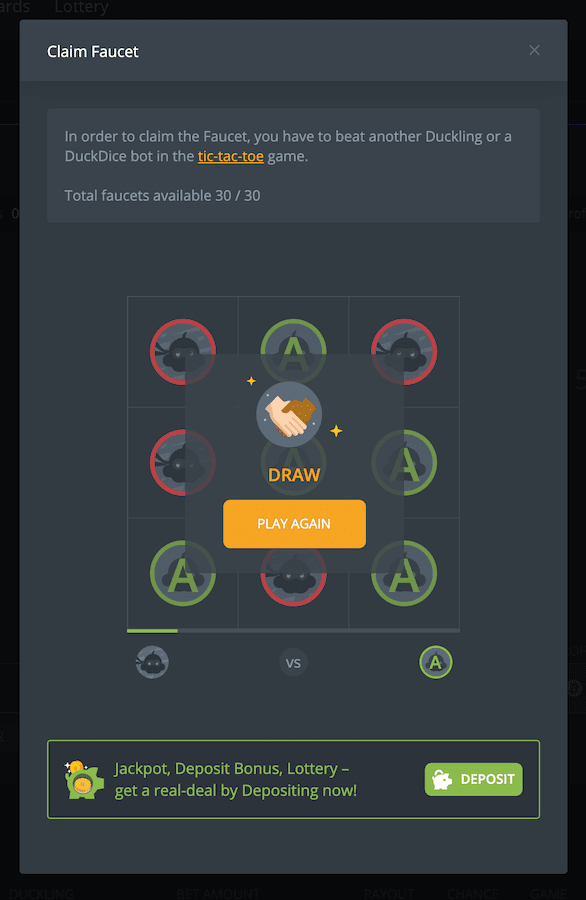 When you win, you get your 150 Satoshis:

This is a super fancy way to prevent abuse from users on the platform, and it's also a great way to keep new users on the website without them leaving as soon as they get their BTC.
The cooldown period is short on DuckDice…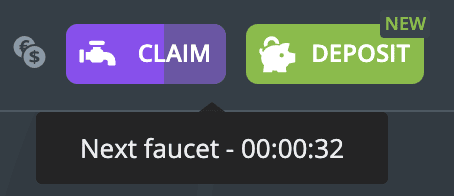 … but there's a good reason for it.
You just can't claim any more BTC if you have even 1 Satoshi in your balance, so there's no point in using the faucet after your first game. It's a beginner tactic as stated by the casino.
Here's what DuckDice shows when you try to claim again: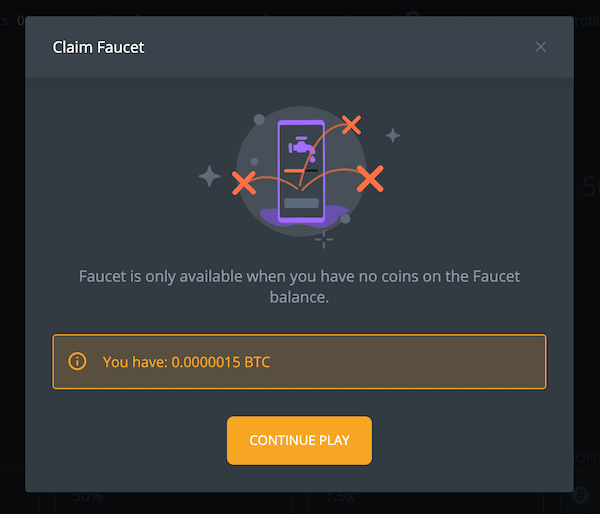 Nevertheless, we encourage you to get a headstart at this casino by leveraging the 150 Satoshis offered and play with DuckDice's unique take on the popular dice game.
Bitcoin Casino 6: MintDice
Our sixth entry is a minimal-looking, traditional-style casino that offers some basic faucet functionality as well as games such as Dice, Slots, and Plinko.
There's not much to say about MintDice that hasn't already been discussed in previous entries: you get 50 BTC per claim, you can claim once a day, and no deposits are required.
Here's what a game of Dice looks like on MintDice:

The interface is simple, and so is the faucet. At the top-right of your screen, you will see a button to access your free Bitcoin. Click it and you're presented with this: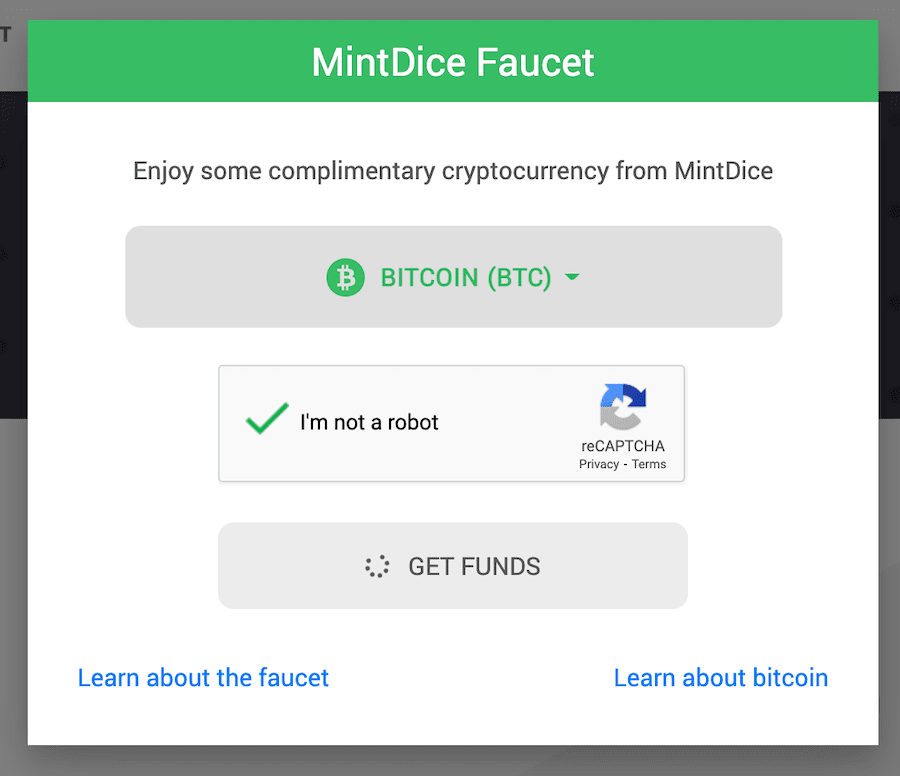 The faucet is your normal captcha to be completed, after which you get 50 Satoshis. MintDice claims that they give you 100 Satoshis, but we haven't seen this in our testing.
In 2 days, we were able to get up to 0.00000095 BTC by playing a bit:

While simplistic, we find MintDice's approach functional but definitely not as fun as the other entries in this list. At the end of the day, that's what you're looking for at a casino.
FortuneJack wouldn't have made it into the list if it wasn't for their "Free Spins" verification bonus, where you get 50 free spins on 2 specific games.
Here's what that looks like: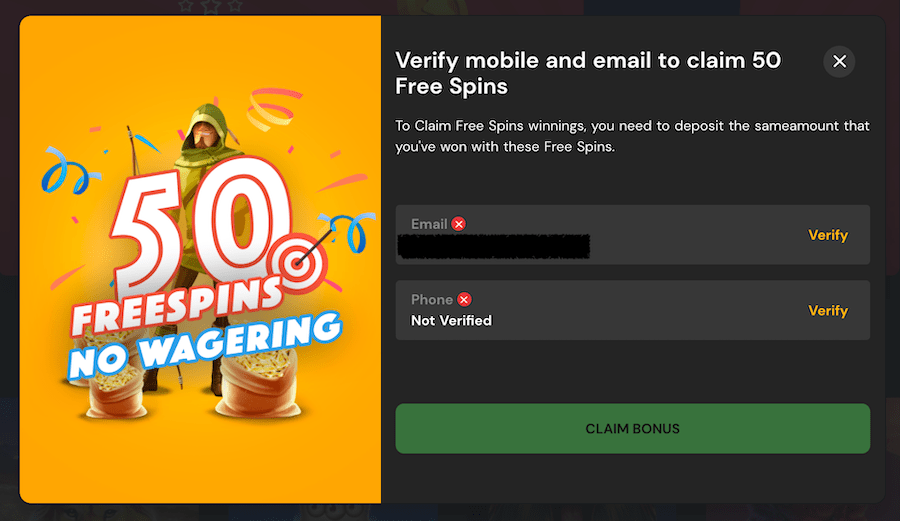 Once you claim the bonus, you're presented with a choice of two games. We were given either "Yak, Yeti & Roll" or "Mystic Hive" which are nothing like crypto dice.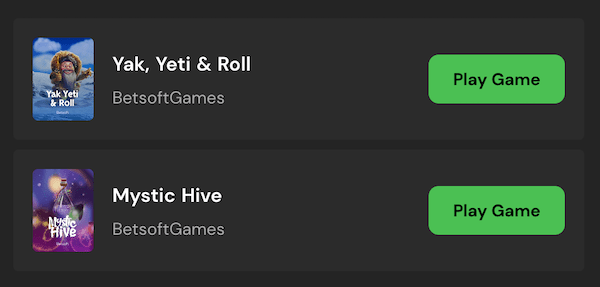 Without going into the specifics of each game, you're essentially given 50 free tries for the one game you choose—not both. These act like slot machines but on your screen.
Once you choose your game, a confirmation message will pop up: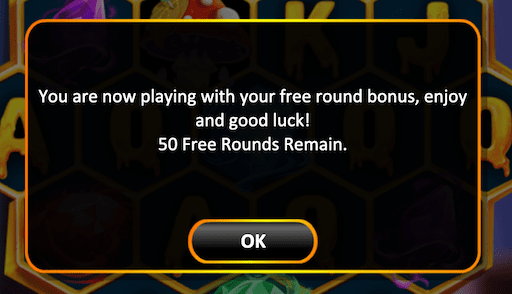 With a huge catalog of slot- and roulette-style games, FortuneJack is completely different from other casinos with integrated faucets but we found the offer enticing enough to try it.
Just don't play Dice on there…
Quite frankly, it's made really badly.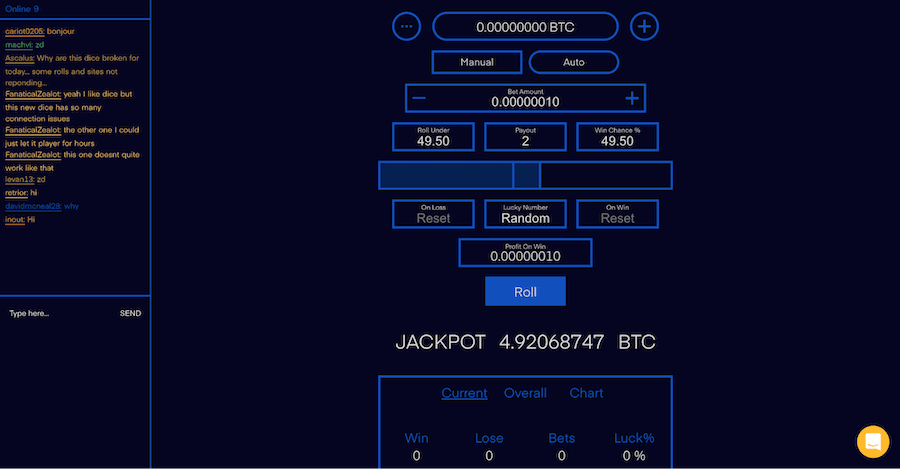 ---
So, which of these 7 casino faucets do you think will help you achieve your Bitcoin goals? Your favorite gambling sites may well be the least profitable so choose carefully!