If you know anything about TRON (TRX) in 2021, it's that the digital coin has carved out a bit of a niche for itself, mainly in the realm of gaming- and gambling-related dApps.
A decentralized application, or dApp in short, is a fancy name given to apps built on a blockchain. The term was popularized by Ethereum, with TRX catching up quickly.

With so much hype around the technologies behind these applications, we sometimes forget that the use case is what truly matters, and gambling is (a big) one of them.
So the question here is…
Are there any good gambling dApps?
And if so, what are some interesting dApps created specifically on the TRON network that can serve you well for your gambling needs both in 2021 and beyond?
Let's explore the playing field.
How The Gambling Scene is Making Use of dApps in 2021
Leaving aside how dApps are built for a moment (the theory is simple, the practice not so much), it's important to note that there are currently two popular use cases for them:
Decentralized Finance (or DeFi in short)
Gaming and/or gambling
With ETH and TRX being the two major players in the dApp ecosystem, it's interesting to see how some dApps have evolved to reach more than just the crypto community.
This is where both DeFi and gambling shine: they both benefit from leveraging a decentralized, peer-to-peer network, and there's no shortage of them in 2021.
For gambling specifically, the industry is using dApps to:
Create a more even playing field without the restrictions of traditional casinos which are often obscure, unfair, and tilted against the end-user to an absurd level
Give a more flexible option to people who are tired of the constant (and intrusive) tracking of FIAT currencies by government and financial institutions
Offer a gaming experience where wagers, payouts, and all other types of financial records can be stored, analysed, and processed almost instantaneously
It's one thing to…
The 4 TRON (TRX) Gambling dApps To Check Out in 2021
Whether you're here because of a deep interest in dApp technology or you're looking to dive into some new TRON experiences, these 4 gambling dApps will not disappoint you: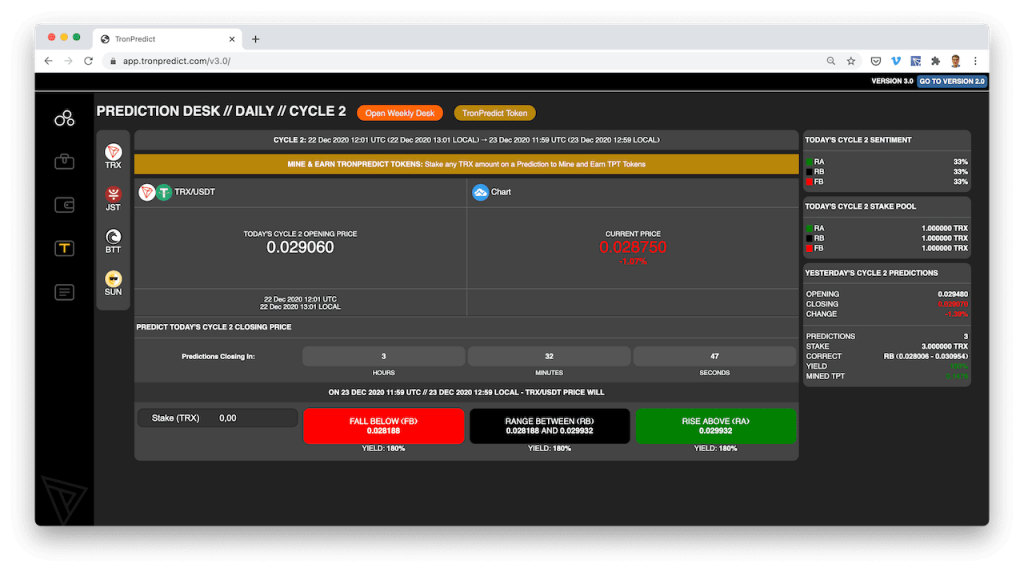 By far the most interesting out of all the TRON-based gambling dApps, TronPredict is a concept you won't find anywhere else, specifically built to fit the TRX network.
The caption on the home page says it all:
"Predict price movements of multiple crypto assets"
(And win TRX when you get it right!)
While certainly not the easiest to start with due to its heavily loaded interface and somewhat intricate mechanics, we're placing TronPredict first because of its originality…
Make predictions on daily and weekly opening prices for TRX, JST, BTT, and SUN on whether they will fall below, rise above, or display within a certain range
Place your stake in TRX using TronLink for maximum security and click on any of the three buttons to predict what's going to happen the next day or week
Your yield in case you win the prediction is displayed right below the three buttons (in our case we'd win 180% of our stake if we'd predict correctly)
Swap between daily and weekly desks depending on your prediction style and your understanding of the TRX stock within a certain time range
Thanks to these features, TronPredict falls well within the "typical" crypto trader type of application but with an original twist that definitely deserves a mention.
Gambling dApp 2: 7Tron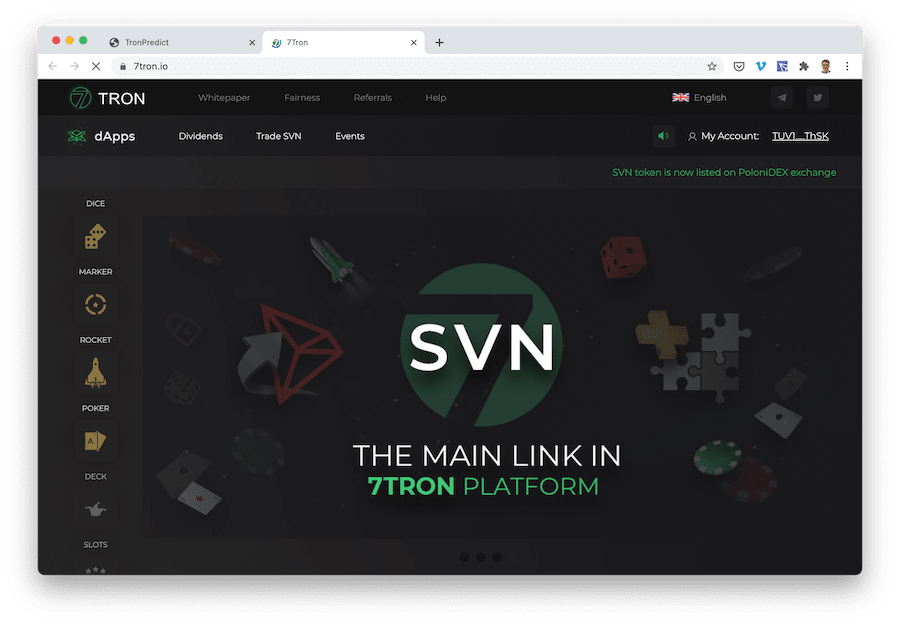 Unlike the often cluttered interfaces of online casinos (including many crypto casinos), we found 7Tron's interface and gaming mechanics to be worthy of a feature in this list.
A few of the games they offer are:
Dice, the most popular by far in crypto gambling.
Marker, a color-based game similar to roulette.
Rocket, set an altitude and bail out in time.
Poker, just like the original but with TRX.
The 7Tron website is impressive for maintaining simplicity and incredible speed while offering a good variety of games to play with exclusively on the Tron network.
A definite thumbs up from us!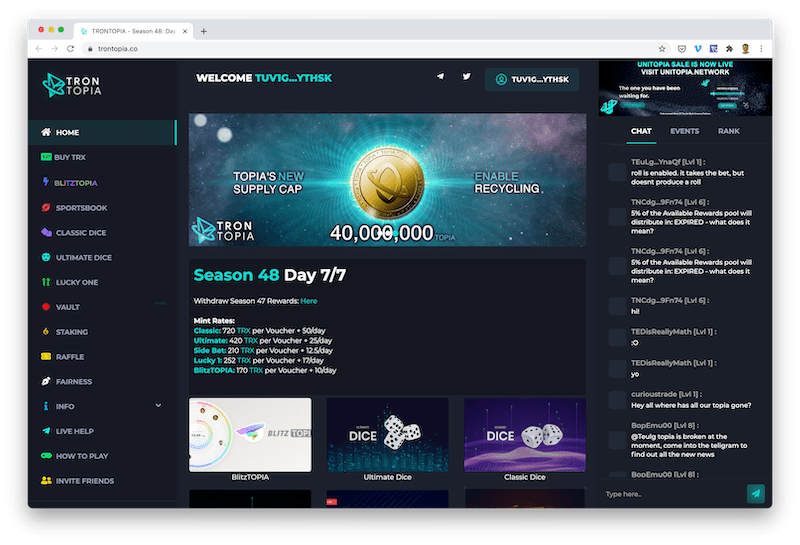 If you're more of a "balls to the wall" type of guy, TronTopia will not disappoint you. This dApp has so many features packed into it, you'll never run out of things to do.
It's impossible for us to go through each feature in this post but we're highlighting two of the components we like the most and that you should definitely try:
Blitztopia
A jackpot-style feature where multiple games are hosted with different pot sizes. The more players join a specific game and start betting, the bigger the pots get.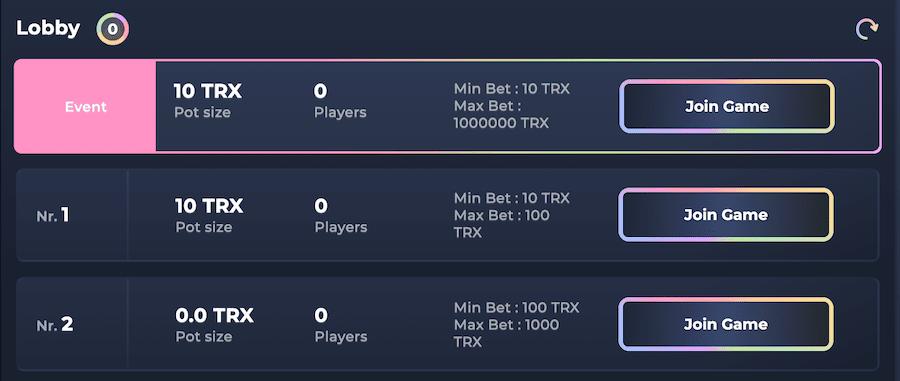 While interesting in theory, we found it hard to find games with enough players to get a decently sized pot. However, previous winners indicate that there is activity on the app.
If you time it well, you may well hit huge jackpots!
Lucky One
A game where you wager to land as many 1s as possible. The more 1s, the higher the payout. It's that simple, but there's not much you can do to increase your win chances.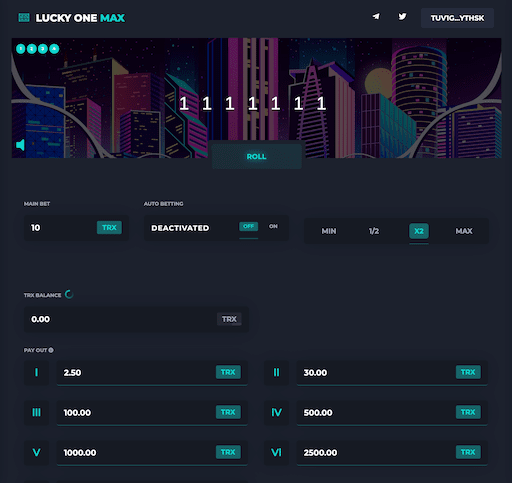 Since TronTopia operates with provably fair algorithms, Lucky One is a good game to test your luck once in a while between your usual dice games. We love its simplicity.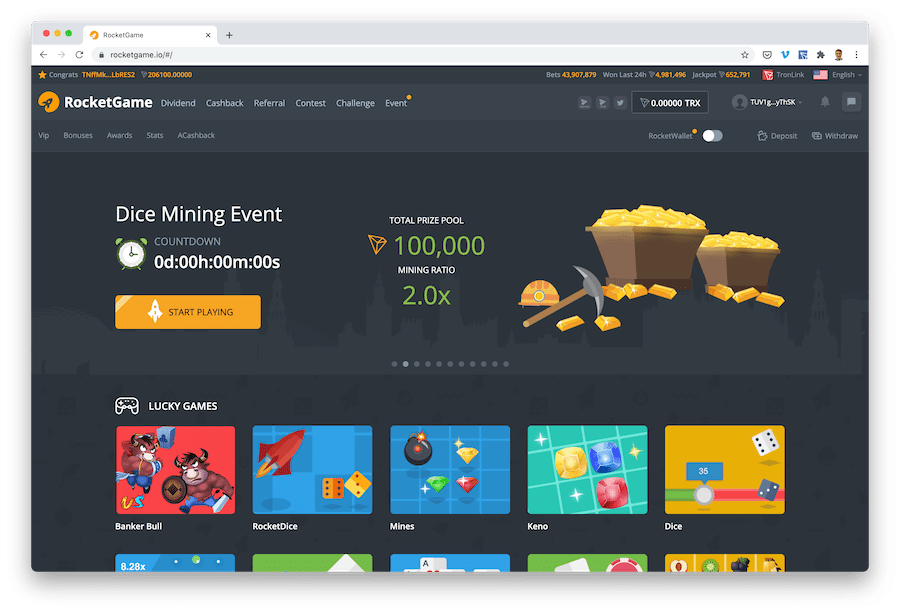 The last entry in our list, RocketGame is a more traditional type of casino-style decentralized application with a focus specifically on TRX (and a really good user interface).
If you've played other crypto games in the past, the experience will be familiar: dice, mines, keno, hilo, and plinko are just some of the classic games offered by RocketGame.
One game worthy of mention is Banker Bull: a round-based game where you bet against the "banker" based on a set of 5 hands, one of which is randomly chosen for the latter.
If the sets of hands you bet on win against the banker, your multiplier is given by the hand types, with RocketGame offering a handy "reference guide" for beginners (see below).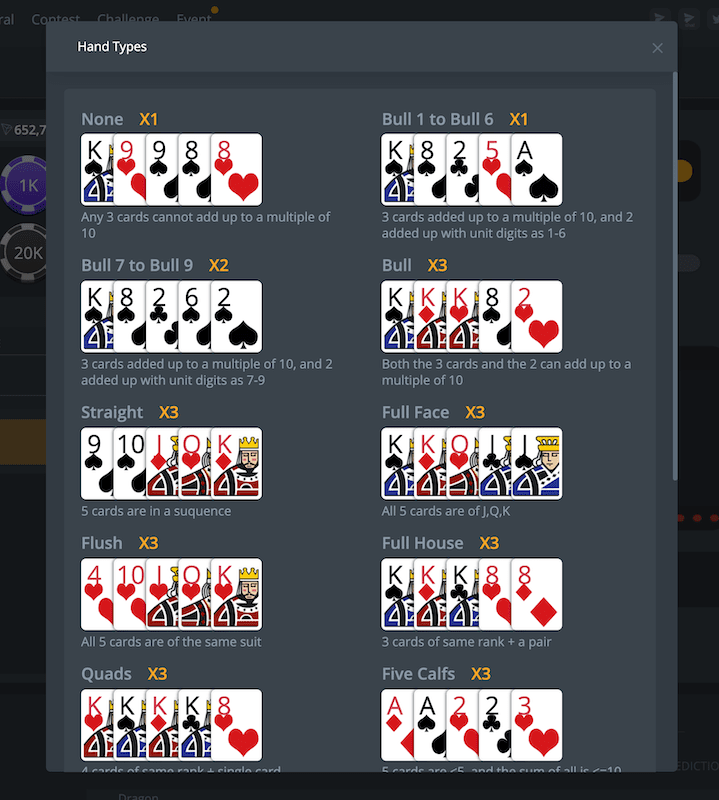 We found this game to be the most intriguing, although certainly not the most popular. If you want to give RocketGame a spin, it's easy to get started through TronLink.
---
Remember that these aren't your typical web-based applications: they were built to work on the TRX blockchain and thus are much harder to develop and market to the masses.
If you're interested in a more thorough list of both ETH and TRX dApps (not necessarily related to gambling), check out the 11 dApps that can make you money in 2021.
Don't Rely on Just The dApp Ecosystem for Gambling
While dApps are amazing (we support anyone trying to build one!), most benefits described at the beginning of this post can be observed with traditional apps too:
Creating a provably fair environment for gamblers
Escaping the hands of financial institutions
Enjoy a sophisticated gaming experience
These are all things that—while enhanced by decentralized applications—can still be obtained through a reputable crypto casino and your trusted digital coin of choice.

In fact, you can use so much more than just TRON:
Dogecoin
Ethereum
Litecoin
Bitcoin
Ripple
Tether
… all of these are great choices.
And best of all, they're already available for you to play with. Why not test one of them in a game of Dice, Limbo, or Hilo? Join the pack at Wolf.bet to get started!