Ripple (XRP) is one of the best known and most valuable cryptocurrencies in the world alongside Bitcoin and Ethereum.
Given its status, earning free XRP is always welcome.
That's where XRP faucets come in.

An XRP faucet is a simple way to earn XRP online by completing microtasks such as clicking web links, captchas, or playing games.
Generally, you can withdraw your XRP on an hourly basis, or earn even more XRP by gambling your rewards—but, as you'll read in a minute, not all faucets are created equal…
The (Sad) Truth About XRP Faucets
As incredible as earning free crypto sounds, it's hard to tell real faucets from scams. That's why we've done the heavy lifting for you by researching the best XRP faucets in 2020.
Something to note straight away is there are very few faucets online, regardless of whether they're XRP, ETH, or BTC faucets.
Why so few?
Simply put, maintaining a good faucet is hard work, and very few legit sites can maintain them. If you expect to get rich using an XRP faucet—think again.
Crypto faucets are best used to supplement your current income over the medium and long term. With this in mind, let's take a look at the current crop of legit XRP faucets.
CoinFaucet: The Best XRP Faucet Available in 2020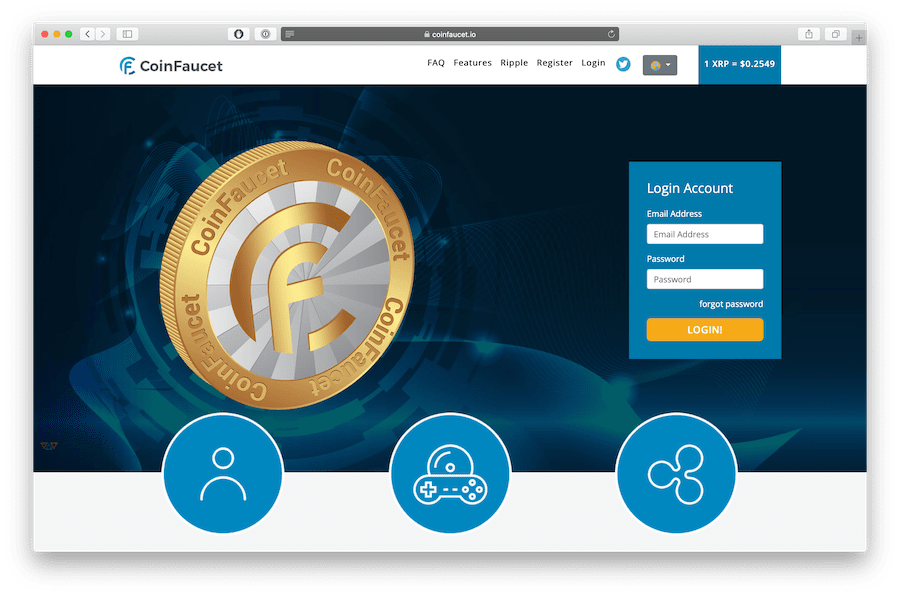 CoinFaucet.io is the best XRP faucet available in 2020 for one reason: transparency. The XRP faucet field is sparse as it is, but between the few contenders, none is as transparent or engaged with the community as the CoinFaucet team is.
Since 2017, the team has fielded questions, updated the community, and been open to criticisms on social media and the BitcoinTalk forums.
At its core, CoinFaucet.io is a standard crypto faucet oriented around playing games. Where it differentiates itself is the games are simple, fun, and pay out hourly.
Additionally, you don't have to wait to withdraw your XRP once you hit the small 1 XRP withdrawal limit. Bringing friends over is lucrative too if you use the referral program. You'll receive 50% of anything your referrals earn, all paid by profits the site makes from ads.
Features:
● Instant XRP withdrawal to your wallet
● Fun games with hourly rewards up to $300
● Over 18,00,000 XRP paid out since 2017
● Profitable 50% referral program
● Plenty of promo codes for free rolls
3 Additional Faucets To Consider
CoinFaucet.io may take top honors as the best XRP faucet of 2020, but there are a few close contenders that may be worth your time: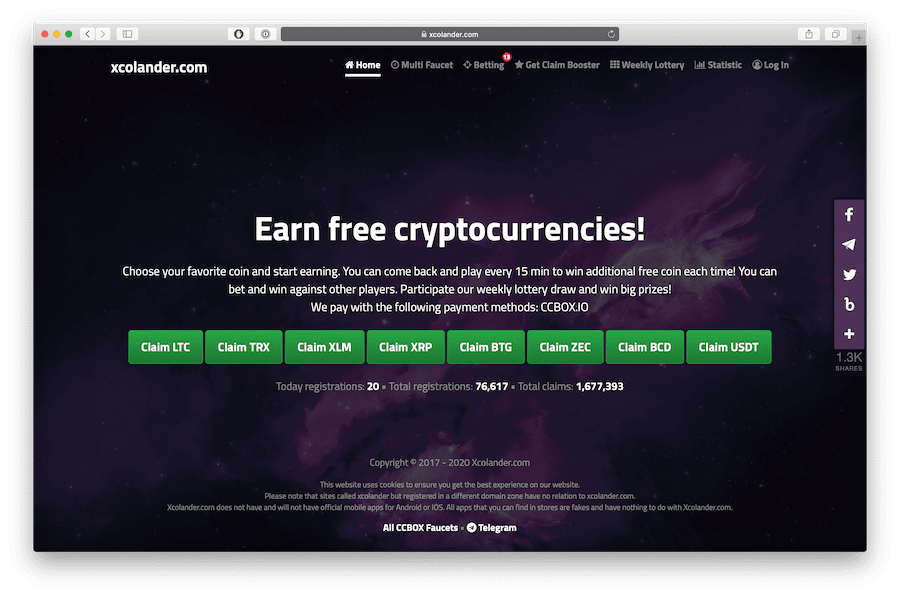 Unlike CoinFaucet.io, Xcolander is not a dedicated XRP faucet. Instead, it lets you earn a variety of cryptocurrencies of your choice—including XRP.
The way Xcolander works is simple. You register on the site, choose the XRP faucet, then click roll. After receiving a roll number, check the table to see your earnings.
Features:
● Fun gambling games
● Claim XRP every 15 minutes
● No withdrawal fees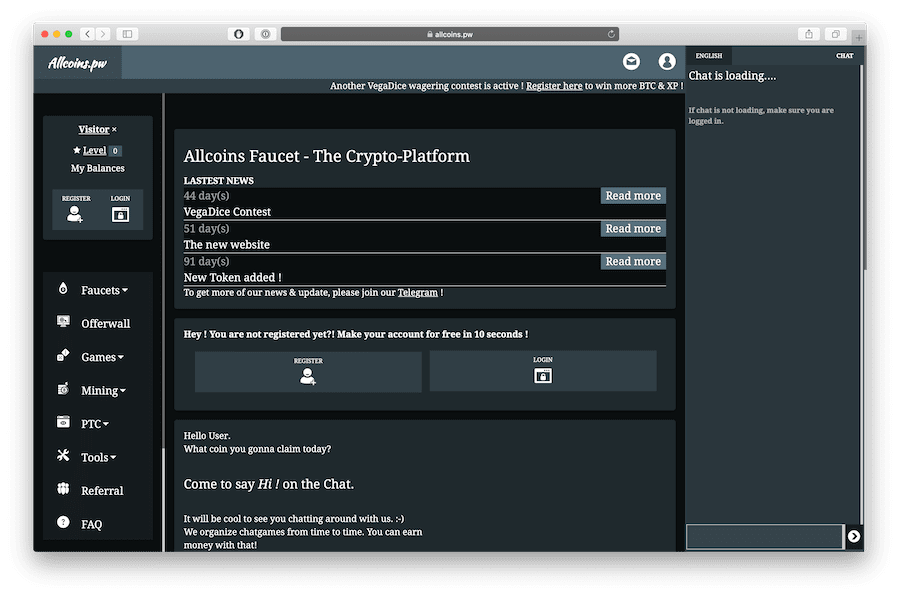 If simplicity is more your style, then make sure to check out the Allcoins XRP faucet. Similar to Xcolander, you can earn XRP along with other top cryptocurrencies. However, unlike the other faucets on this list, Allcoins only requires you to click simple captchas to earn XRP.
Since games can become tiring, we appreciate Allcoins' straightforward approach to earning XRP, along with their relatively quick claim turnaround time of just six minutes.
Features:
● Claim XRP every 6 minutes
● Captcha-based faucet
● Withdraw immediately sent on XRP blockchain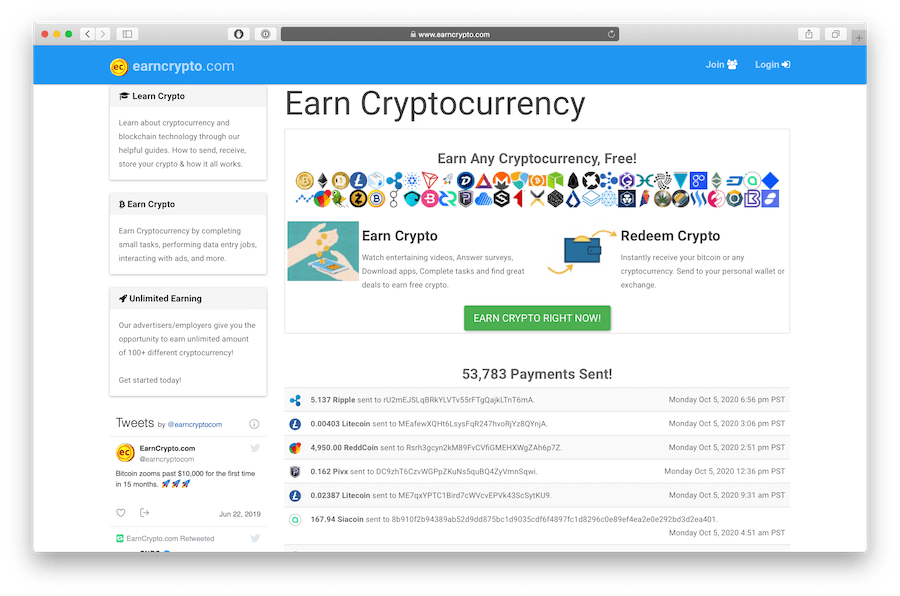 While EarnCrypto.com is a newcomer to the faucet world, it has already racked up quite a following owing to its voluminous XRP payouts. Choose from several different ways to earn free XRP, including games, surveys, referrals, and watching short videos.
Features:
● Larger payout than other XRP faucets
● Minimum 3 XRP withdrawal
● Over 53,000 payments issued
---
Regardless of which XRP faucet you choose, they'll all require plenty of time invested and a solid strategy for supplementing your existing income.
However, if you can fit time into your schedule to spend at the faucet, you'll find yourself surprised by how much more you can earn over traditional earning methods like mining.
An Alternative To XRP Faucets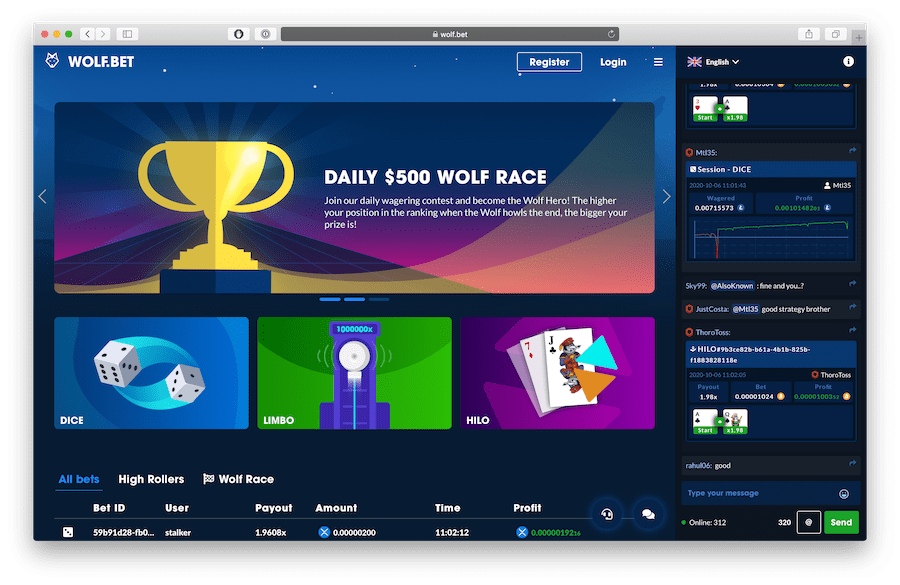 Ripple is a fairly low-risk cryptocurrency allowing for a lot of experimentation. The digital coin can be used for all kinds of purposes, from gaming to faucets to buying products, etc.
While XRP faucets can be a good past-time, they certainly aren't the most profitable (or even particularly interesting) use of your resources.
An alternative to clicking on captchas a billion times just to gain a bit of Ripple is to actually have fun while doing so. Without the captchas. And with tons of cool features.
That's where Ripple gambling comes in.
No, you don't need tons of XRP to start.
At Wolf.bet, we make it easy to transfer even small amounts of XRP to your account so that you can enjoy putting your crypto to work instead of worrying about clicking a captcha.
So why not give it a try?