Welcome back to our weekly recap of the biggest wins at Wolf.Bet, the ultimate crypto gambling destination for players! As always, we are excited to share the amazing wins that our players have been achieving on our platform.

Biggest Wins of the Week
This week, our players have managed to achieve some incredible wins on a variety of our games, including Monopoly Live, Crazy Time, Golden Fish Tank 2 Gigablox Slot, Muertos Multiplier Megaways slot, and of course, our amazing dice game.
Let's take a closer look at the biggest wins of the week:
IzMeRoller Takes Home the Big Prizes
IzMeRoller is back and has been dominating once again! With a series of incredible wins, IzMeRoller has become one of our biggest winners this week. He managed to win a whopping $27,700 with a $400 bet on Monopoly Live, followed by $19,100 with a $640 bet on Crazy Time, and another $18,325 on Monopoly Live with a $265 bet. Congratulations IzMeRoller on an amazing week!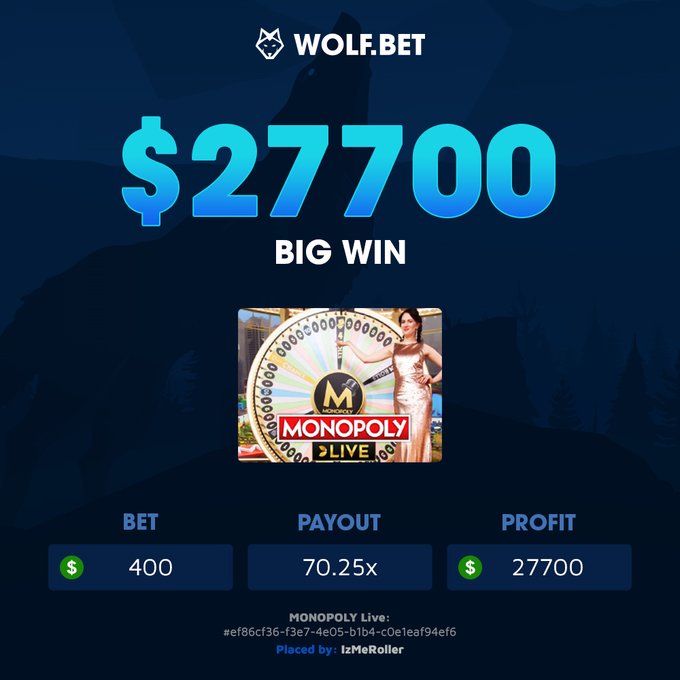 Wolf bertos17 Strikes Gold
Our player bertos17 also had an impressive win this week, managing to win over 0.39 Bitcoin on Golden Fish Tank 2 Gigablox Slot with a ~0.00036 Bitcoin bet. That's an incredible return on investment and a fantastic win!
Muertos Multiplier Megaways Slot Strikes Again
Another Wolf managed to win $5,900 with a $320 bet on Muertos Multiplier Megaways slot. This game continues to be a player favorite and has been responsible for countless massive wins on our platform.
Dice Game Delivers Big Wins
As always, our dice game continues to deliver big wins to our players. Countless players have been able to achieve impressive wins, and the game remains one of our most popular.
Boosted Wolf Race
Don't forget that we are running a daily Wolf Race with a $1000 prize, which is boosted on Wednesdays to a $5000 prize pool. This is a fantastic opportunity to win big while enjoying some of the best games available on our platform.

Join the Fun at Wolf.Bet
At Wolf.Bet, we are committed to delivering the best gaming experience to our players. With thousands of games to choose from, including our awesome in-house games and a great sportsbook, there's always something to keep you entertained. Don't forget to take advantage of our rewarding promotions such as rakeback, daily VIP wheel spins, and weekly cash bonuses. Join the fun at Wolf.Bet today and see what amazing wins you can achieve!