What is a Bitcoin faucet? The original idea behind them is very simple: get a very small amount of BTC for free and spread the word about Bitcoin to reach the masses.
People who know how to pick the most profitable faucets are able to accumulate enough BTC to get them started in the crypto ecosystem (with a little bit of patience).

The words "free Bitcoin" sound like a scam but Bitcoin faucets are legit and they actually give people small amounts of BTC without having to make any deposit or initial investment.
The catch?
The amounts we talk about are really small.
Still, they are real bitcoins – they won't make you rich overnight, but you will be free to do with them as you please (including getting a chance at multiplying them!)
A Brief History of Bitcoin Faucets
Bitcoin faucets are probably the oldest and most time-tested method of introducing people to crypto. In fact, a large fraction of today's Bitcoin whales likely got their first bitcoins ever from a Bitcoin faucet years ago.
Faucets are almost as old as Bitcoin itself. The first BTC faucet (called simply "The Bitcoin Faucet") was launched in 2010 by Gavin Andresen, one of the original developers of Bitcoin.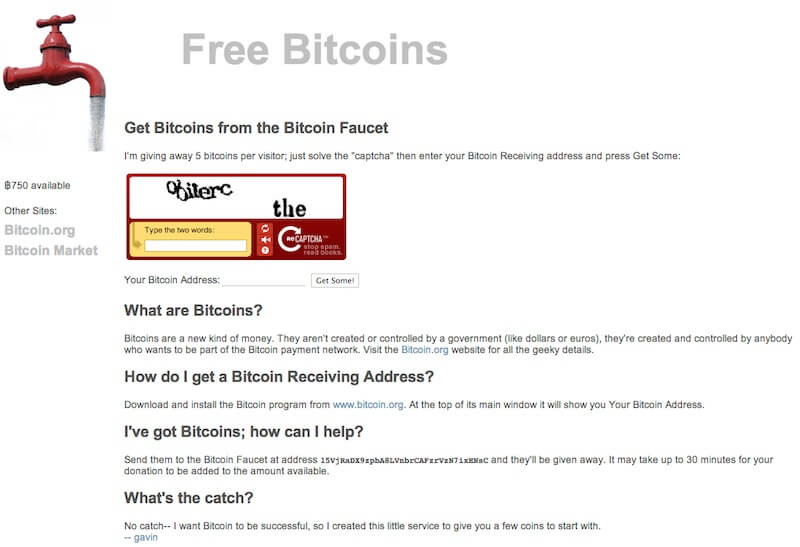 The faucet created by Andresen gave 5 BTC to every person which visited the website and solved a captcha. To put things in perspective and take today's prices into consideration: in 2010, people were able to earn almost $250,000 just for solving a captcha.
The captcha, by the way, was there for a purpose: Bitcoin faucets make money precisely by making people do small tasks such as solving captchas or watching ads.
When you visit a faucet and watch ads, the website owner earns some money, which is how the faucet owners can afford to give you some free BTC in return.
Why Have Bitcoin Faucets Become So Popular?
Soon after the first faucet was made, hundreds more followed. In the early era of Bitcoin, faucets were one of the most prominent aspects of the crypto ecosystem.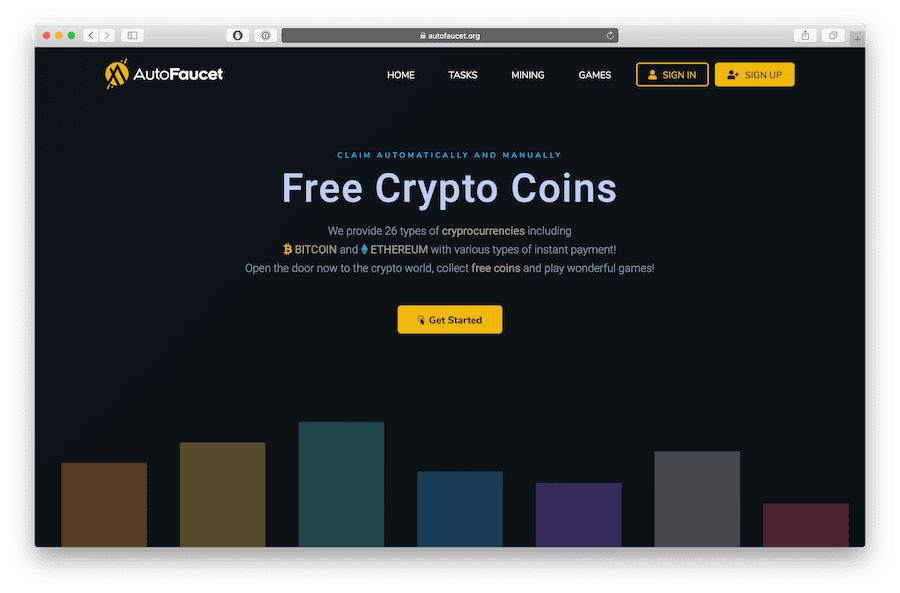 Back then, cryptocurrencies were considered a novelty that didn't have any practical use case. Even if you had bitcoins, you couldn't buy anything with them and there wasn't anything to trade them for, so people mostly collected them out of curiosity.
Early on, people didn't think about Bitcoin in terms of an investment.
That's how the popularity of faucets began: they gave people an opportunity to get some bitcoins completely for free, without having to spend any "real" money.
Then, something unexpected happened: against all odds, the Bitcoin price kept growing. People who had $1 worth of BTC that they've got from a faucet, suddenly noticed that they have $10.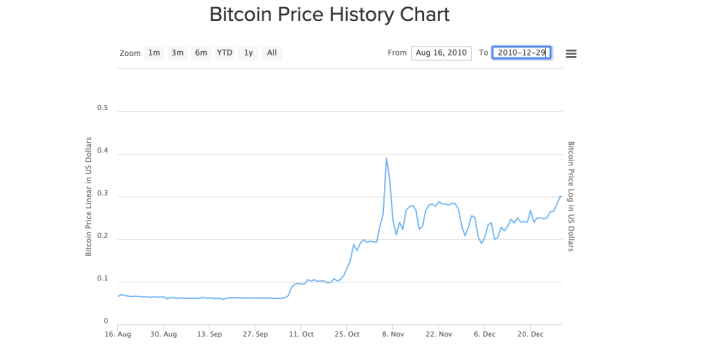 And if they didn't spend it, very soon they had $100, and then $1000.
It didn't take long before people started to realize that the small amounts of novelty coins that they got from a Bitcoin faucet were turning into noticeable amounts of real money.
Are Bitcoin Faucets Still Relevant in 2021?
Bitcoin faucets are relevant as long as the BTC price keeps growing, and Bitcoin has never been more valuable than in 2021 (i.e. they are relevant but amounts are going down).
When you use a Bitcoin faucet, you still have reasons to believe that the small amount of BTC you get for free will turn into something of value in the foreseeable future.

What's also important is the fact that throughout all these years, faucets still remain good at what they were invented to do, which is introducing people to blockchain by giving them very small amounts of Bitcoin that they don't have to pay for.
Bitcoin is far too valuable for anyone to give it away completely for free, but paying people small amounts of BTC for tasks such as watching ads and solving captchas is still a feasible option.
How Bitcoin Faucets Turned into Casinos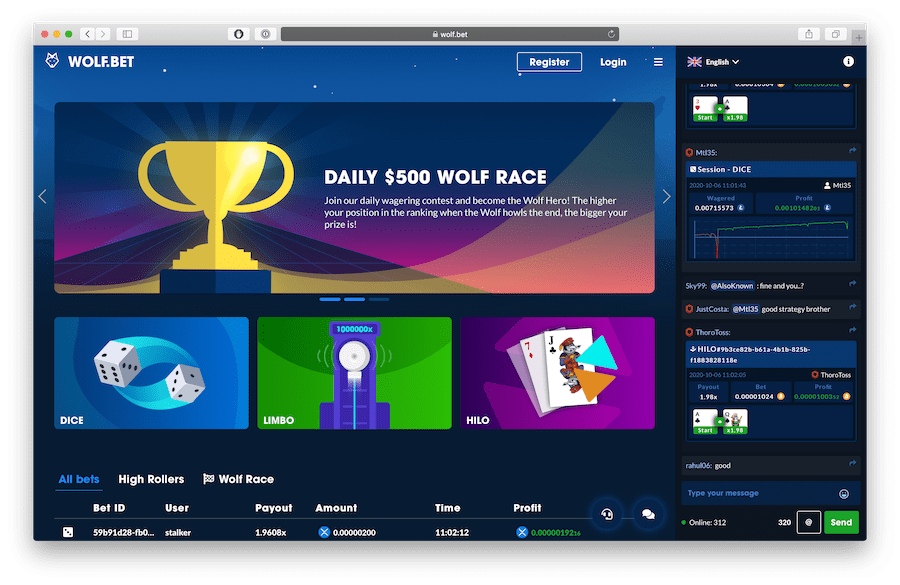 There's another reason why Bitcoin faucets are still around. The increasing popularity of online crypto casinos gave faucet users a new way to spend the BTC they get for free.
Some Bitcoin casinos have minimum deposit amounts as small as 10,000 Satoshis (1 Bitcoin equals 100,000,000 Satoshis).
In practice, this means that you can have enough to play at an online Bitcoin casino within days after you've started to use a BTC faucet, without ever having to spend any money.
Bitcoin casinos are also one of the reasons why faucets aren't as popular as they once were. Online crypto casinos are a better way of accumulating BTC over time.
Unlike faucets though, Bitcoin casinos require you to make an initial deposit but – also unlike faucets – the amount of money you can gain in a short time is much, much bigger.
Which Bitcoin Faucets Can You Trust?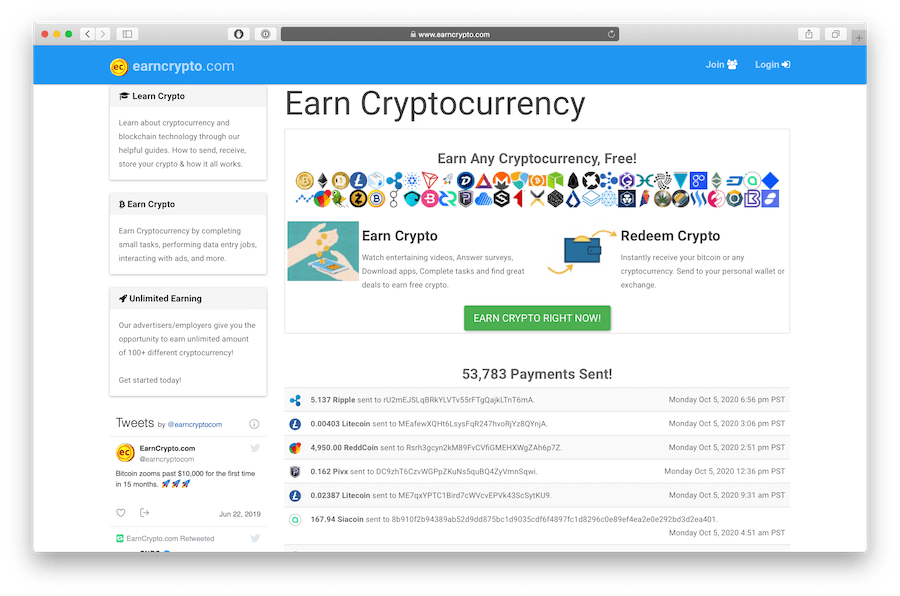 There's a popular saying in the Bitcoin community, which goes, "don't trust – verify". The best way of protecting your money is always doing your own research and never trusting anything that sounds too good to be true. And most faucets out there sound just like that…
Bitcoin faucets can still be considered rather safe to use for a simple reason: they never ask you to deposit any money, so there's really nothing you can lose except time.
Just don't raise your expectations – the amount of money you can get through a faucet is rarely bigger than $0.10 or $0.20 a day.
It's much less than you could earn using a Bitcoin casino.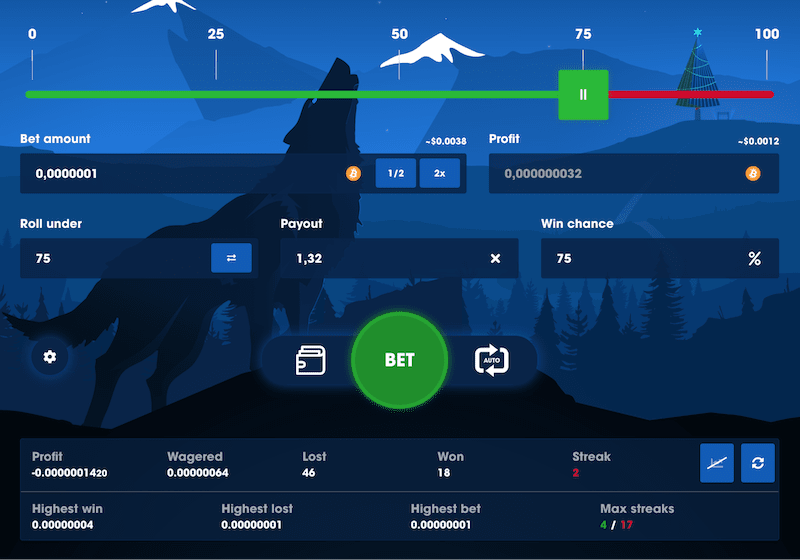 (And it's more fun to play at one too)
Some "faucets" out there are still scams, but it is rather easy to distinguish them from the genuine ones. Simply put, if a faucet looks too good to be true, it probably is.
Faucets which require you to deposit money or reveal your credit card number are scams, just like faucets which promise to give you massive amounts of BTC for nothing.
How To Use a Bitcoin Faucet Effectively
Since Bitcoin faucets were originally designed to introduce new people to Bitcoin (sort of like a referral system), they are usually quite easy to use. After registering an account, you will be asked to do a small task such as watching some ads or solving captchas.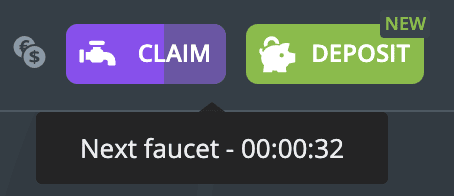 When you are done, you will be able to claim a certain (very small) amount of BTC.
However, the bitcoins aren't truly yours yet – all Bitcoin faucets have withdrawal limits, so it may take some time before you are able to send the BTC you got to your personal wallet.
Another thing to note is the fact that all Bitcoin faucets require you to wait some time before claiming the rewards.
Usually it's just a few minutes, but on some faucets it can take up to an hour. Because of that, sitting in front of the computer and watching ads to earn bitcoins really isn't a good option – all faucets limit the amount of BTC you can get in one way or another.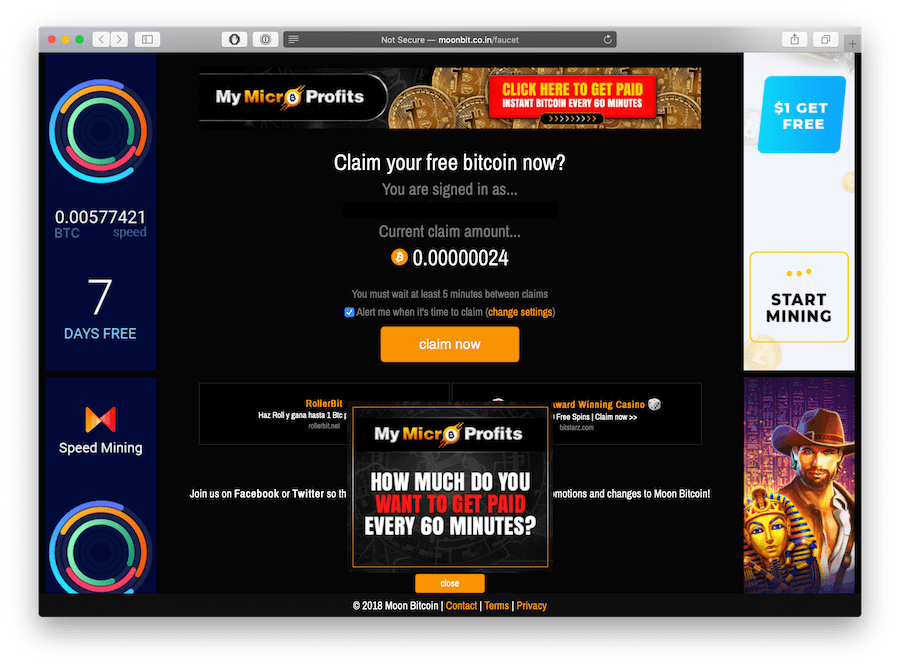 Some faucets include advanced features similar to online Bitcoin casinos, such as giving you a chance to multiply the BTC you get from watching ads by playing simple games.
However, if you enjoy online gambling, perhaps faucets aren't for you – you can earn much more by simply going straight to a Bitcoin casino instead of wasting your time on faucets.
What Is the Best Alternative to a Bitcoin Faucet?
Most people would agree that playing games is much more fun than watching ads. It's one of the main reasons why faucets are being replaced by Bitcoin casinos.
Playing a game of dice will always be more enjoyable than solving a captcha or watching an ad, but that's not the only thing which makes most people choose crypto casinos over Bitcoin faucets. In general, Bitcoin casinos are much more secure and fair than faucets.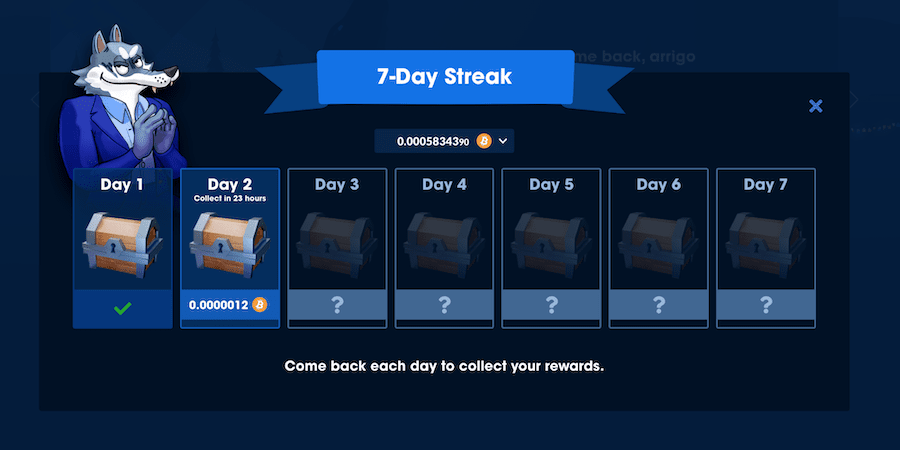 Faucets often have hidden fees, but with reputable crypto casinos you are guaranteed to be able to win exactly the amount you see on the screen. Another thing is the fact that good Bitcoin casinos can guarantee that you have a provably fair probability to win.
Faucets don't come with such a guarantee: the chance to multiply BTC from watching ads is more often than not a scam intended to make you give back what you just earned.
Fortunately, you don't really have to choose between all the advantages of Bitcoin casinos and the free bitcoins provided by faucets as casinos like
Wolf.bet include a faucet-like drip feature which allows you to get a certain amount of free bitcoins daily, without having to watch any ads.