Cryptocurrency casinos revolutionized online gambling by making it easier than ever to access and play your favorite casino games.
They also ushered in a new era of online casinos by practically eliminating the trust barrier for using a system known as "provably fair".
What is Provably Fair?
Provably fair is a system that can be used to prove that an outcome was drawn fairly. Though this system can be used to prove the fairness of practically anything, it is mostly discussed in the context of online casinos, where it is used to demonstrate that the outcome of a wager was not manipulated and that it was generated fairly and randomly—helping to demonstrate that the punter is playing at a reputable establishment.
Although provably fair systems can be found at most trustworthy online casinos, it is mostly associated with cryptocurrency casinos. 

Provably fair is made possible by SHA256—a type of cryptographic hash algorithm that enables casinos to generate a hash before the game starts. This hash cannot be cracked and is used by the casino as evidence that the game result was drawn fairly.
How Does Provably Fair Gambling Work?
To understand how provably fair gambling works, you need to know about the three main parts of a provably fair system: the server seed, the client seed, and the nonce.
The server seed is presented to the player as a securely generated cryptographic hash that is derived from the seed prior to placing the bet, whereas the client seed is generated by the player's browser, and cannot be influenced by the casino.
The player doesn't know the actual server seed and the casino doesn't know the player's client seed. Finally, the nonce is an integer directly related to the number of bets made with the client seed. It starts at 0 for the first bet and increases by 1 for each subsequent bet.
When a player makes a bet, the value of the client seed (in addition to the nonce) is then combined with the hash of the server seed to produce a value that is translated into an outcome based on predefined rules set out by the casino.
The player can then go back and check that the hash used to generate the outcome was indeed the hash originally provided by the casino—and hence prove that the server seed hadn't changed. Since each server seed produces a unique hash, changing the seed would also change the hash.
The user also has the option to change their client seed whenever they want, ensuring that the casino doesn't know their client seed, and hence cannot manipulate the results.
This also resets the nonce back to zero.
Why Are Probably Fair Games so Popular?
Provably fair gambling has become massively popular in the last few years. Players continue to place their focus on transparency and fair practices, enhancing the element of trust needed for games of chance, and improving their gambling experience.
Gambling is all about overcoming the odds to win big.
Players don't want to tackle an unfair house on top of having to beat the odds.
Because of this, many casinos now offer a provably fair system that enables players to easily check the fairness of their bets, putting their minds at rest if they happen to get a bad beat or string of unlucky bets.
The transparency and peace of mind offered by provably fair has undoubtedly helped some of its earliest adopters gain a significant competitive advantage in the casino industry.
Today, you can find practically any casino game on provably fair sites while the number of casinos that still lack this functionality dwindles by the day.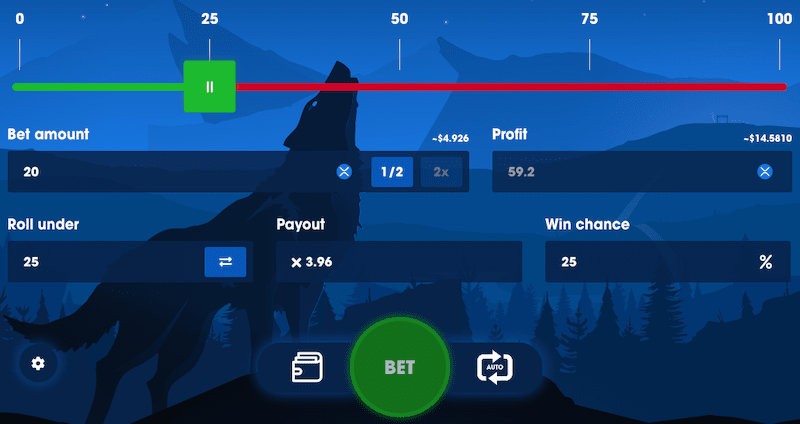 It's now possible to find practically every major casino game with a provably fair version. At Wolf.bet, our HiLo and Dice games are both provably fair, while crash, roulette, poker, slots, tower games, and a variety of other common casino games can be found elsewhere.
How to Check if a Casino is Provably Fair
When it comes to selecting a casino, most players would rank provable fairness as one of their highest priorities—right alongside great odds, good variety, and strong support.
Fortunately, most casinos make it easy to check their provably fair status, since they'll often mention it on their landing page, home page, or in another prominent position on the website. If they don't display this information, then odds are they are not provably fair.

With that in mind, we recommend searching the casino's FAQ page and the website footer for any signs of provable fairness.
If nothing is found, then customer support should be able to provide a definitive answer. Once you've chosen a casino that claims to be provably fair, it's time to put it to the test.
Here's how…
Checking the Fairness of Your Bet
Most online casinos will provide a detailed tutorial on how to verify the fairness of your bets. You can generally find this on the casino's blog or FAQ page.
They also usually provide their own tool for this process; though we recommend using a third-party tool, just as a precaution.
Arguably the best tool for the job is BTCGOSU's Provably Fair Verifier.
Since it allows you to check the fairness of bets placed on well over a dozen popular cryptocurrency casinos, including Wolf.bet, NitrogenSports, and Bustabit.
Here's how to use the tools:
First you'll need to select your casino from the list of supported platforms. In our example, we'll select Wolf.bet from the list.

Then, select the game you're playing from the drop down menu. Here, we'll select Dice.

Enter the server seed in the next box. You'll find this on the website, usually under the provably fair section of the site.
Next, enter your client seed. This can also usually be found in the provably fair section of the site.

Lastly, enter the Nonce. You'll also find the nonce for your current client seed in the provably fair section of the website.
Once you've entered the server seed, client seed, and nonce, you'll then be able to click the 'Verify' button. This will generate a hash.

You can then compare whether the hash generated by BTCGOSU's Provably Fair Verifier matches the one provided by the casino after the game session.
If it matches, then the Casino is operating fairly. If it doesn't match (and you didn't make any mistakes), then we recommend withdrawing your funds and finding another casino until the issue is clarified or resolved as manipulation may have been involved.
Alternatively, Wolf.bet users can use the built-in verification tool.
The Limitations of Provably Fair
Although provably fair gambling ensures that all game outcomes are fair, fairness is one of just several important considerations to make when choosing an online casino. It is still possible to enforce dubious business practices, even if bets are genuinely fair.
For one, provably fair doesn't protect against slow or blocked withdrawals.
Untrustworthy casinos, even those that use provably fair, can still block withdrawals to prevent winning players from withdrawing their funds.
Similarly, unscrupulous casinos can also simply not credit winnings—which can be difficult to track when using auto bet functions. Not only this, but some of the smaller, less-known casinos might also block the accounts of users for any reason.
This can lead to a complete loss of funds and is a common tactic used to "justifiably" scam users or maintain the casino's reputation while it pulls an exit scam.

Because of this, it's important to ensure that the casino you choose both uses provably fair and has a strong reputation to back it up. This can be checked by searching for scam accusations and reading impartial reviews on trustworthy platforms.
Fortunately, the internet means word typically gets around quickly when a casino is acting suspiciously or has cheated players. This is why it's important to do your due diligence before choosing a casino, as it could save you from a costly mistake.