2021 is the year for Bitcoin casinos to step up their game and offer close to instant payouts + low-fee withdrawal across the board. Some good choices are already out there…
Each of these 5 Bitcoin casinos has its own unique way to handle payouts, but they all offer close to instant withdrawal as long as you meet the minimum thresholds.
(And they can all be trusted with your Bitcoin)
Choosing The Right Bitcoin Casino for "Instant" Payouts
There's no reason why an online casino should hold your money more than necessary, especially since Bitcoin already takes a few minutes to move wallets.

Other than convenience, this comes down to an issue of trust. Traditional casinos have long struggled with this, but crypto is different, and so is how payouts should be handled.
Why You Shouldn't Trust Slow Payout Bitcoin Casinos
Other than just being annoying, slow payout Bitcoin casinos can lead to all kinds of problems and, in general, they try to offset crypto coming in versus crypto going out.
You'll see this everywhere around the internet, not just with casinos:
"Wallets" that make it super easy for you to deposit Bitcoin but which require an immense number of steps to get the crypto out. Avoid these at all costs.
Faucets that lure you in with the promise of free Bitcoin, only to ask you to deposit your own BTC, and then making it impossible or hyper slow to withdraw.
Outright scams where a website claims to be either a faucet, a wallet, or a casino (we've seen all 3 types), and yet nothing happens once you deposit your Bitcoin.
When it comes to handling your Bitcoin, you have to go with trusted names. Sure, there may be the cool newcomer, but you have to ensure they have their technology down.
How To Identify Crypto Casinos with Fast Withdrawals
With the Bitcoin craze still growing strong, new casinos are surfacing by the day, but not all of them are: 1) offering close to instant withdrawal, or; 2) made with fast payouts in mind.
Point #1 can be solved where the site's infrastructure is sound (i.e. there's an actual team behind the crypto casino), but there's nothing you can do about point #2.
To avoid falling into "rinse-and-repeat" casinos, make sure to:
Check that the Bitcoin casino is legally registered to operate
Avoid generic-looking casinos with badly designed interfaces
Read the official FAQ section from the casino owners themselves
Look for a focus on modern crypto games and less on traditional slots
If the casino seems to focus on slots, roulette, blackjack, and other traditional casino games, you're in the wrong place. Dice, Limbo, Crash… These are the games you're looking for.
Also, if you can't find a "Provably Fair" section and support from the casino owners, steer clear. They can't be trusted with your crypto, much less run instant withdrawals.
5 Fast Withdrawal Bitcoin Casinos To Use in 2021
To make your life easier, we went ahead and identified 5 crypto casinos that can be trusted with holding your Bitcoin and offer close to instant payouts + low-fee withdrawal:
Bitcoin Casino #1: Wolf.bet Has The Fastest Withdrawals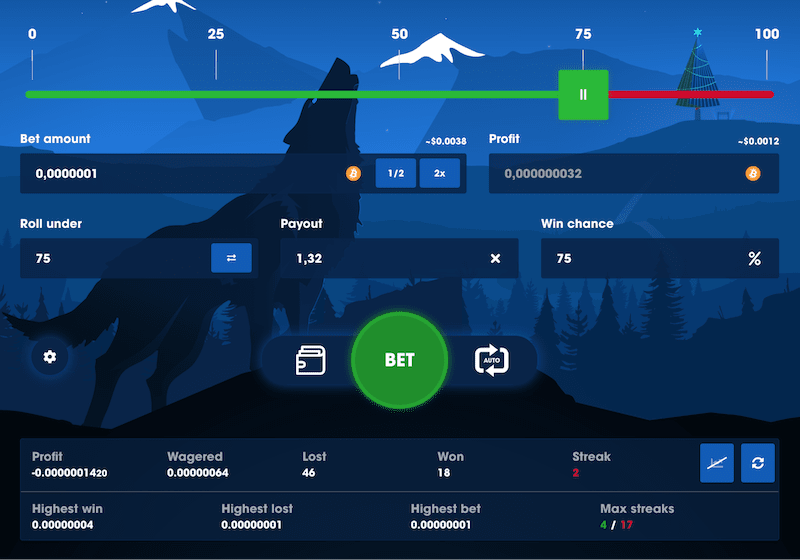 Wolf.bet was built from the ground up to excel in three things: gameplay, user experience, and speed. The latter is implemented throughout the casino, including Bitcoin payouts.
The cashout specs for Wolf.bet are:
A 0.002 BTC withdrawal threshold
A fixed transaction fee of 0.00023 BTC
Since instant Bitcoin transactions are basically impossible (the avg. confirmation on the blockchain takes ~8-10 minutes), Wolf.bet tries to get as close as possible.

With each cashout request, the casino gives highest priority to the transaction, which can take less than 10 minutes to find its way to your wallet and complete successfully.
Bitcoin Casino #2: DuckDice Has Lowest Threshold & Highest Fees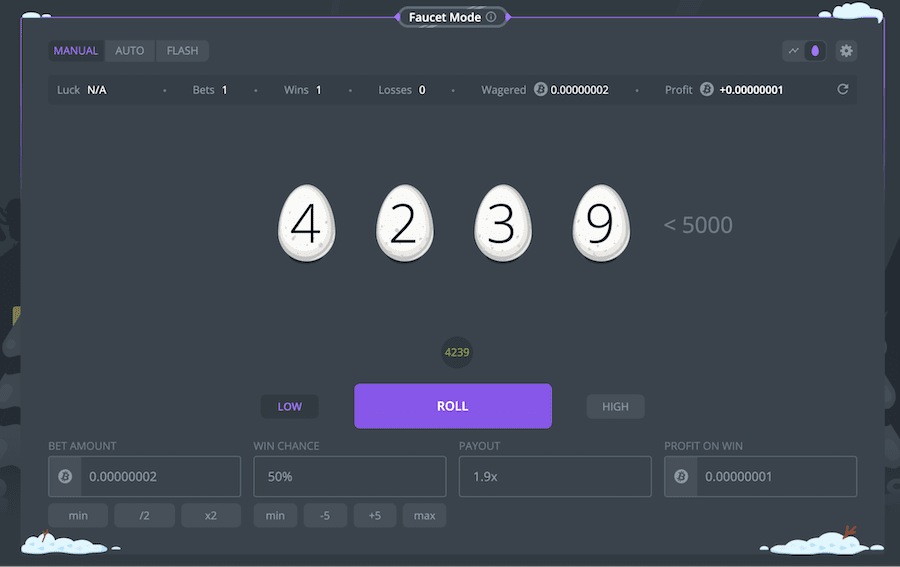 DuckDice is also a very fast crypto casino as it offers ~10 min withdrawals as well. However, these come at a higher cost than Wolf.bet's fixed 0.00023 BTC fee.
Here are the specs for DuckDice:
A 0.00087480 BTC min threshold (the lowest in this list!)
Three types of fees divided by how fast the payout will be:

0.00019 BTC for slow withdrawals (~4 hours)
0.00033 BTC for "standard" withdrawals (~1 hour)
0.00044 BTC for fast withdrawals (~10 minutes)
Needless to say, it doesn't make a lot of sense to withdraw the minimum amount just to see half of it disappear because of a fee. We recommend staying above 0.001 BTC.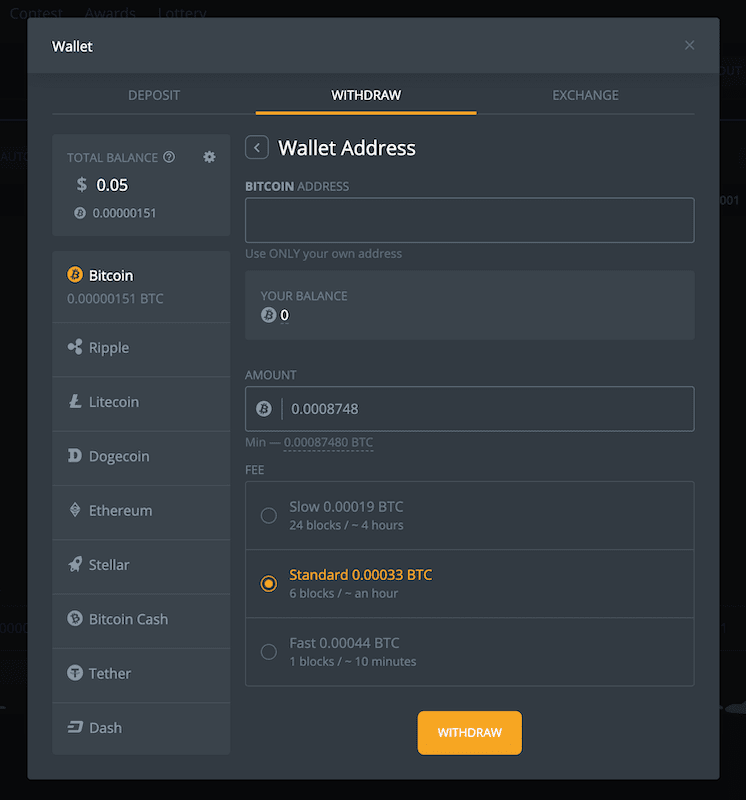 We like the fact that DuckDice gives you choice, but using the fastest option costs almost double as much as using a casino like Wolf.bet, making it less convenient.
If you don't care about waiting for your Bitcoin, you can use the slow withdrawal option and save some crypto but—since you landed on this article—that's probably not the case.
Bitcoin Casino #3: Trustdice Offers OK Speeds at Medium Fees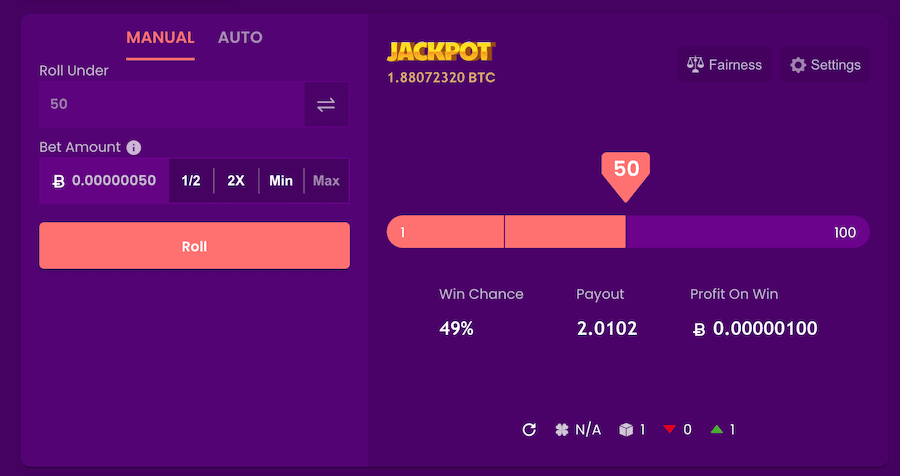 Trustdice has earned its name for being a trusted player in the crypto casino scene. And its payout speeds are fine as well. As Trustdice themselves put it:
"Mostly, withdrawal funds will be sent instantly, but in some cases (security check, Insufficient hot wallet balance, etc.) withdrawal requests might be delayed for up to 24h."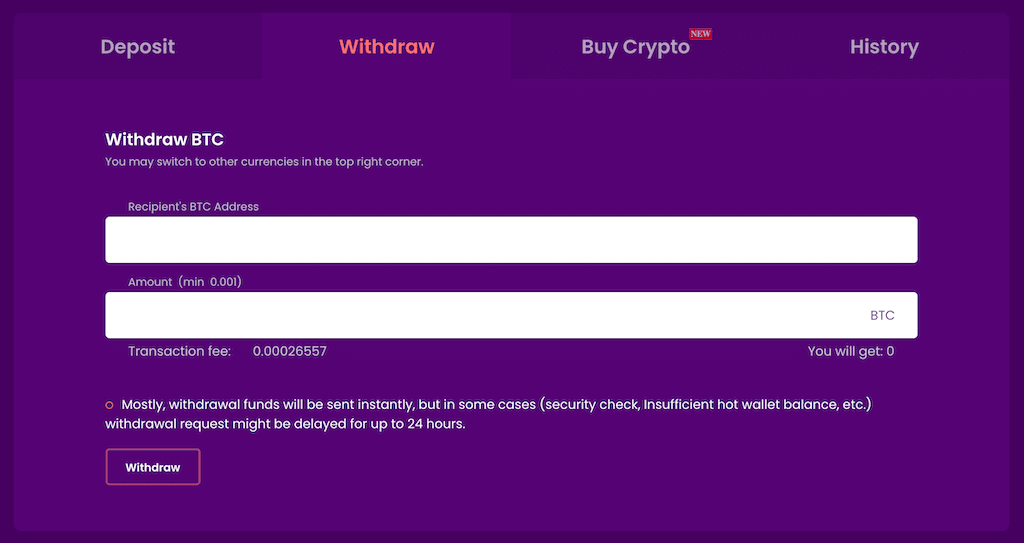 We've run a few tests ourselves and, while the funds are marked as "sent" instantly from Trustdice, the blockchain takes a while to process the transactions.
It's nothing major. Both transactions we've tested were in our wallets in ~15 minutes, but it's still slower than the first two entries in this list, with the following payout specs:
Min. withdrawal threshold of 0.001 BTC
0.00026524 BTC of fixed transaction fee
Both numbers are good when compared to other Bitcoin casinos in this list as they sit right in between the rest, making Trustdice a balanced choice.
Bitcoin Casino #4: MintDice Is Slow But Has Lowest Fees

Slow isn't always synonymous with cheap but, in the case of MintDice, it absolutely can be. The casino is slower than previous entries but it offers a super cheap "Economy" fee.
Please note that, when we say "slow," we're measuring this relative to other casinos in this list, not the entirety of the crypto casino scene (that would be a heck of a research job!).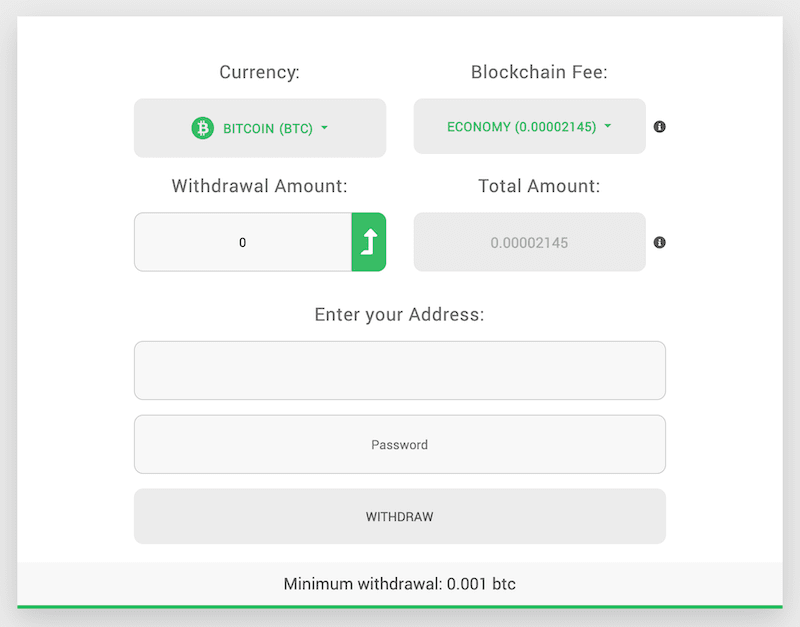 At the time of writing, the payout numbers for MintDice are:
A min. threshold of 0.001 BTC for withdrawals (same as Trustdice)
"Blockchain" fees ranging from:

0.00003933 for the "Economy" fee
0.00019663 for the "Normal" fee
0.00035750 for the "Priority" fee
While cheaper than other casinos offering tiered withdrawals (like DuckDice), the fastest option is still more expensive than either Wolf.bet or Trustdice, which have fixed fees.
Granted, MintDice offers something which no other trusted casino has with its "Economy" fee, but your Bitcoin will literally take days before getting to you…
Do you really want to wait that long?
Bitcoin Casino #5: Luckyfish Has The Slowest Payouts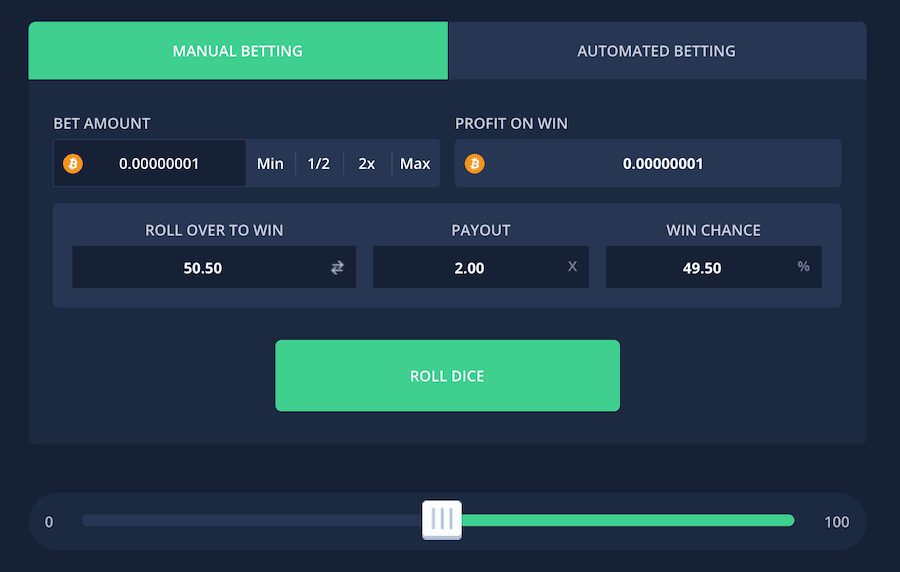 Luckyfish has the same tiered fee structure as DuckDice and MintDice but with a less dramatic change between tiers when it comes to speed and transaction fee amount.
The casino's setup is simple:
0.002 BTC is the min. withdrawal threshold
Transaction fee options include:

0.00010 for the "Slow" tier (~4 hours)
0.00015 for the "Standard" tier (~2 hours)
0.00020 for the "Fast" tier (~1 hour)
The reason why Luckyfish is last in this list is that, no matter how you put it, waiting 1 hour is still pretty slow, even if you call the tier "Fast" and slap the highest transaction fee on it.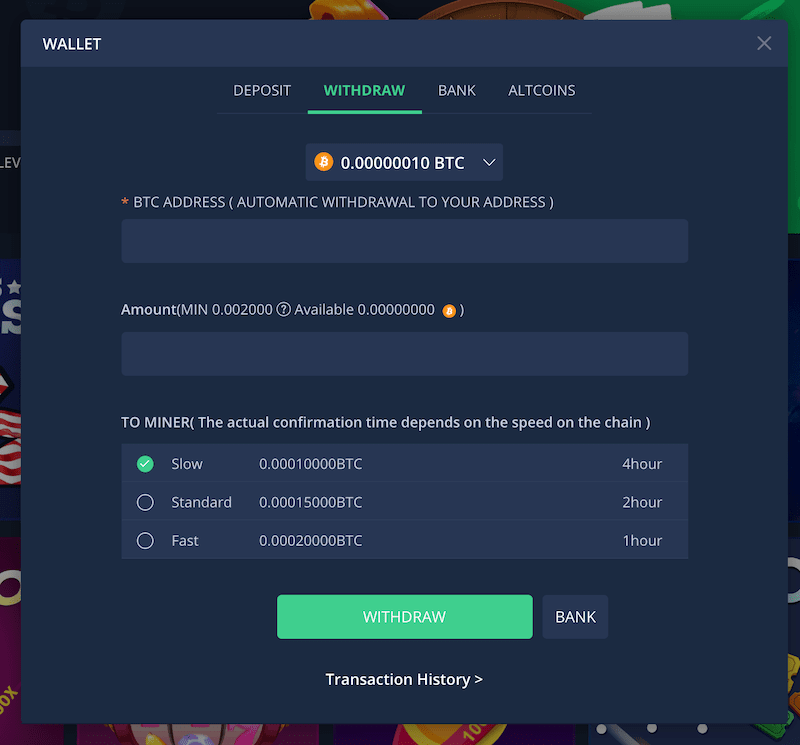 For a slightly higher fee and same withdrawal threshold, you can get much faster transfer speeds. So, relatively speaking, Luckyfish is the Bitcoin casino with the slowest payouts.
---
When the technology is sound and the website can be trusted, choosing the right Bitcoin casino comes down to preference. Do you care more about variety or quality of gameplay?
Enjoy The Fastest Withdrawals Starting from Just 0.002 BTC
Gambling is equal parts a game of luck, strategy, and speed. Without the latter, you're stuck increasing your Bitcoin wealth little by little and may grow tired of playing.
This doesn't happen with Wolf.bet, both because of its fast gameplay and because of its close to instant withdrawals which allow you to cash out whenever you want.
Say you sent 0.0001 BTC through and was ingenious enough to rake 0.01 BTC up just a few hours later. Wolf.bet allows you to cash that out in just a few minutes.
And with enough of your 7-day streak, you can supplement your Bitcoin balance to cover those pesky transaction fees, making your wins fast to obtain and virtually free to transfer.