Bitcoin isn't just for mining or trading. It's turned into a currency that people use for all kinds of things, including gaming.
Many of the games available are still focused on Bitcoin's "get-rich-quick" aspect, giving you the opportunity to make money by sticking to the rules.
But are there any games that can make you a decent chunk of Bitcoin?
This is a compelling question for three reasons:
Bitcoin is known for its divisibility, meaning that you can play with minuscule amounts of crypto, minimizing the risk and allowing for longer gameplay sessions;
Cryptocurrencies are decentralized and your money isn't tracked by anybody, allowing you to gamble or play as much as you want;
Playing games is fun so why not combine it with money?

Fortunately for all of us, the answer is YES—you can make a decent amount of Bitcoin while playing games. In fact, you can make a lot of Bitcoin if you know where (and how) to play. And that's exactly what this blog post is all about: finding the highest paying Bitcoin games.
Casino Bitcoin Games
Casino games are by far the fastest and most "efficient" way to multiply your Bitcoin and cash out. But they're also the riskiest of the bunch so you need to consider two things here:
The way the casino frames their games matters. Are you playing at a casino where you know you can trust your odds or do you always feel that there's something being hidden from you? Provably fair crypto casinos are the way to go in this case.
Do you have a strategy for the game you want to play? It's best to first study the rules and test the gameplay before you commit to depositing your Bitcoin. Relying on beginners' luck might work for a while but it's better to be prepared.
Once you have a good understanding of the casino's philosophy and how you can go about beating the house, your odds of winning will be much higher and you won't get frustrated.
Provably Fair Bitcoin Games
Each casino will have its own take on different Bitcoin games. With the advent of online crypto casinos, many traditional games were remastered to fit the possibilities (and fairness) of this new way to gamble, and it shows particularly in the following seven games: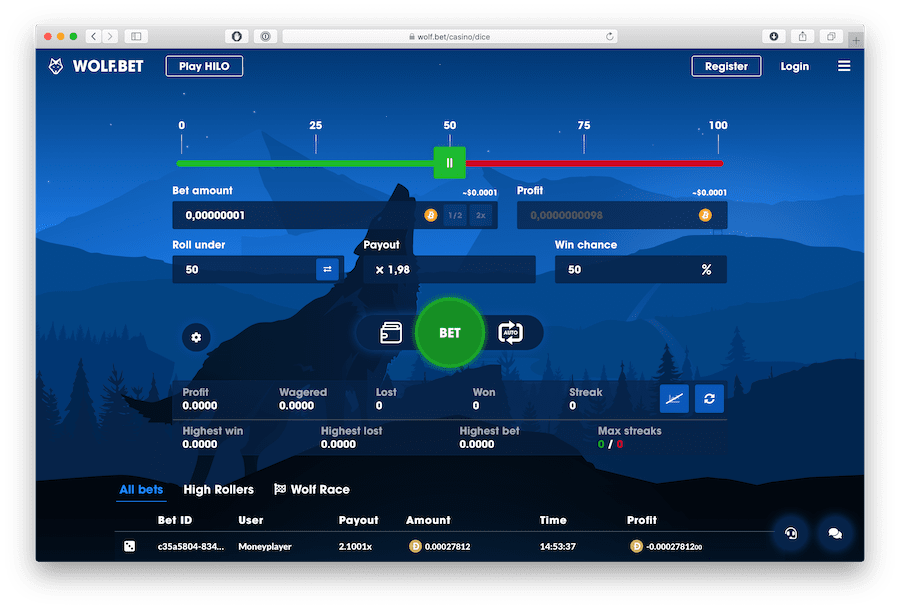 Dice is a relatively simple game that requires a lot of attention and refinement to master. The goal is to guess whether your bet will roll over or under a certain threshold (from 1 to 100). In Bitcoin Dice, you get to choose what that threshold is and the casino does the rest.
Based on the odds of your bet, you will receive different multipliers on the Bitcoin amount you placed initially, effectively giving you an immediate profit in case you guess right. Sounds simple but it gets tricky!
As you get acquainted with the game, you'll notice that while nice to have, many of the "easy" bets (rolling over 10 for example, giving you a 90% win chance) only reward you with very small multipliers on your Bitcoin.
This may be nice if you're depositing a sizable amount of Bitcoin but it doesn't guarantee you any big wins without as much crypto.
What you need is a strategy.
With Bitcoin dice, crypto casinos offer you all kinds of ways to bet either manually or automatically, and players developed proven ways to beat the house, namely by defining the type of player you are first (slow and steady, accepting a good amount of risk, or willing to bet on big multipliers) and then figuring out the bet pattern to follow.
If you're able to get it set up right, the feature that pays the highest is the auto bet mode, allowing you to place your bets automatically and adjust your strategy accordingly.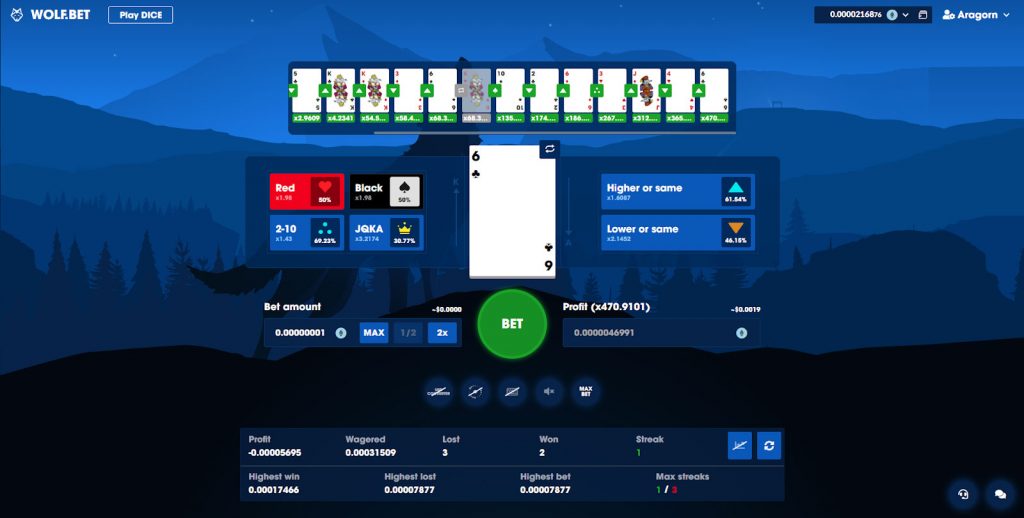 Just as simple as Dice, Hilo (Higher or Lower) is a popular card game where you have to guess whether the upcoming card is going to be higher or lower than the current card, with the lowest card being the ace and the highest card being the king (from 1 to 13).
Simple, right?
But just like Dice, it gets tricky.
If you get an ace, betting that the upcoming card is going to be higher will give you a measly multiplier. That's where you have to get smart and start thinking about how you can beat the house while taking some slightly bigger risks. Similar to Dice, you should think of a strategy.
Not all casinos offer you the same betting options: Red or Black, JQKA (Jack, Queen, King, and Ace), or 2-10 (indicating any other card in the deck) are quite unique. You can use all of these to your advantage depending on your strategy but we recommend chasing a 12x multiplier.
A 12x multiplier is the highest multiplier you can get with a single bet in Hilo and while it's also the hardest to hit, it pays off. Use this strategy with a small amount of Bitcoin to bet at each stage. Even if you lose a few times, you'll get all the money back (and more) once you win!
Try different strategies and see what works best for you.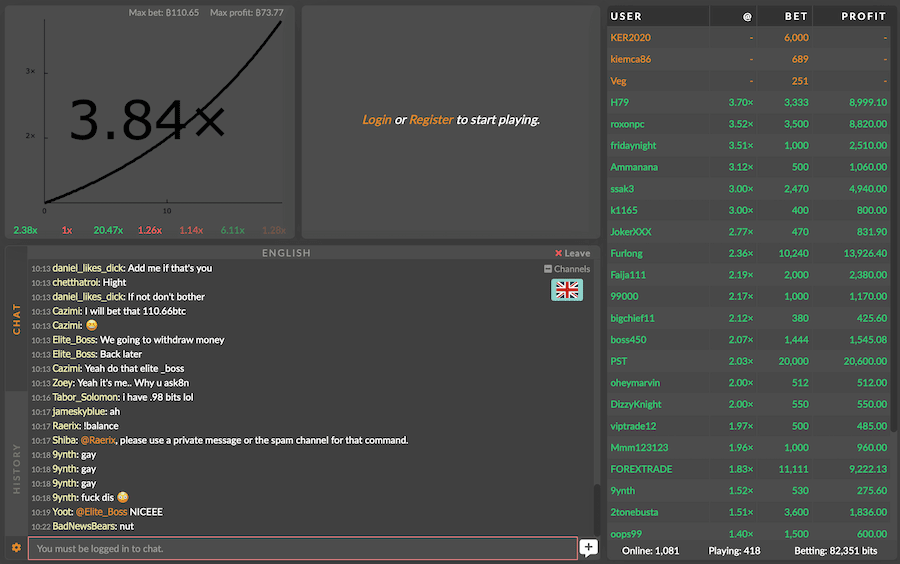 New and innovative, Crash was first introduced in 2014 from Bustabit with a unique concept that threw everyone off the chair: a multi-player gambling game where each players' bet increases the multiplier more and more on an exponential curve until it all "crashes" down.
When to cash out?
You can never know…
In the game, the thrill is trying to understand when the curve will crash so that you can increase the multiplier enough to win big. Found yourself betting a bit too much to increase the curve and it crashes right before you cash out? Then you lose everything and need to start over…
That's the kind of adrenaline rush that Crash provides.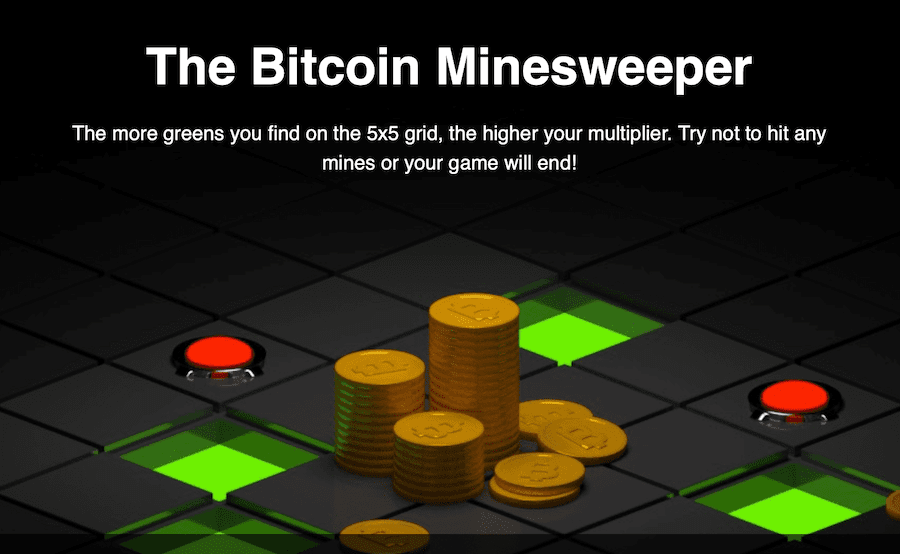 Inspired by the famous Minesweeper game (Windows XP anyone?), Mines is a relatively simple betting game which asks you to choose how many mines you want on a 5×5 board (or bigger, depending on the casino you're playing at), with a multiplier that increases each time you hit any block free of mines, making it harder with more mines.
Hit just one mine and you lose it all.
The game is thrilling because of both its simplicity and unknowns:
How many mines should you start with?
Can you carve out a pattern to enhance your multiplier?
Or are you the brave type that goes for 24 mines out of 25 blocks?
Whatever you choose, Mines is a fast-paced betting game that guarantees a lot of fun and offers a lot of nostalgic memories.
5. Keno
A combination of lottery and bingo, Keno allows you to choose up to 10 numbers from a given table (usually featuring 40 to 80 total numbers).
Then, once you've chosen your lucky numbers from the table, the casino calls 20 of them randomly throughout the game. The more numbers matching the callout, the bigger the multiplier on your bet.
Catch none of the numbers and you lose everything.
This can happen especially if you take on a higher risk by placing less than 10 numbers on the board which increases your multiplier but makes it harder to win. The numbers picked by the casino are totally random so there aren't many strategies to be used (other than pure luck).
6. Limbo
The basics of Limbo are similar to Dice but without a "threshold" to take into account. This means that Limbo gives you virtually infinite ways to increase your multiplier based on Bet Amount and Target Payout, both comparing each other to give you the odds of winning.
With a game like Limbo, you have a variable betting environment where small bets can grant you huge wins (if you're lucky enough to hit them).
The only way to go in Limbo?
Up!
The higher the target payout compared to your bet, the lower the odds of winning. In Limbo, you could win upwards of 20 Bitcoin with just a small bet of 0.00002 BTC. Sounds good, right?
7. Baccarat
Baccarat is a well-known casino card game played between two hands—the banker and the player. Each round (or coup) has three possible outcomes:
The player has the highest score;
The banker scores higher than the player;
Both player and banker score the same (tie).
Cards have a point value: 2 to 9 are worth face value (with nine being the highest card), the 10 and JQK (Jack, Queen, King) are worth zero, and the Ace is worth just one. The house edge hovers at around 1% in Baccarat so the winning odds are strongly in favor of the banker.
Baccarat translates pretty well to the world of Bitcoin gambling and is an interesting game to play with the cryptocurrency.
While certainly not the most popular (Dice is the most played Bitcoin casino game!), it's nice for those who are familiar with the rules.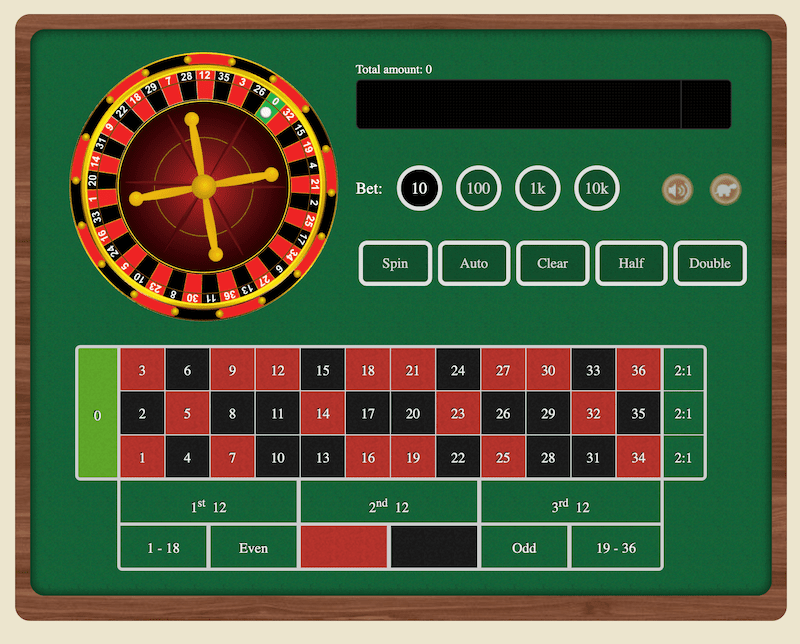 Centered around the odds of where a ball will land when spun on a revolving wheel (with numbers from 1 to 36), Roulette is one of the most recognized games in the casino business, and it translates well to crypto.
While less popular than the first six options, Bitcoin roulette is still a fun game derived from traditional tabletop casino games.
On top of betting for individual numbers, you can bet the ball will land on the 1st, 2nd, or 3rd twelves of the wheel as well as odd/even and red/black.
Bitcoin Games with Unverifiable Outcomes
Well-known in the traditional casino scene, these games mimic traditional-style casino rules without much room for innovation or original features. Less interesting from a money-making perspective (it's harder to prove that they are truly fair), these games are: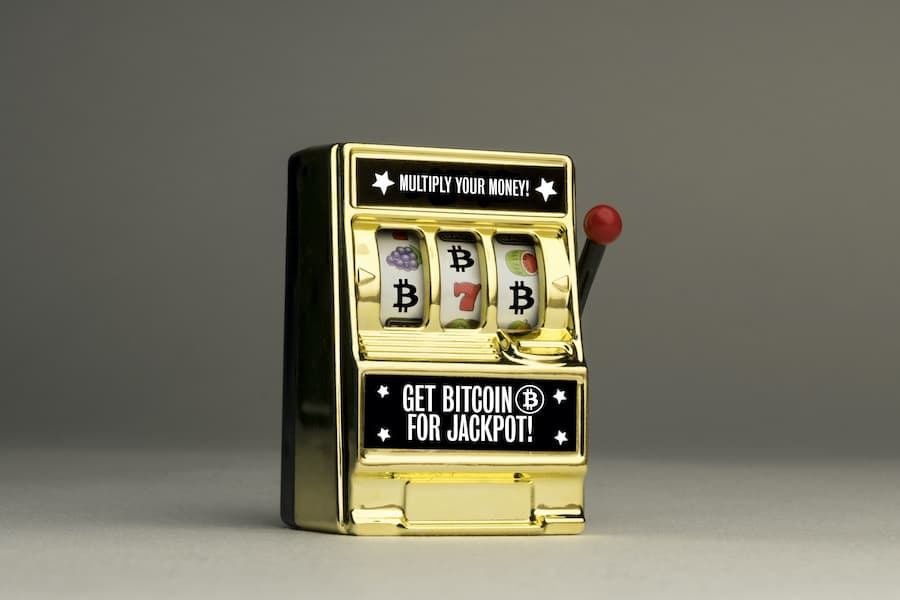 Slot machines have been around for more than a century, and it's no surprise that they made it into crypto gambling as well.
With the game being centered around trying to hit the same item repeatedly on various multipliers, it's hard to know really how fair these games are. The algorithms used by most casinos are hidden and the winning odds aren't all that exciting to begin with…
Mobile Bitcoin Games
The Bitcoin world was always meant to end up on mobile devices. The way the currency works is ideal for immediate, on-the-go transactions and our phones are the perfect medium for this to happen. But can mobile phones deliver on the promise of high-paying Bitcoin games?
In this realm, there are four types of games:
Bitcoin reward games;
Classic-style games paying Bitcoins;
Classic-style games that do not pay Bitcoins;
Trading simulation games.
The most widespread path to gaining some Bitcoins is to do some task-based activities that grant you a tiny portion of Bitcoin (Satoshi) each time you complete an action such as clicking on ads, subscribing to a new service, answering a survey, and other data-centric activities.
The second option is to have a gaming experience connected to the possibility of acquiring real Bitcoins. This is an extremely popular proposition but doesn't grant big winnings. Games like Bitcoin Blocks and CryptoWord are fun to play and they reward you with some Bitcoin.
(Some games offer the same experience but with fake Bitcoins)
Finally, we have simulation games. These games do not reward you with any real Bitcoin whatsoever. Everything within the game is simulated on purpose just to learn. Do not get fooled by these types of games…
If you see "Simulation" in the game categories, it doesn't pay!
Here are 19 mobile Bitcoin games you may want to try:
Reward-Style Bitcoin Games
Reward-style games aren't really games per se but rather a way to collect data from people using the app and rewarding you with tiny amounts of Bitcoin in the process. Note that acquiring a decent amount of Bitcoin with this method will take you forever so don't solely rely on it!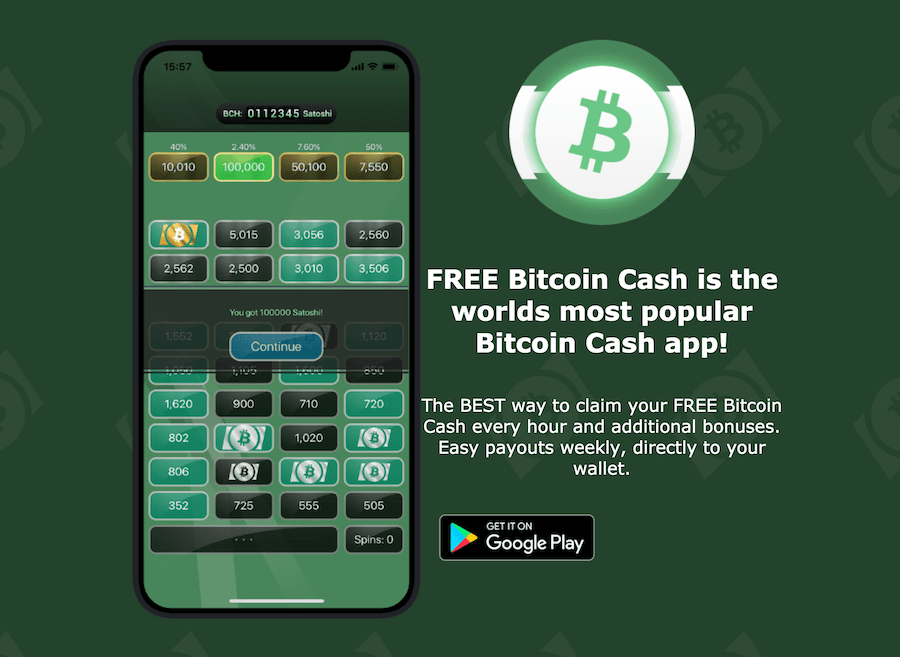 Developed by one of the most renowned crypto game developers in the world, Free Bitcoin Cash is a simple reward-style game that pays out 10K+ Satoshi (the smallest unit of BCH available) to thousands of people every Tuesday in exchange for some data gathering.
To get started, you first need to set up your own account, enter the details of the wallet you want the Satoshi to be sent out to, and then play the game by spinning the available prizes.
With a limited amount of spins available to you, there is the possibility to gain more by watching some ads as well as completing some tasks offered by the app. When a spin lands on the appropriate number, you'll receive real satoshi accredited to your account!
Isn't that awesome?
This is a really good way to get started with Bitcoin Cash.
However, you should manage your expectations. Once you do land one of the prizes, the amount you receive is usually not that high.
The good thing is that the developer constantly issues new exciting competitions and prizes with potential for big wins.
Try it out for yourself!
NOTE: Bitcoin Cash and Bitcoin are not the same cryptocurrencies. Bitcoin Cash was created due to problems with Bitcoin's transaction speed, making BCH a faster proposition.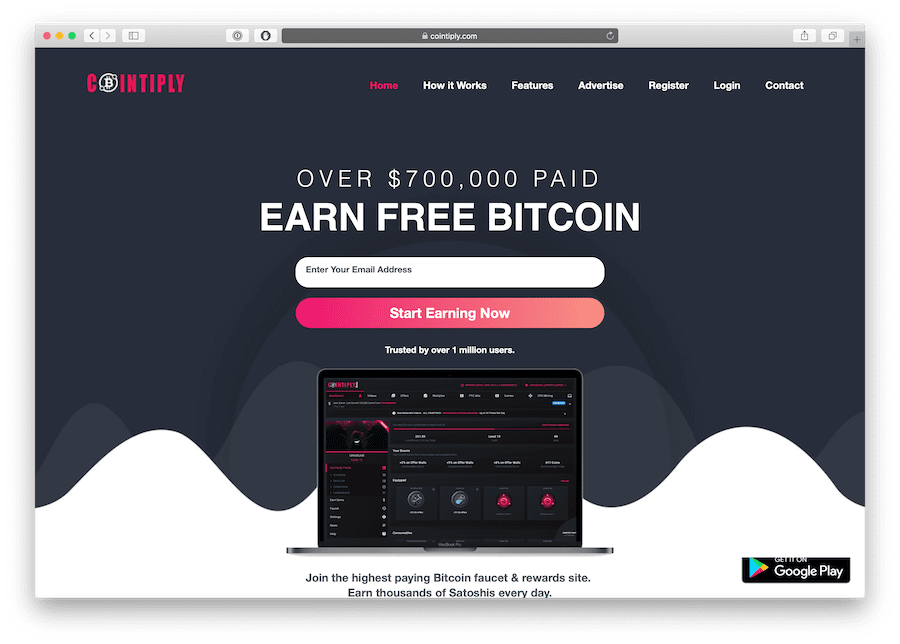 Cointiply is similar to Free Bitcoin Play in that it offers a crypto rewards platform that pays you for completing tasks, filling out surveys, viewing ads, and playing games. Unlike Free Bitcoin Cash which offers just a few ways to earn Bitcoin Cash, Cointiply has a lot of options:
Free daily coin spins (similar to Free Bitcoin Cash)
Loyalty bonuses depending on how long you play
Survey completion bonuses
Bonuses for installing apps and games
More spins available when viewing ads
Offer and task completion rewards
… and more.
The cryptocurrencies available?
Bitcoin and DOGE.
Not bad, right?
But wait, there's a catch. The coins that you collect in-game aren't actual cryptocurrency, they're more of a virtual currency used in a way that can be converted to Bitcoin. Once you reach 50.000 in-game coins (around 5 USD), you can withdraw the equivalent in Bitcoin.
The app is legit so we recommend you try it.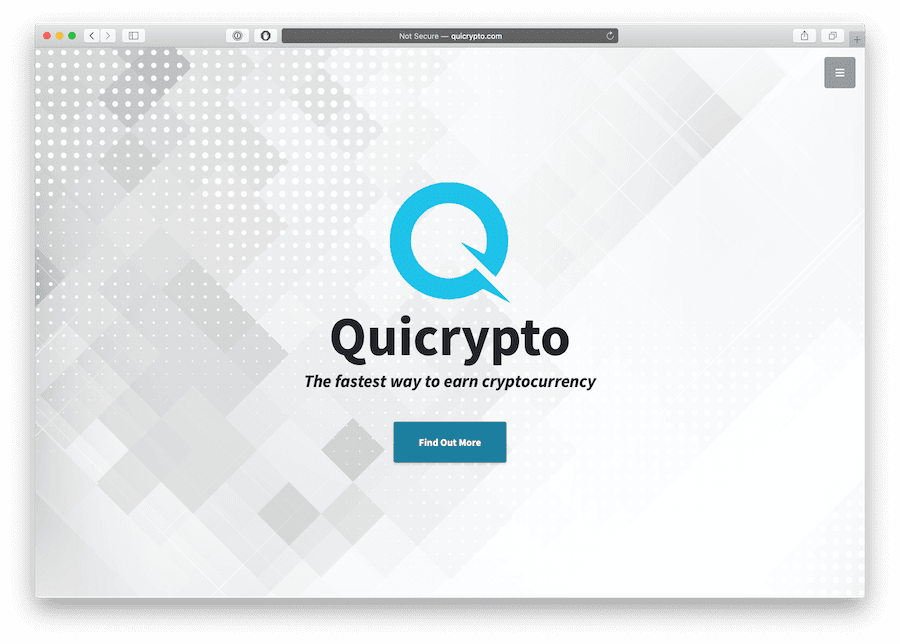 Same premise as the first two apps in this rewards-style list but with a different name (and a pretty cool design!).
With Quicrypto, you may withdraw your rewards in either Nano or Bitcoin. But again, there is a catch here too… Most Bitcoin transfers will have fees and once you choose to go BTC, you can't go back to Nano!
Why, you might ask?
We have no idea.
The concept behind the app is the same as the previous: spin for rewards, watch ads for more spins, do some random activities, and you'll get in-game coins that you can turn into Bitcoin and other crypto.
Please note that these apps are extremely hungry for your mobile data and will likely request every type of access to your phone.
If you're not ok with this, then it's not for you.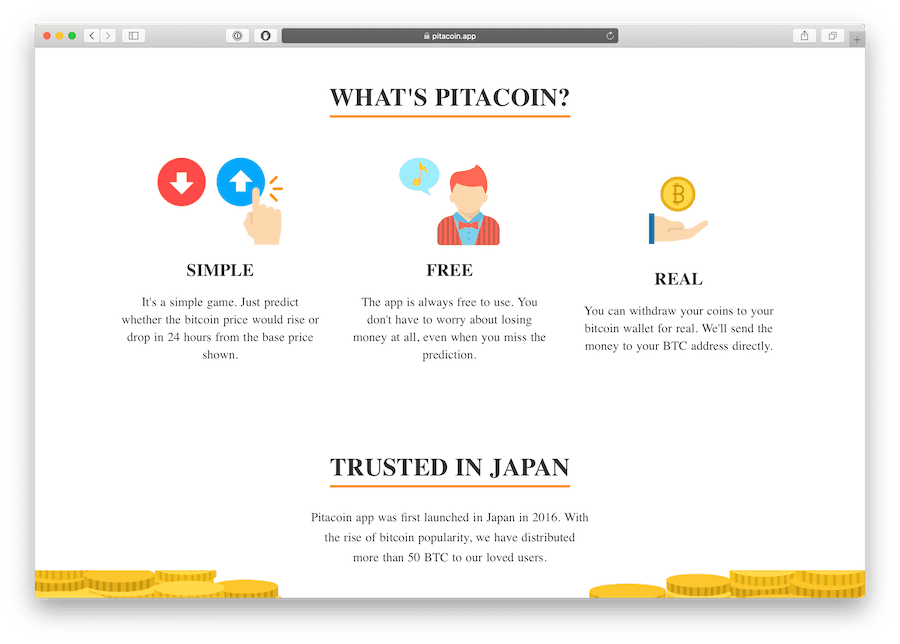 Pitacoin is one of the better rewards-style apps as it features a nice design together with some of the best features in the space. Similar to the previous apps but with a twist, Pitacoin allows you to bet whether the BTC stock price will go up or down the following day, similar to how the Hilo casino card game works but with Bitcoin stock instead of the value of individual cards.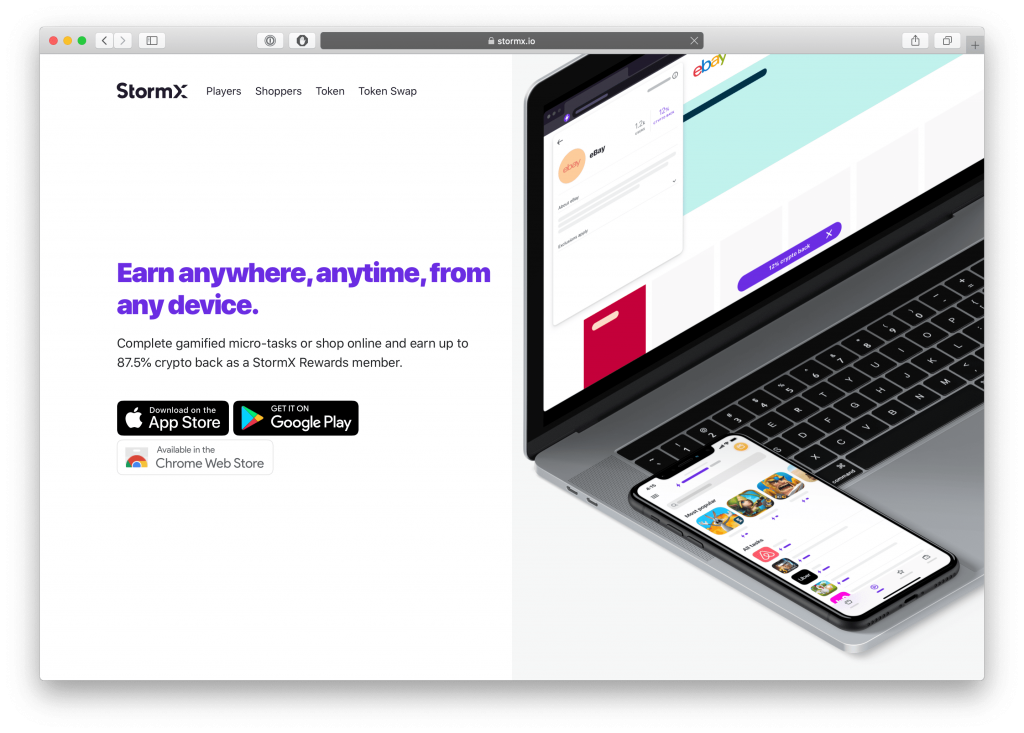 The model is the same as the previous apps: you complete tasks and you get to collect in-app "bolts" which can then be redeemed as Bitcoin or other crypto. The difference here? The app isn't as immediate as the others, essentially giving you less of a "game" to play and more of a relentless third-party app download quest to pursue. Not that much fun really…
Classic-Style Games with Real Bitcoin
You've probably already played games like Angry Birds or Candy Crush on your phone. You know how addictive and fun to play they can be.
But what if you added a component of real money to them?
Suddenly things become a lot more interesting.
That's the premise behind classic-style mobile games offering rewards in real Bitcoin based on in-game competitions and leaderboards.
While winnings tend to be on the lower end for most players, there is potential for big wins if you catch (and win) the right competition.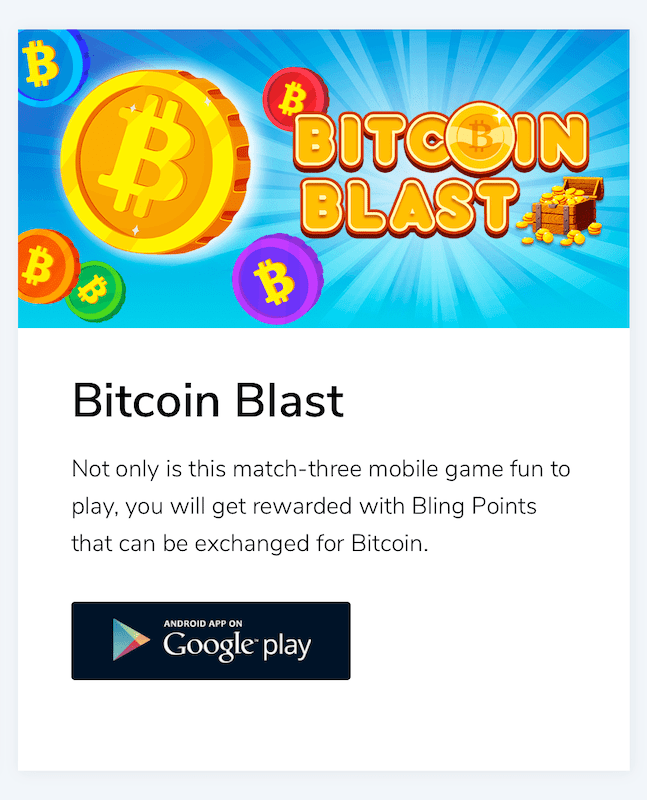 You've played (or at least heard of) Candy Crush before.
You know how it works and how addicting it is. With Bitcoin Blast, the experience is similar but with coins instead of candy. And while the gameplay is a bit different, the concept remains the same—destroy all coins with similar colors and reach an objective for that specific level.
The great thing?
You can turn the "Bling Points" you gain into real Bitcoin!
Most Bitcoin games available on mobile are from developer Bling.
They make a variety of games (four of which are included in this section) that all allow you to gain real Bitcoin in the process of playing your game.
Like most other games in this niche, you will get a lot of ads and data tracking but unlike some other games, this one is a pleasure to go through:
The interface is well-made and the gameplay is fun, with the possibility to deposit your Bitcoin directly into your Coinbase account.
While persistent, the ads don't disrupt the playing experience and are a minimum distraction, allowing you to rake up more Bling points.
Cashing out is as easy as clicking the "Cash Out" button at the top, check out your email for a verification link, and you're done!
As with most of these games, the cashouts aren't insanely high, but that's what you can expect when the app developers simply take a percentage of the ad revenue they generate and turn it into Bitcoin.
It's the model that's limited to the ad platforms—not the app. If you enjoy the games and would like to add some money-making, why not try?
NOTE: You can expect to make around 50 Satoshi for each 50k Bling points, making it one of the better options for raking up Bitcoins in case you're just starting out.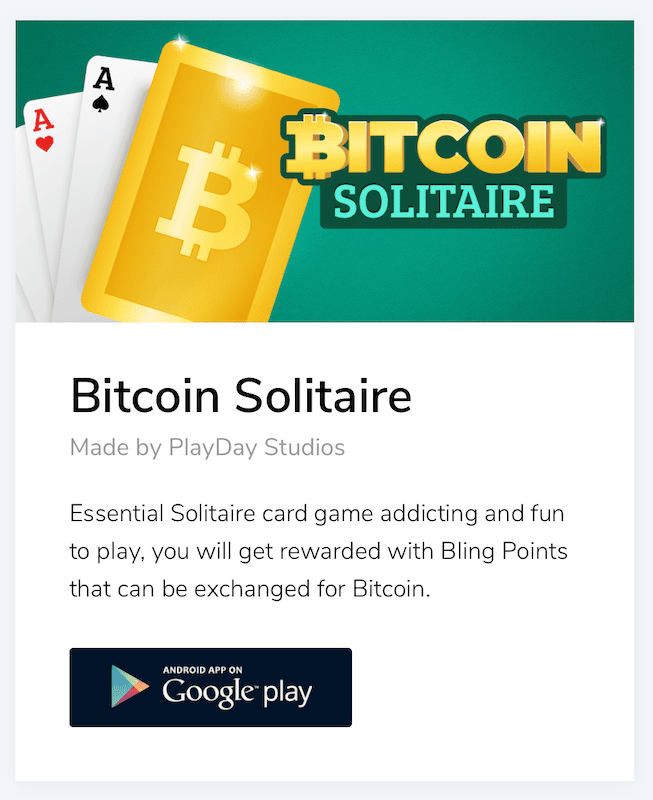 Developed from the same guys which made Bitcoin Blast possible, Bitcoin Solitaire offers the same exact benefits with a totally different gameplay.
Instead of destroying Bitcoins, you're playing Solitaire: a card game where you have to stack up the cards until there are none left in the deck.
The great thing with the Bling series?
Your Bling Points are applied to all Bling games.
This makes it possible for you to play various games and maximize the fun while sharing your Bling Points between apps, making it THE best experience in Bitcoin mobile gaming.
Together with Bitcoin Food Fight and Bitcoin Blocks, you have a full range of gameplay features to kill time and cash out starting from 50k Bling Points (a really small amount of BTC).
Enjoy Solitaire and casual gaming?
Then you've found your holy grail!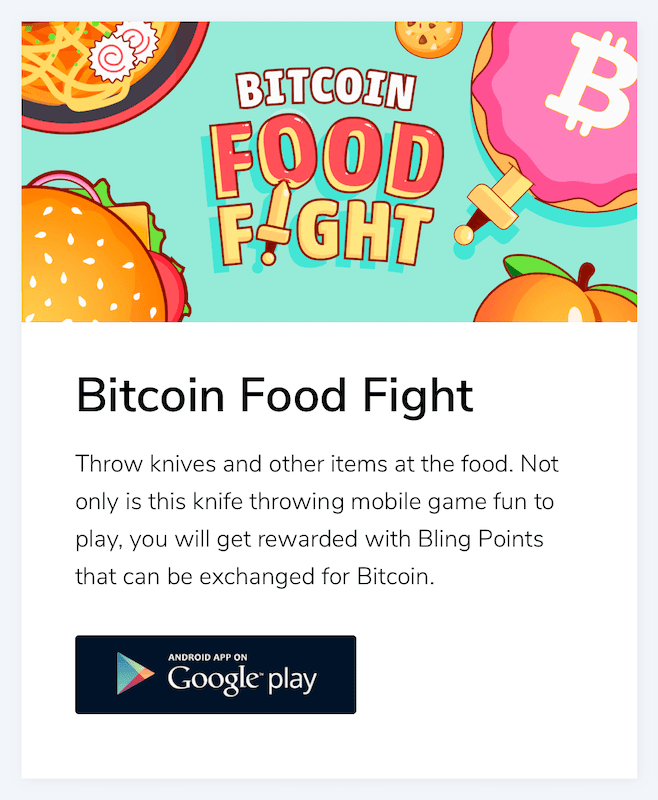 The Food Fight iteration of the Bling series is an interesting take on mobile gaming as it features a bit of a different gameplay compared to the traditional concepts of Blast and Solitaire.
Here you have to launch forks onto various food items rotating in the center of the screen and try to avoid the previous forks based on different rotation patterns which get progressively harder.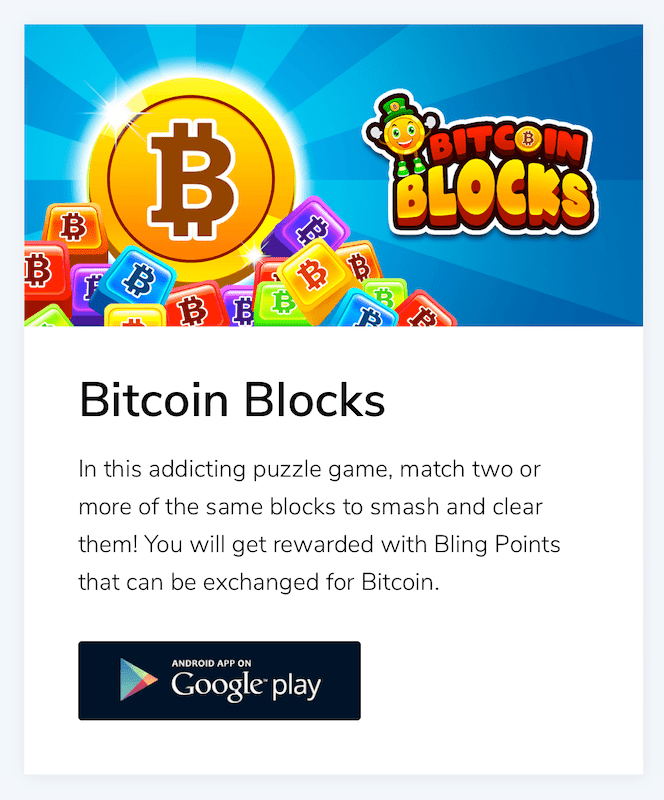 The final app in the Bling ecosystem, Bitcoin Blocks is a fast-paced game that is similar in gameplay to Blast but with a bit of a twist…
Instead of swiping your fingers on the different Bitcoins, you simply have to tap on the blocks which are of the same color to pop the entire row. This makes the game faster to play and more casual than Bitcoin Blast.
If you're more of the competitive type of person, Bitcoin Bounce might be right for you. The gameplay is a lot harder than any of the Bling games and requires full attention to get the main coin bouncing on each platform correctly while hitting the combos highlighted on each block.
Every time you press on the screen, the coin dips into the blocks.
If you press too soon or too late, you miss your target.
The premise of the game is simple: get as far as you can as the gameplay progressively gets harder and harder. The more "THNDR" tickets you rake up, the better the chances to enter competitions which can win you upwards of 10K satoshi! Since we're a competitive bunch, this is definitely one of our favorite Bitcoin-themed mobile games to play.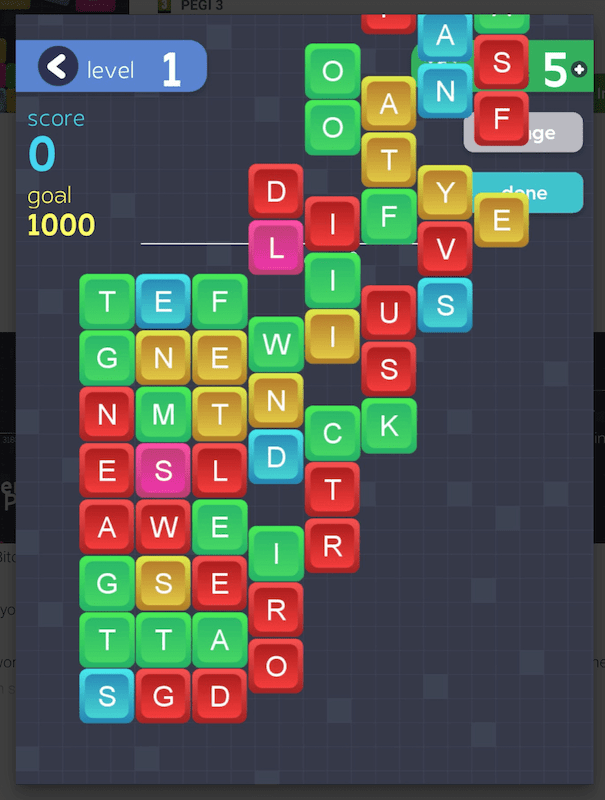 Find combinations that make up entire words and win points which can then be turned into Bitcoin. The gameplay is similar to Scribble but in reverse: instead of having a plain field and putting the letters yourself, you get an entire waterfall of letters to use to your advantage.
We find CryptoWord to be one of the best games in the bunch because it requires a bit of critical thinking and really grabs your attention.
Some of the more casual games tend to get boring really fast due to their quick puzzles and endless advertisements.
Just like other games in this section, you can connect your wallet to the app and convert your points into Bitcoins once you reach a certain threshold. This pays less compared to the Bling series but it's worth looking into because of the fun gameplay, helping you learn new words.
Crypto Slicer is essentially the same as Bitcoin Food Fight but with a different look. It's an interesting proposition if for any reason you don't want to play the Bling games but, other than that, it doesn't deserve any special mention and doesn't have any unique feature to it.
BitBomb has the exact same gameplay as Bitcoin Blast but with a friendlier, "cuter" design that includes all types of cryptocurrencies, not just Bitcoin.
Raking up "StarCoins" allows you to convert them into regular Bitcoins by using a CoinsGainer account. The minimum you can cash out in BitBomb is 100k StarCoins, with 1k being the equivalent of 1 Satoshi.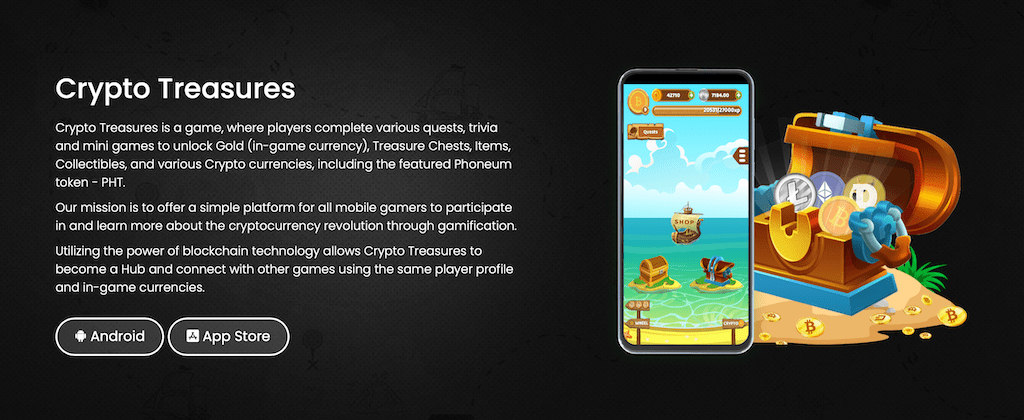 Our last entry is a game unlike any other in the mobile scene: Crypto Treasures. While the game doesn't allow you to convert in-game currency to Bitcoin, it does offer Phoneum as their cryptocurrency of choice.
With a wide variety of quests to choose from, personalized profiles, and a social take, the game is an interesting addition to consider.
Classic-Style Games with Fake Bitcoin
Sometimes it's hard to tell whether a game is selling you the Bitcoin name just because it's renowned and then giving you nothing in return or whether they're serious about giving you money to play competitively.
That's why we've compiled a list of four mobile games that seem like they may pay you Bitcoin but do not actually give out anything…
It's all fake crypto!
Similar to some of the point-and-click adventure games that are popular on desktop, Bitcoin Mining's pitch is to create your own Bitcoin empire by upgrading your computer, mining Bitcoin (i.e. repeatedly tapping on the computer shown in the game), and trading on the stock.
The Bitcoin used in the game is all fake.
While interesting for the first ten minutes, we found that the game gets repetitive quickly and that even the computer upgrades aren't interesting enough to keep playing with it for more than ten minutes at a time.
Developed from Fizzpow, Bitcoin Billionaire is a game with fake Bitcoins allowing you to customize your own character and "mine" Bitcoins by quickly tapping on the screen, just like Bitcoin Mining.
The game suffers from the same repetitiveness as Bitcoin Mining and the overall presentation and styling are less than stellar for a modern game.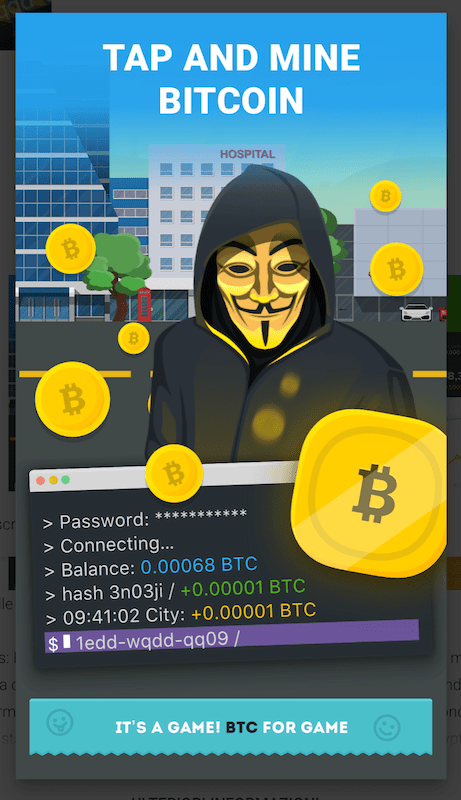 The concept of repeatedly tapping to mine Bitcoin is quite popular as a mobile game and perhaps best executed with The Crypto Games: Bitcoin Tycoon. While the previous two options proved to be fairly bland, The Crypto Games has enough going for it to keep things interesting.
The taps feel more like you're actually mining thanks to haptic feedback and a terminal view showing you all the transactions, and the upgrades are an interesting addition to the gameplay, with roulette spins allowing you to gather bonuses once in a while.
Bitcoin Trading Simulation Games
With the market value of cryptocurrencies hovering around 230B (source: Statista) and a constant growth outlook, it makes sense that trading crypto is a popular choice for many looking to exchange their USD or any other currency and get started with their Bitcoin.
But where do you start if you're a total beginner?
With crypto simulation games!
These apps allow you to simulate a trading environment that's as close to the real-world counterpart as possible, helping you identify key parts of your trading strategy in a fun way.
While some are more gaming-focused than others, these simulations are an interesting proposition for people looking to make money on the crypto market.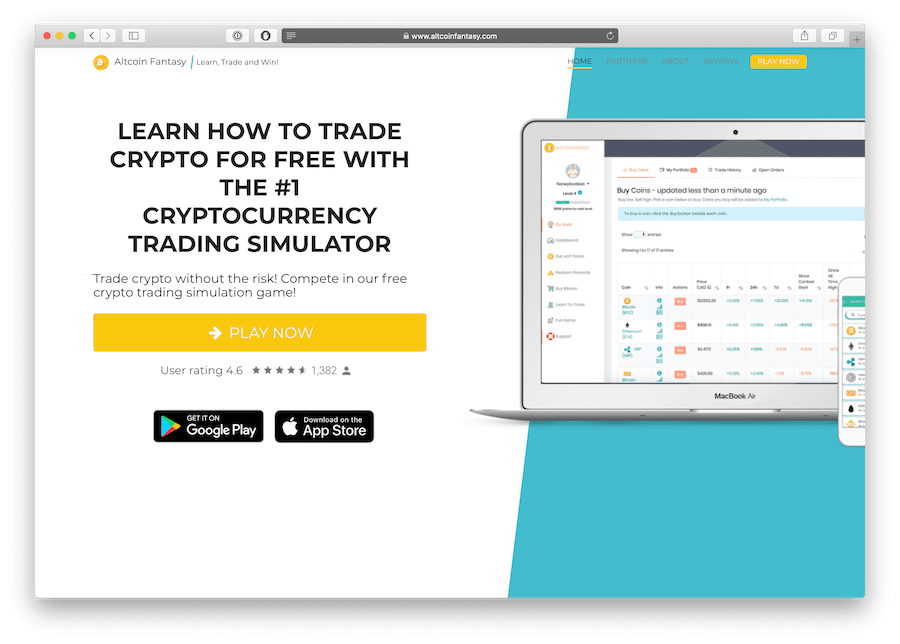 This is the most famous mobile trading simulator and it allows you to simulate all kinds of real-world scenarios in the crypto stock.
The pitch?
Learn how to trade crypto without any of the risk.
This app is particularly interesting because it offers a really sound simulation algorithm that mimics the real world in a compelling way.
And best of all, you don't have to sign up to play…
(But you do if you want to save your progress)
As one of the more elaborate simulation apps, Altcoin Fantasy offers features such as rankings, records about your trades, available cash, net worth (all fake obviously), and more.
The whole app is set up in a way that resembles a social experience, with your own custom profile, different levels to achieve, and a ton of different collectibles for you to display.
Altcoin Fantasy gets a big thumbs up from us!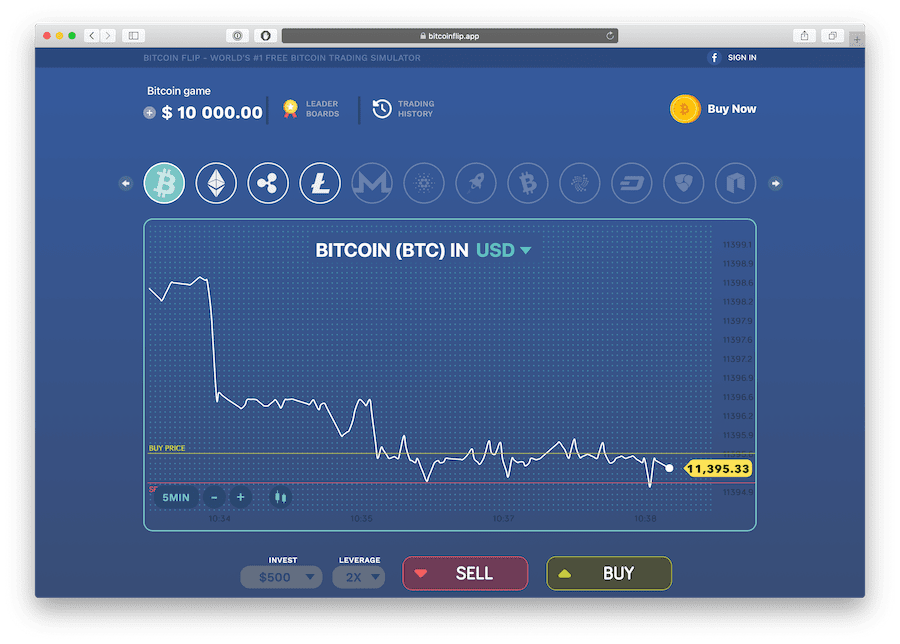 Bitcoin Flip is a good-looking mobile app with a friendly user experience that helps beginners understand how to trade six cryptocurrencies: Bitcoin, Ethereum, Ripple, Litecoin, Monero, and Cardano.
The app is really simple to use: you place your investment with the relevant leverage, hit whether you think the stock market will go up or down, and the app does the rest for you. Come back the next day and see if you got a return on your investment!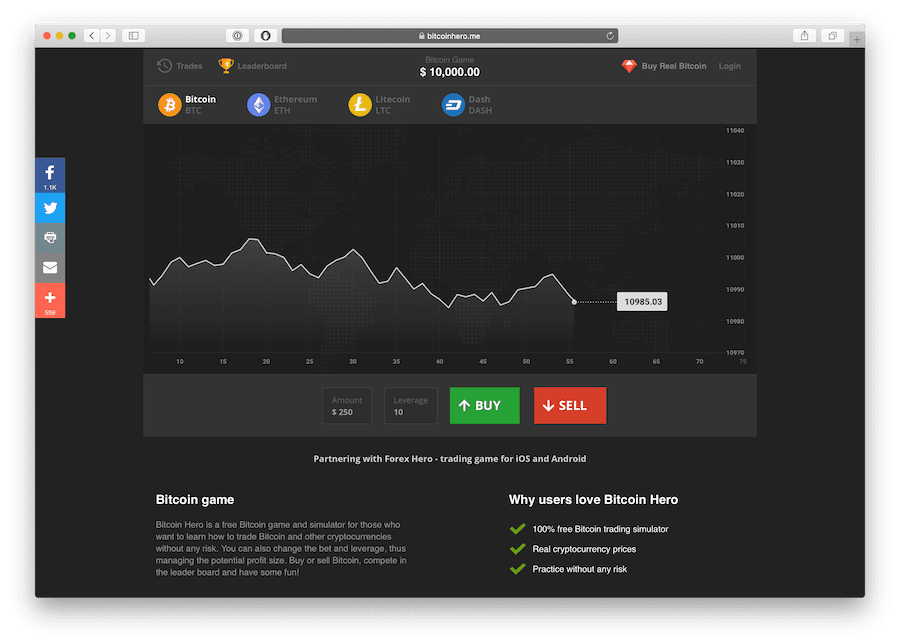 In a partnership with mobile game Forex Hero, the web-based trading simulator Bitcoin Hero got to the App & Play Stores.
The meat of the game?
Learning how to trade crypto in a casual way.
The app offers all kinds of features, including a trading school, quizzes, best times to trade, and bets on whether the stock market will go up or down (and by how much) the following day.
Special Crypto Game Mentions
Some games and apps go against the tide and decide to do their own thing. While these aren't necessarily related to Bitcoin winnings, they're still worth a mention due to their ingenuity. Some grant you unique coins that can be used as real money while others are more about the fun.
Real-World Crypto Games
There's only one real contender in this category and that is Sweatcoin. We've scoured the internet looking for alternatives to this unique take on crypto games but we couldn't find any that were as stable and well-crafted as this app which collects steps to turn them into crypto.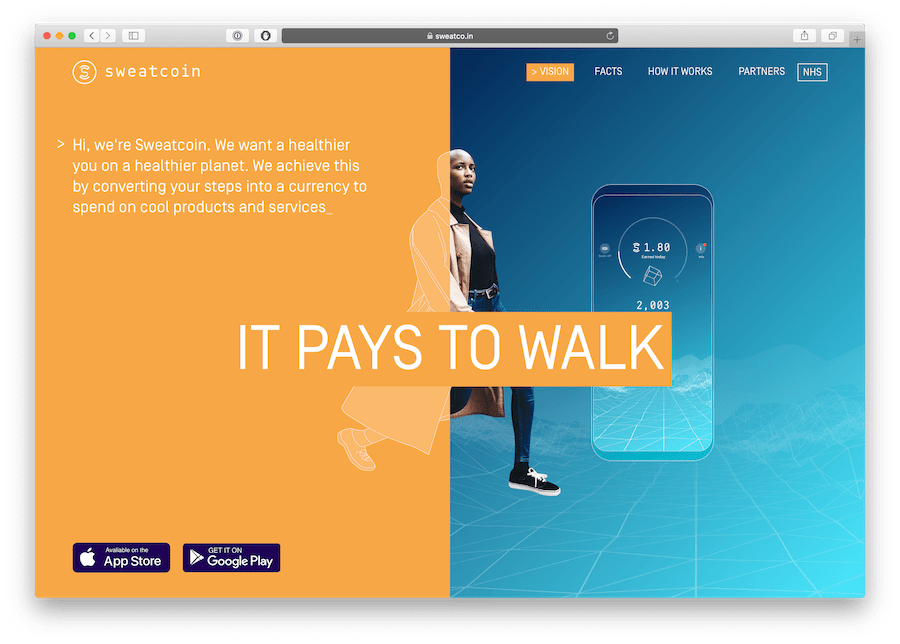 This isn't your typical crypto reward/classic-style/simulation game. Sweatcoin lives in a world of its own and it's because of the way it's been built from the ground up to suit a specific use case: step counting. Right, the thing that you do with your Apple Watch or Fitbit band.
Except that you're making crypto for each step now…
Sounds bizarre? Well, that's the pitch!
With Sweatcoin, you have more than one reason to get up from your couch and start moving. Yes, it does track your health activity which is helpful (even though a billion other apps do that already) but the core differentiator here is the so-called "Sweatcoin."
For each "approved" step that you take, Sweatcoin will turn your physical activity into a virtual, sweaty currency that you can use to claim prizes in the marketplace. Think about it like a fitness program for people who enjoy crypto more than they enjoy doing sports.
And the best part?
It actually works!
Crypto Games for Desktop Browsers
While most crypto casino apps offer web-based experiences to play on both desktop and mobile browsers, some games are best enjoyed exclusively from a desktop browser. A good example of this is Splinterlands which is a fantasy-based card collectible game.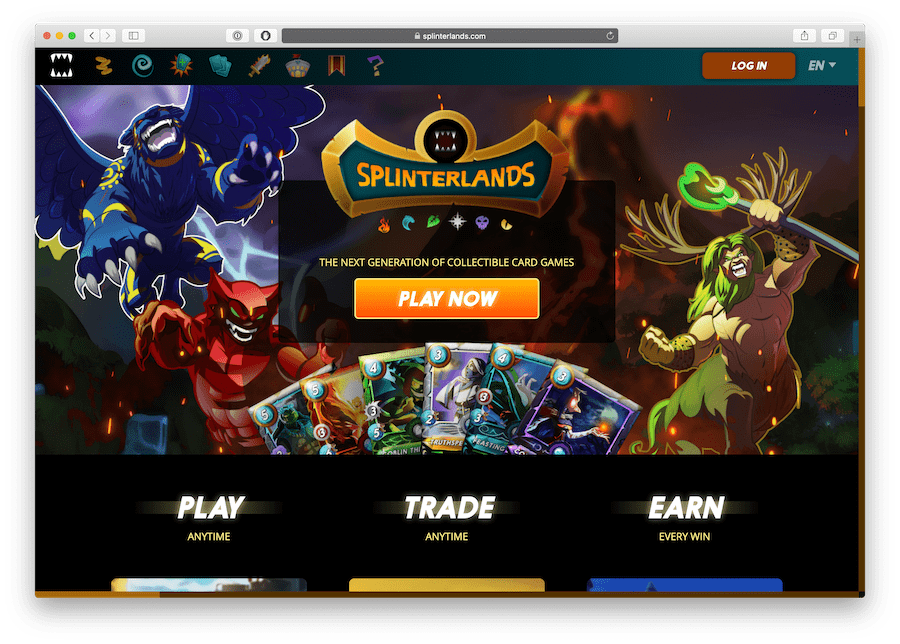 You can't really understand how cool Splinterlands is unless you've played it. Screenshots and words don't really do it justice.
The way this game of collectible cards works is based on a simple separation between "summoner" and "monster" cards:
One allows you to use "primal forces" to summon the monsters;
The others are summoned by the former to do the fighting.
The reason why Splinterlands is so cool is that it's not only a lot of fun to play but it's also built from scratch on top of the blockchain, allowing people to buy, trade, and sell digital assets like cards freely, just like in the physical world…
This wasn't possible until a few years back and it's amazing for collectors looking to gain value on their cards and then sell them at a premium.
And the gameplay?
It's a lot of fun!
While not exactly a game to earn Bitcoins directly, playing Splinterlands means believing in the same principles that made cryptocurrencies possible.
Count us impressed…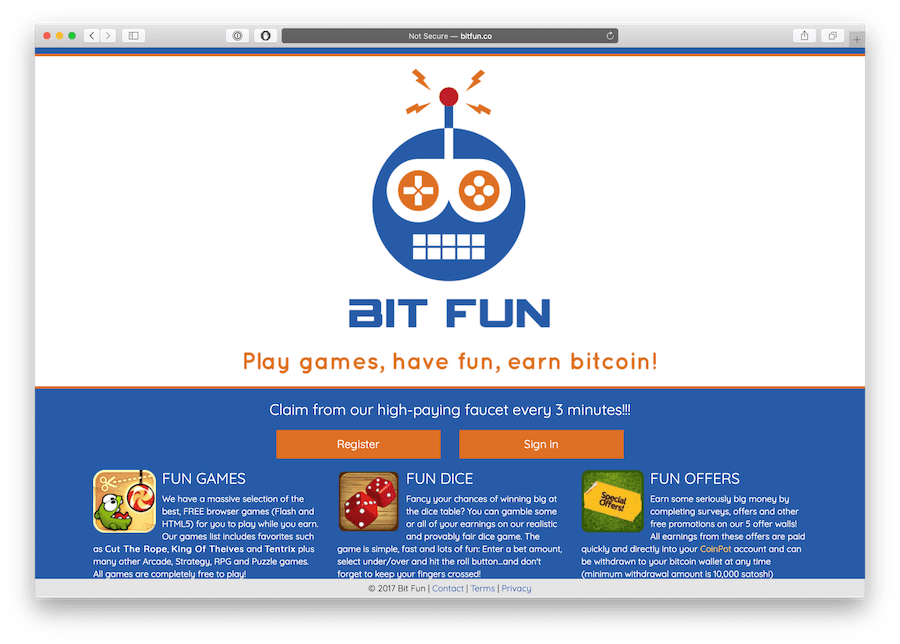 Bit Fun is a collection of classic flash games connected to a high-paying Bitcoin faucet, allowing you to rake up Satoshi and cash out as you spend more and more time on the site.
The big problem?

Bit Fun is absolutely inundated with ads, so much so that you can barely tell where the game even is. Sure, it has a good selection of proven games but the experience isn't pleasurable.
If you're willing to sacrifice your eyes for some Satoshi, go for it. We'd rather stick to a more user-friendly experience like the one offered by mobile reward apps.
Having Fun with Your Bitcoin Games
While earnings are a key part of your Bitcoin experience, it's important to remember that these are all games and that they do not guarantee sustainable income or money-making.
Creating a fun environment for yourself is key to enjoying all the benefits of Bitcoin in gaming and that starts with playing responsibly and at a pace you're comfortable with.
Whether you want to play a casino, reward, classic, mobile or desktop game, it's important that you get to enjoy your experience. If you're not having fun, it's not worth it.
So, which Bitcoin game will you choose?