Gambling with dice is a favorite of players who like wagering in games where the odds of winning seem simple at first yet prove to be quite hard to master.
Over the years, dice has evolved to become so much more than just a tabletop game as it's turned into a fully-fledged phenomenon in the crypto gambling space.
But you're here to know which ones are the absolute BEST…
Here's a list of 11 dice gambling games you can't miss.
Dice Games: Online Gambling
With the advent of crypto as well as traditional online casinos, wagering from the comfort of your home is now the norm. These are the best dice games you can play online…

Playing Dice Games with Cryptocurrency
While still in its growing phase, crypto dice (especially Bitcoin!) is already proving a great alternative to traditional dice. Why? Because it provides a ton of additional features.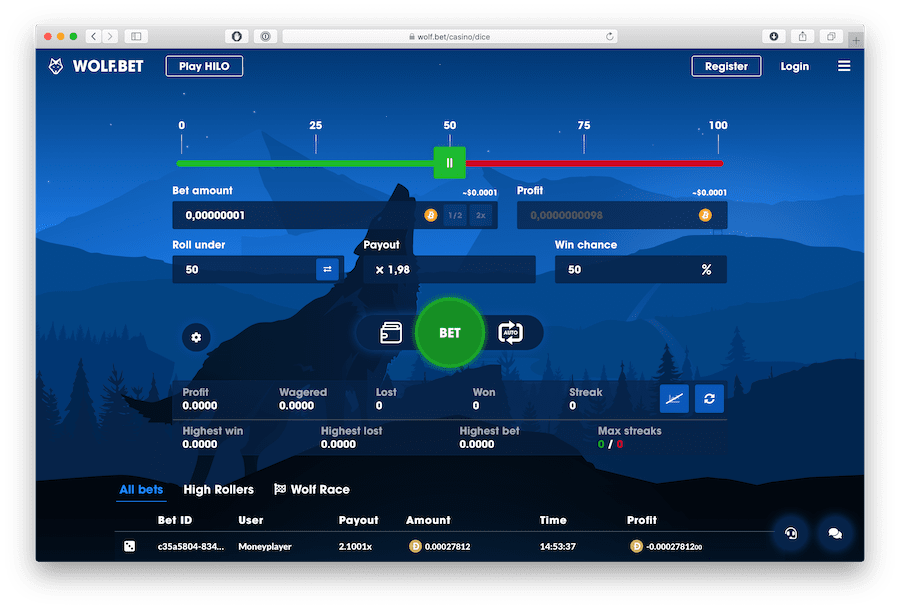 As one of the most innovative dice games available in crypto gambling, Wolf.bet Dice focuses primarily on providing a unique gameplay paired with a great user experience.
The core of the game is a bit different than your traditional casino dice game, being that betting with cryptocurrency allows for dynamic adjustment of your win chance.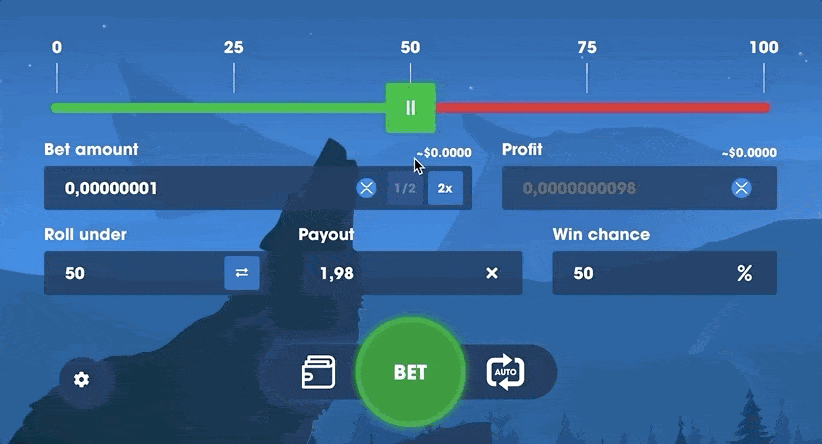 The win chance can be adjusted based on the threshold chosen (from 0 to 100), and you can swap your chances by choosing whether you will roll under or over that threshold.
While simple to start with, Wolf.bet Dice becomes especially intriguing in the long-term, allowing for complex strategies that may well result in huge wins.
Features like Autobet are taken up a notch here by allowing players to save their own automated strategies for later use—a great way to save your best play styles!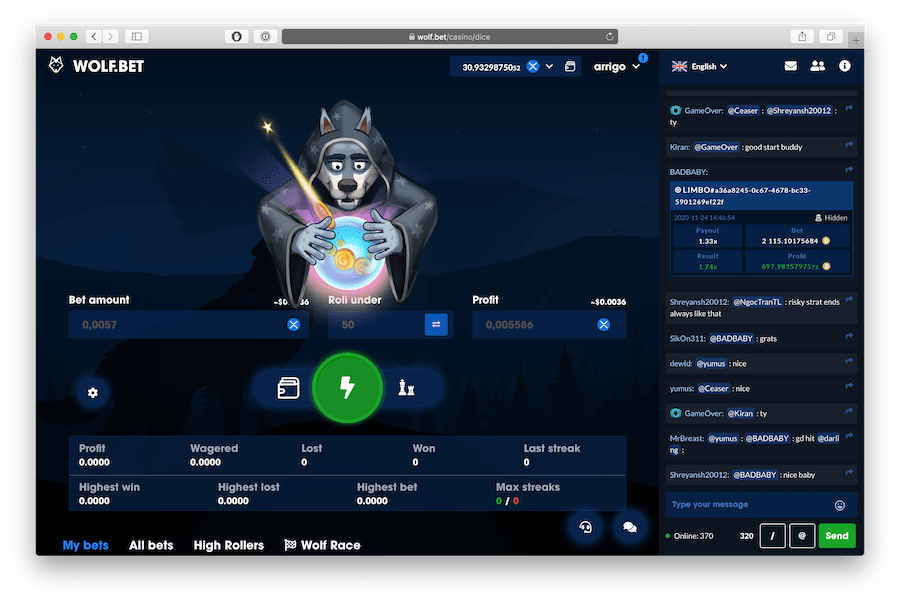 On top of that, a Flashbet is as unique of a feature as it can get in the game. Choose the amount of bets you'd like to wager and have them all done at lightning speed!
With an interface made to welcome beginners and programs made to reward pros (VIP, Wolf Race, and more), Wolf.bet Dice is great for fun and serious gambling alike.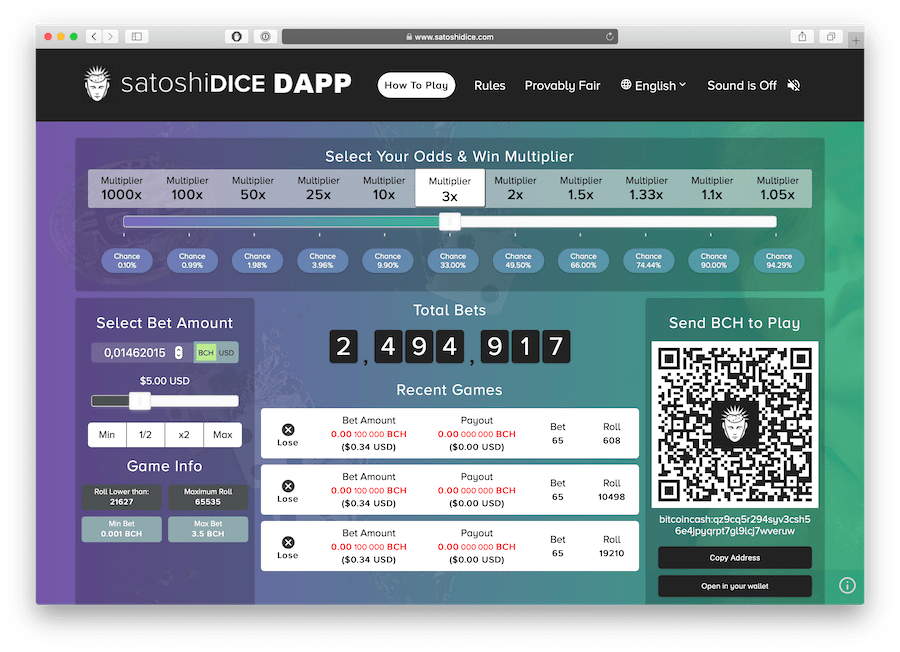 As one of the first Dice games made available in the crypto space, SatoshiDice has achieved legendary status in the community as one of the most accessible crypto gambling sites.
While the website only accepts Bitcoin Cash today due to some legal disputes, it's still known as the place to go if you want to play a quick dice game and win some BCH.
SatoshiDice's gameplay hasn't changed much since its launch in 2012 (although the style did). You choose a win multiplier, send BCH to the address displayed, and you're good to go!
Even the way bets work hasn't changed…
No need to open an account or sign up with SatoshiDice!
While extremely innovative at the time of release, SatoshiDice hasn't aged as well as some crypto enthusiasts would have hoped. It's good for a quick roll, but that's about it.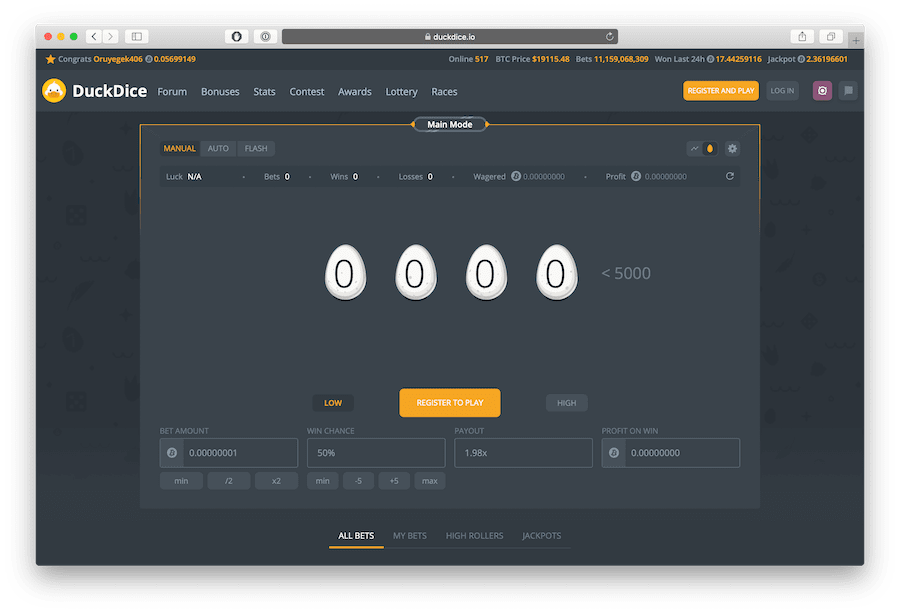 With a unique take in the crypto gambling scene, DuckDice is the type of gambling application you'd want to use if you had extensive experience playing Bitcoin dice.
Requiring registration and some time getting used to the interface, DuckDice is a modern dice game that gives you a ton of options to play around with:
Manual mode lets you wager manually as you adjust your betting strategy;
Auto mode gives you advanced options for betting automatically, and;
Flash mode places hundreds of bets in just a few seconds.
The biggest differentiating feature about DuckDice is its interface made specifically for long-time crypto dice aficionados who care about bonuses, contests, and races.
If you're the type of person that's looking to get deep into the crypto dice world, DuckDice may be an interesting choice for you. It may not be the best for beginners looking to learn.
---
With unique features such as autobetting and flash bets, crypto dice is one of the most intriguing game offerings in the world of dice gambling, especially if you like playing online.
Dice Gambling with FIAT Currency
If you're more acquainted with using traditional currency for gambling, there are plenty of options with online casinos. We've tested a few of them and highlighted the best…
Dice Game 4: Craps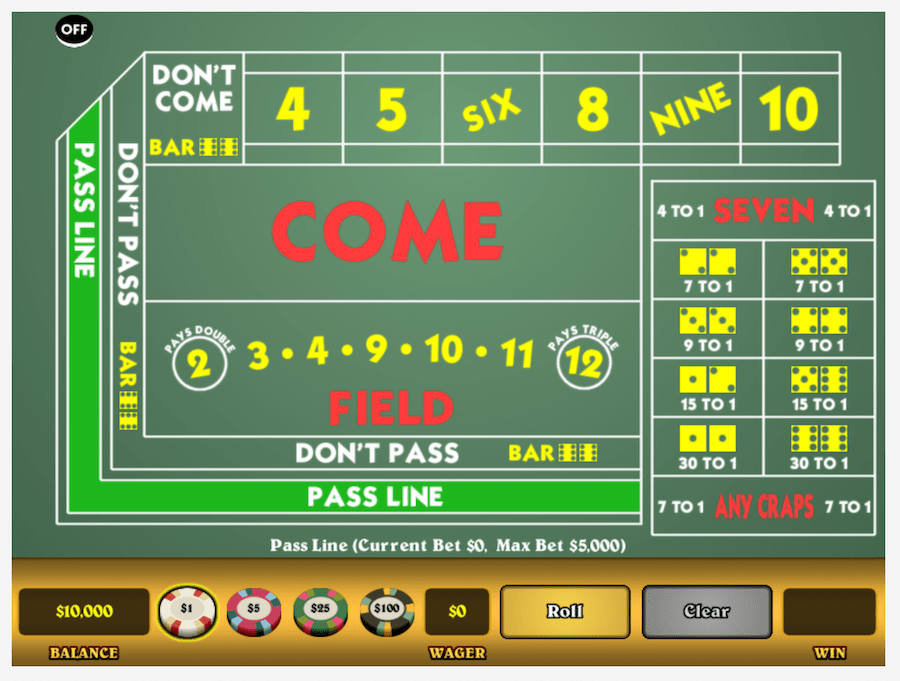 Few dice games are as known (and intimidating) as traditional casino Craps. Here, the players make wagers on the outcome of a roll or series of rolls using two dice.
The version of table Craps you see in movies or at your local casino is (not so surprisingly) called "Casino Craps," and it's been adapted in many forms online.
Craps has one of the richest and more complex rulesets in the dice game world, making it impossible to cover in full for this list. Here are some of the basics to get you started:
Players are called "shooters" and they bet on the various options available on the table by placing chips on the chosen ones depending on their betting style.
A player must have a bet on either the "Pass" or "Don't Pass" lines when acting as a shooter, meaning that you always have a "base" bet on the outcome of a round.
Every round has two stages where the player makes a few "come-out" rolls and, depending on the outcome, gets the opportunity to establish a "point."
Each number rolled represents either a "craps" (2, 3, and 12), a "natural" (7 or 11) or a "point" (4, 5, 6, 8, 9, and 10). Winning depends on the bet placed on the table.
It may sound complex at first but once you get used to the dynamics of craps, it's one of the most enticing dice games to play at a casino. And you can play it online too!
Although not as exciting as playing with physical players, online craps is still an interesting option, especially if you want to learn the rules prior to playing with real money.
Dice Game 5: Sic Bo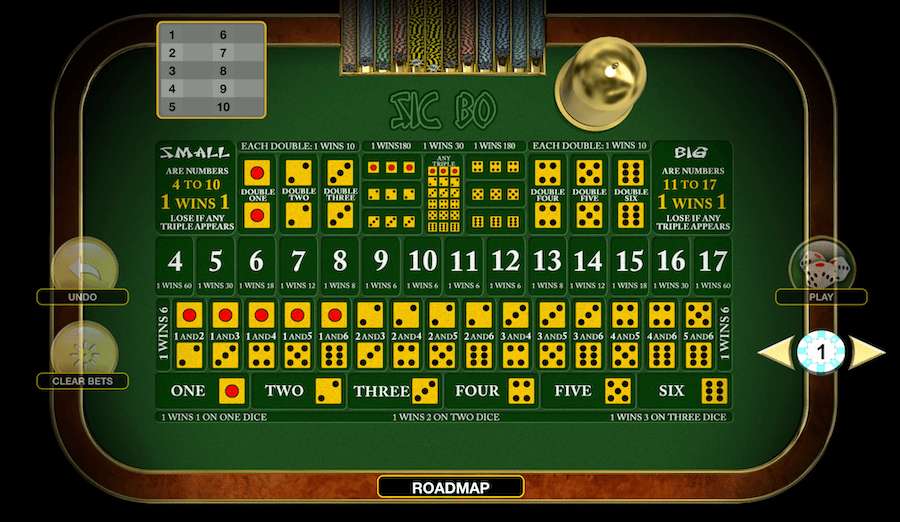 More niche than Craps is a chinese, three-dice casino game known as Sic Bo. Even less complex than Casino Craps, Sic Bo is easy to learn and play:
As with most dice games, your main objective is to guess the outcome of a roll. Since you're given three dice here, the possibilities are increased significantly.
All you need to know in Sic Bo is laid right in front of you. The table showcases the payout for each individual bet and how "easy" or "hard" they are to achieve.
Bet options range from single number bets (which numbers will come out on a single dice?) to combination bets (same but on multiple dice) to triples and more.
The biggest payout is handed when you guess an exact triple (i.e. you bet that 3 6s will come out of your roll). Needless to say, the odds are very low!
While not nearly as popular as traditional Craps, Sic Bo is easy to learn and to play in the moment. A few rolls will turn into a 100 rolls before you know it!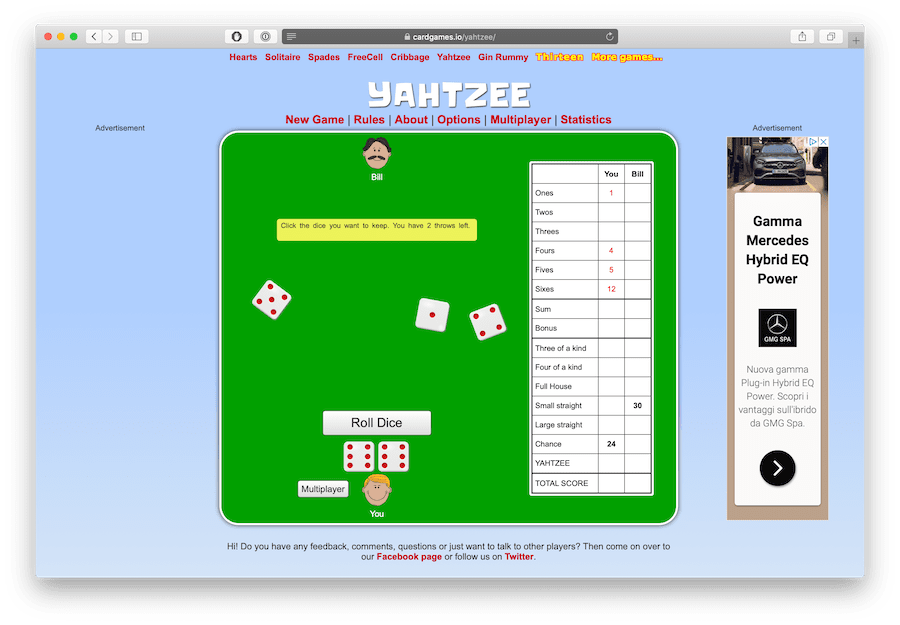 More than a pure gambling game (although it can be one), Yahtzee is a play-at-home dice game where players (min. of 2 and no upper limit) challenge each other by throwing 5 dice.
Each player can roll up to 3 times and "hold" the dice that are most valuable. For example, if you roll 3 6s and 2 random numbers, you'd hold the 6s and re-roll the other 2.
This would allow you to shoot for a "Yahtzee" which is the highest score point available in the game, where all 5 dice match the same number (from 1 to 6).
With each round, players must write their best score on a scorecard by shouting it out loud. In the Yahtzee's case, the player would shout "Yahtzee!" and score 50 points.
While much more fun in a family setting, Yahtzee can also be played online and is an incredibly fun game that will keep you hooked for hours.
Its simplicity is what makes it so appealing!
---
Playing with FIAT currency is great if you haven't gotten int crypto yet. For more info on how to do so, check out a legit way to start making some Bitcoin for practically free.
Dice Games: Offline Gambling
Want to roll some dice at your local casino or would rather play at home with your friends? You can do that in many different ways thanks to the many tabletop games available.
Gambling with Dice at a Local Casino
Local casinos are certainly some of the best places to enjoy a quick roll and find ways to beat the house as you can learn directly within a physical casino environment.
These are the most popular dice games played in casinos:
Dice Game 7: Hazard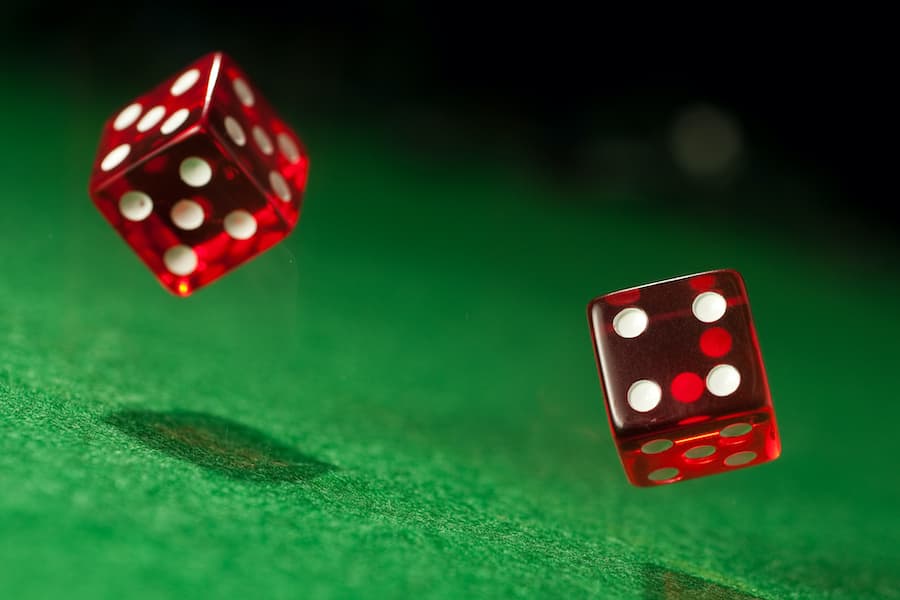 Hazard is a popular dice game dating all the way back to the 14th century. Its best feature is that it doesn't require any special table to play (although casinos do offer it in some cases).
The game can be played by many people all at once and is very fast-paced. The first player—known as the "caster"—throws the dice to establish a "main" (from 5 to 9).
Once the main is established, the players all bet on whether the caster will lose or win based on their roll. Players win only in case they are able to "throw in" (i.e. match the main).
Due to its fast-paced nature, it's hard to always get a sense of what's going on in Hazard unless you have a sound memory of prior rolls. This guide can help with getting started.
Dice Game 8: Banca Francesa (or French Bank)
The overwhelming simple rules of Banca Francesa are also what made it so popular in the traditional casino scene. In "French Bank," you can place only 3 types of bets:
Low (Pequeno)
High (Grande)
Aces
The way this works is very similar to the High Low card game where you're essentially guessing whether the next roll will land either under or over 7.
Very simple to pick up, Banca Francesa can provide some fun for a while. However, due to the more features available, we recommend trying out Hilo as an alternative to this game.
A variation of hazard that is more about displaying style than anything else, Chuck-a-Luck follows the same arbitrary luck rules that Hazard does but in a "grand" fashion.
Due to this, the game is often referred to as "Grand Hazard" and it's offered in casinos mainly due to the peculiar cage used to roll dice which attracts the attention of players.
Make no mistake, there is no grand strategy you can apply to Chuck-a-Luck. As the name suggests, how much you can expect to make out of your roll is solely determined by luck.
However, it's still nice to see the evolution of Hazard becoming a very popular offering, to the point where casinos chose to display it even further with its own unique table.
---
Choosing to play at your local casino is smart: it helps you assess the risk directly, gives you a "clear" picture of how the house operates, and can likely land you the biggest wins.
Tabletop Dice Games You Can Play at Home
Sometimes, you just don't feel like risking much in the process of playing a dice game. It's all about friendship and fun. That's where play-at-home dice games come in…
Dice Game 10: LCR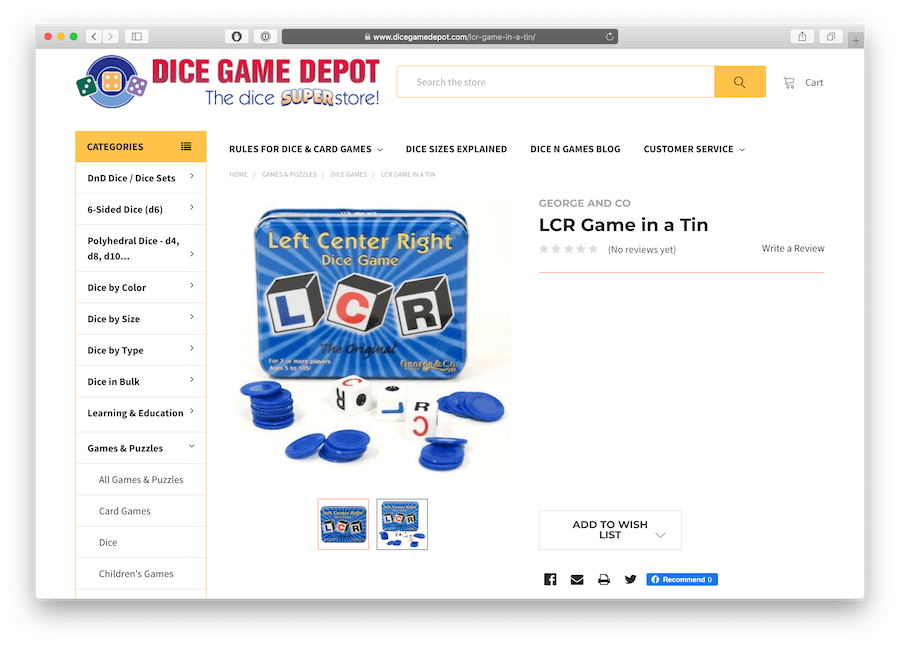 Left Center Right (or LCR) is, by far, the most popular family dice game available. The game is played with fictional chips and three dice, with a minimum of three players to start with.
In LCR, dice aren't your traditional six-figure cubes you're used to. Instead, most sides will have a dot (•) whereas the other three sides will have either an "L", "C", or "R".
Once the game starts, players roll based on how many chips they have (3 chips means they can roll 3 dice). Depending on the roll, the player will have to give up a chip or keep it:
An "L" means the player should give their chip to the player to the left;
An "R" means the player should give their chip to the player to the right;
A "C" means the player should place their chip in the center of the table.
The goal is to "steal" as many chips from other players as possible. Chips laid in the center pot cannot be acquired again, meaning that the overall amount will be reduced over time.
LCR is great fun because even if you lose all of your chips, you're not out of the game until someone wins. If somebody rolls L or R, you can get back into the game with 1 dice.
Dice Game 11: Qwixx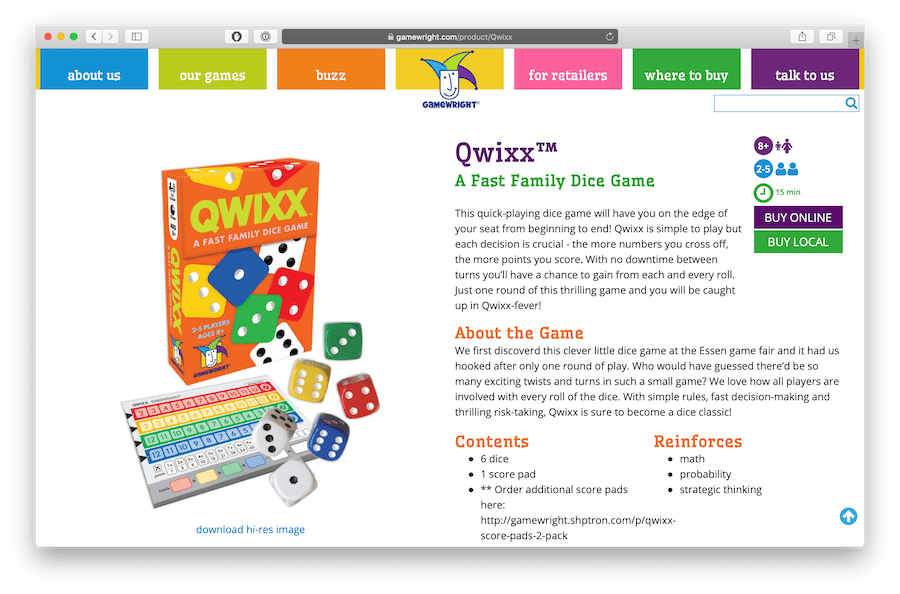 Qwixx is a family dice game based primarily on its scorepad. You have 6 dice that each player rolls to try and cross out each combination possible from the scorepad.
The more combinations players cross out, the harder it gets to score more points as rolling already crossed-out combinations result in penalties applied to the final score.
One rule is that the combinations in Qwixx must be crossed out from left to right for each color row, with the lower combinations becoming "locked" as the game progresses.
Dice Game 12: Farkle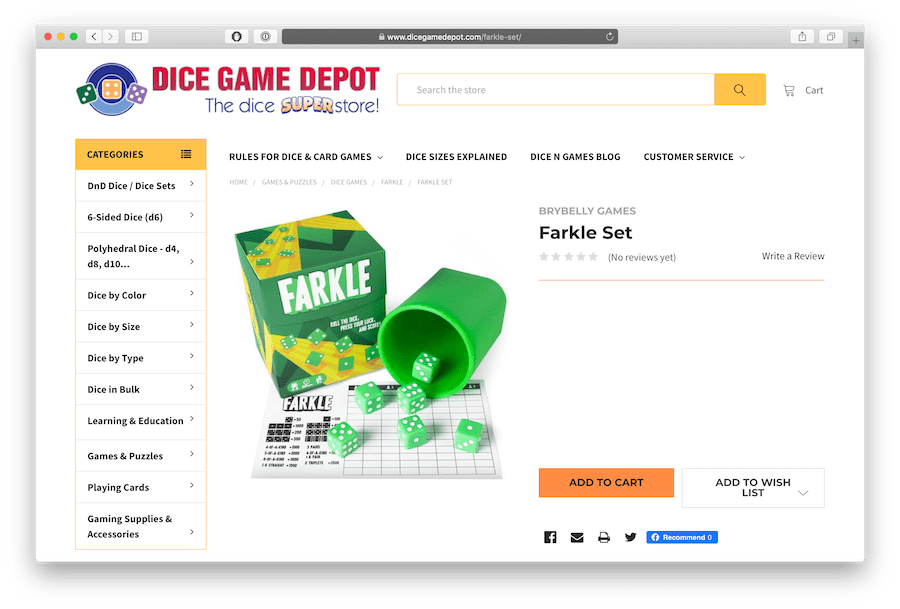 Farkle is similar to Yahtzee, where players score different points based on the outcome of their roll and how likely it is. You can even keep the dice with the best numbers.
The big difference here is that, unlike Yahtzee, a Farkle is when you don't score any points whatsoever. You have to give up the turn and will be awarded 0 points for it.
---
With a lot of pressure deriving from playing high-stakes dice games, taking some time off with the family is a good way to have fun without gambling for real money.
The Gambling Dice Game That Keeps on Giving
If you've ever played traditional dice games, you know how hard it is to win. It's easy to get frustrated from the apparent simplicity of a game that doesn't give much in return.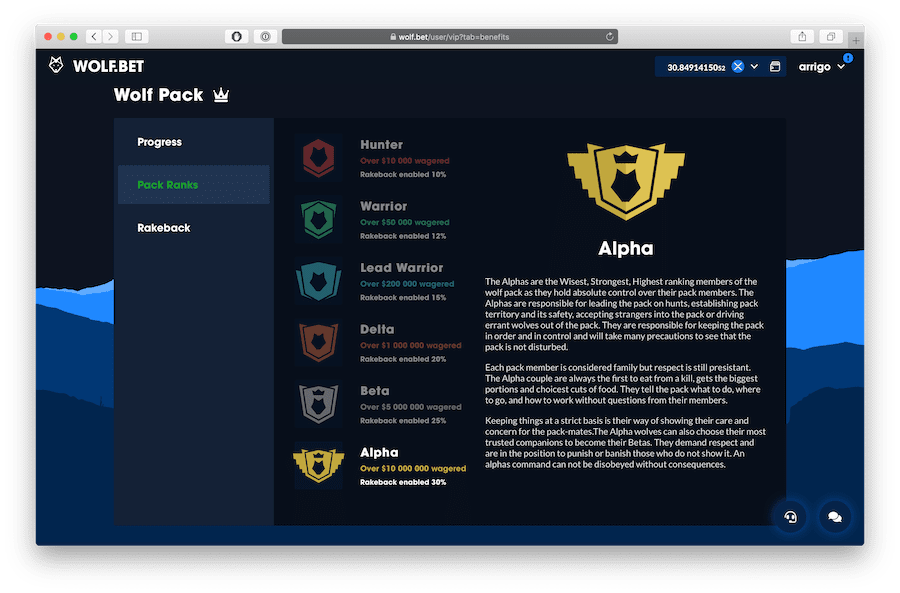 But what if you could choose your odds of winning?
That's what crypto dice can do for you!
With the option to choose whether a wager will end up either below or above a certain threshold, crypto offers an extremely flexible way to play dice games.
Here are just a few of the features you can benefit from:
Autobet allows you to continuously wager a certain amount or set rules based on the outcome of previous rolls, making for enticing games of dice.
Flashbet gives you the immediate result of 100s of bets made in a split-second, and what's best is that all of them are provably fair, so you can check their legitimacy.
Wolf Race is the daily wagering race that allows the top 50 players in dice (or any other game at Wolf.bet) to win a split share of $1000 worth of Bitcoin every day.
Get up to a 30% rakeback with the lowest house edge in the crypto casino game by joining the VIP program and making the most out of each wager.
… and so much more.
Even if you're not a big fan of automating your betting strategy, you can still play manually which is a lot of fun thanks to the beautiful animations and options to finetune your wager.
Join the pack and make your first wager today!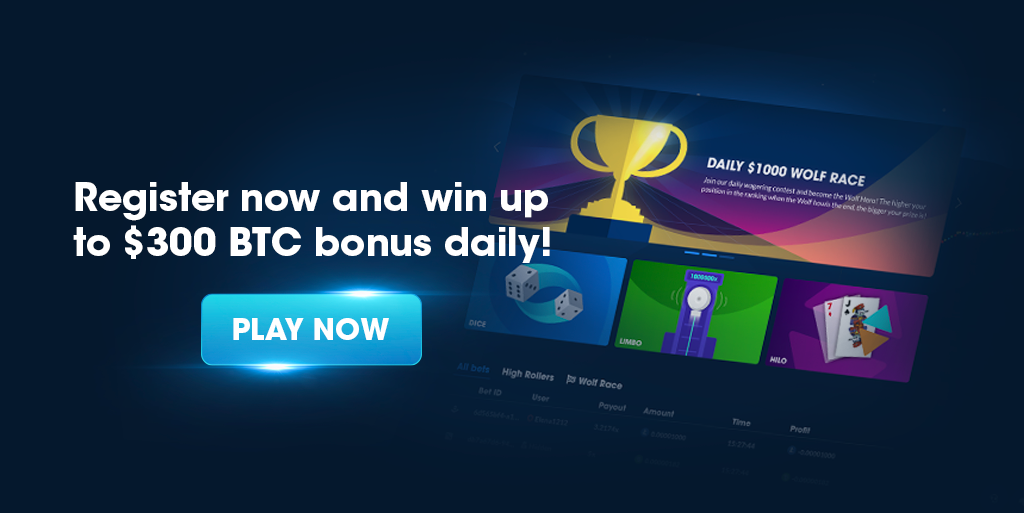 ---
Frequently Asked Questions
Are dice games illegal?
Only unregulated street craps are illegal (see "hood" dice game FAQ below). Playing scraps at a local casino or dice on a site that's legally sound won't get you into trouble. Make sure you only play at highly-trusted casino sites like Wolf.bet.
What gambling games use dice?
There are all kinds of gambling games that use dice as its primary way to play. These can be anything from traditional Scraps to Sic Bo to more modern adaptations like Bitcoin Dice and Limbo. Check them all out in this article!
Is there a game to play with 5 dice?
Although originally designed to be played with 6 dice, the popular tabletop family game Farkle can be played with 5 dice as well. Players take turns in rolling the 5 dice all together and can slightly adjust the rules based to remove triples.
What's the dice game in the "hood" called?
This is referred to as street craps and, as mentioned in the above FAQ, it is an illegal way to play craps. Your best bet with craps is to play at a registered local casino or sign up to one of the many legal online casinos which offer the game to play.