Ethereum is the perfect digital coin for gambling away at your favorite crypto casino, but are there any sites that are better at handling the highly-valued cryptocurrency?

Bitcoin isn't the only coin you can gamble with, far from it. In fact, Ethereum is often a better choice because of its transaction speed as well as its more "manageable" value.
Here are 7 of best gambling sites handling Ethereum:
All of these have their unique features, with some focusing on traditional-style games (BitStarz, mBitCasino and FortuneJack) and others on crypto games only (Wolf.bet, PrimeDice, etc.)
Why Use Ethereum for Gambling
Ethereum (ETH) is a versatile cryptocurrency that benefits most from its unique infrastructure, allowing it to: 1) reach high transaction speeds, and; 2) provide unparalleled security.
When you're gambling, the last thing you want is to get stuck waiting for a transaction to get through or, even worse, feel insecure on whether your money will get through at all.
With Ethereum, you don't have to worry about it…
Casinos Are Leveraging Ethereum's Transaction Speed
It's no secret that Bitcoin takes a few minutes to transfer to your balance due to its sluggish transaction speed (which is the reason why Bitcoin Cash exists in the first place).
This means not only a faster experience for you as a player but also a more convenient access point for casinos to welcome new customers and offer them a premium experience.
Players can now deposit Ethereum into their crypto casino balance in a cash-like way rather than send large amounts of Bitcoin upfront, minimizing risk of loss.
Transactions are also faster the other way around, from the casino to you. When you withdraw at your favorite crypto casino, Ethereum takes minutes to get back to your wallet.
This depends on the gambling site you choose to play with. Look for sites that have fast withdrawals without "Economy" options unnecessarily throttling your wins.
Ethereum Makes Your Gambling Experience More Reliable
On top of faster transaction speeds, Ethereum makes the experience of sending and receiving your crypto that much easier to track in a reliable and repeatable manner.
Ethereum is considered highly secure, with easy-to-track transactions that can give you an immediate look into whether your crypto casino of choice is trustworthy or not.
Casinos that offer ETH are higher-quality than those that don't because they've taken the time to implement a coin that's been fairly stable for years (and is now growing rapidly!).

With so much value building up so quickly, your gambling will pay off in just a few rolls. And what's best is that you can trust Ethereum's infrastructure to take care of the rest.
What Casino Should You Play Your Ethereum At?
The choice of casinos offering Ethereum doesn't go over a total of around 30 so, instead of showing you all of them (even the bad ones), we've hand-picked the absolute best:
Ethereum Casino 1: Wolf.bet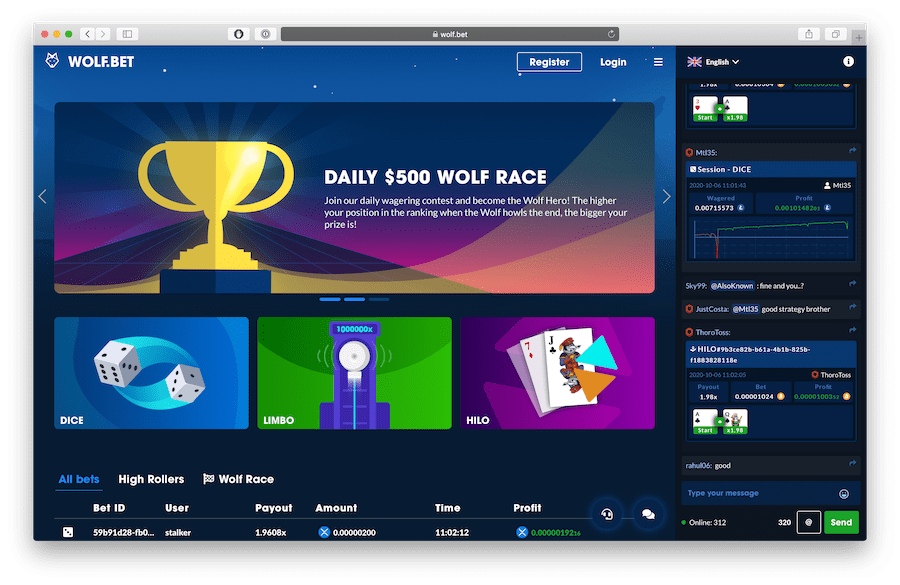 Ethereum was one of the first cryptocurrencies offered at Wolf.bet, and it's still a big part of players' everyday lives as you'll see it pop-up in the wall of bets on the home page:

Although Wolf.bet offers many more digital coins (including Tether, Stellar Lumens, and Ethereum Classic more recently), the most popular remain BTC, ETH, TRX, and DOGE.

Playing with your Ethereum at Wolf.bet is super easy:
Turn on 2FA (optional but recommended)
Choose "Deposit" in the upper-right menu
Generate a new ETH address for your account
Send your Ethereum to the address shown on screen
That's it, you're done!

Since Ethereum's transactions are so fast, you should see your balance match in less than a minute from sending out the crypto. You will also receive a notification in the top-right corner.
Once you've deposited your Ethereum, you can play at any of the three custom-designed and highly-personalized games available at Wolf.bet: Dice, Hilo, or Limbo.
For examples and images of each of these, check out the section at the end of this article, where you can learn how to play and browse the real games.
Ethereum Casino 2: BitStarz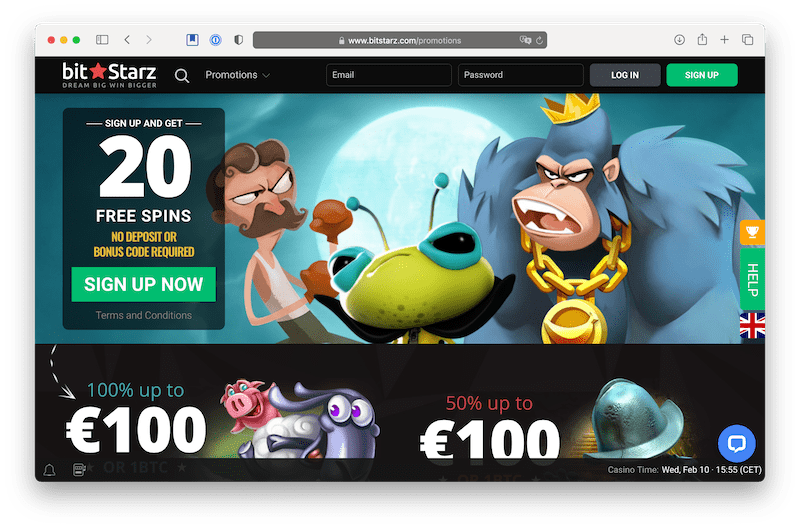 BitStarz is different from Wolf.bet in that it focuses more on the quantity of their games rather than the design, or the quality of each individual feature released.
This is immediately noticeable on the gambling site's homepage, where a variety of "different" games are presented with colorful images and imaginative names: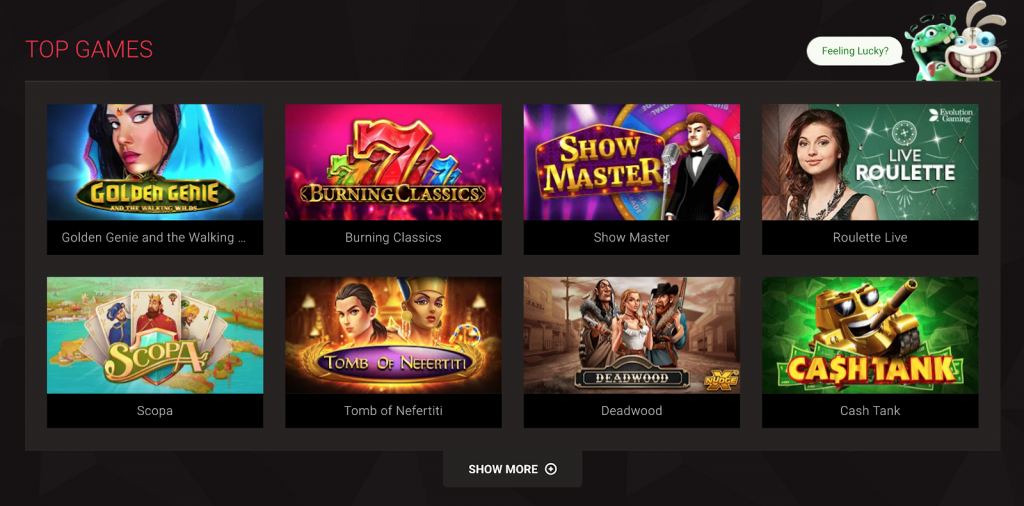 This is both a blessing and a curse as it results in many games being unoriginal or even copies of one other, with different styling. Still, BitStarz offers Ethereum as a wagering method.
If you're the type of person to enjoy this type of entertainment, BitStarz is a good place to start as it's renowned in the world of online gambling not just for its crypto offering.
Ethereum Casino 3: Stake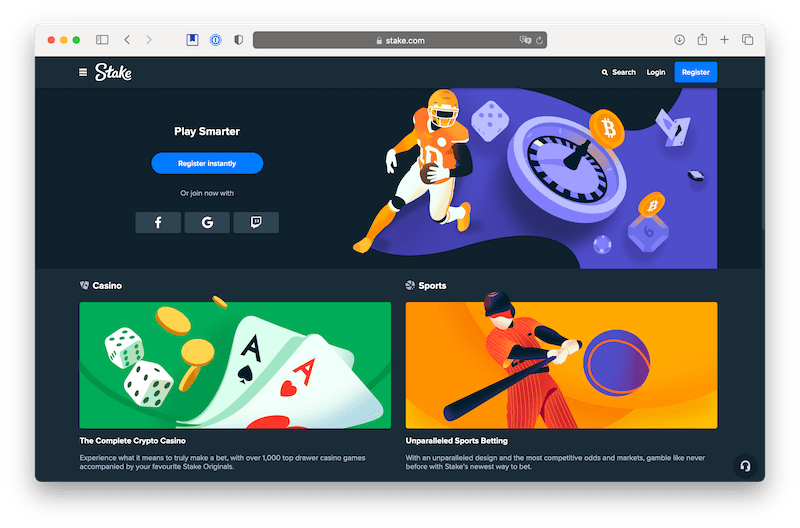 Stake.com is an interesting take on the crypto casino as it combines both sports betting and casino games like Dice in one simple-to-use, accessible hub.
Their offering is much more limited than Wolf.bet but the cornerstones are all there: Bitcoin, BCH, Ethereum, Litecoin, Ripple, and Tron. They even added in EOS for good measure.

Although fully-focused on crypto as a payment method, Stake is closer to traditional-style online casinos in spirit, where a lot of games like slots and roulettes are made available.
The most popular games on Stake are:
Dice
Plinko
Mines
Limbo
Keno
These are the five games you will see the most on Stake's wall of bets, meaning that while they offer so many games, not all of them are interesting to their players.

All in all, Stake.com is a trusted choice if you're looking to play with Ethereum and want to try a variety of games at a casino renowned for its exclusive focus on cryptocurrencies.
Ethereum Casino 4: BetChain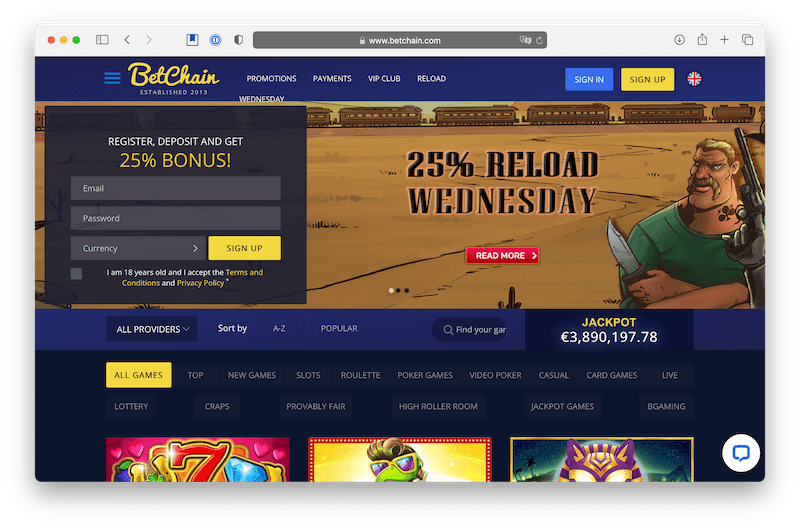 Many gambling sites realized how beneficial it would be to offer cryptocurrencies after starting their operations, and BetChain is exactly one of those gambling sites.
Today, the casino offers 6 different coins:
Bitcoin
Bitcoin Cash
Litecoin
Ethereum
Dogecoin
Tether
The site's affiliation with Coinspaid clearly shows a lack of built-in infrastructure made specifically for crypto enthusiasts, and that can lead to problems like higher fees.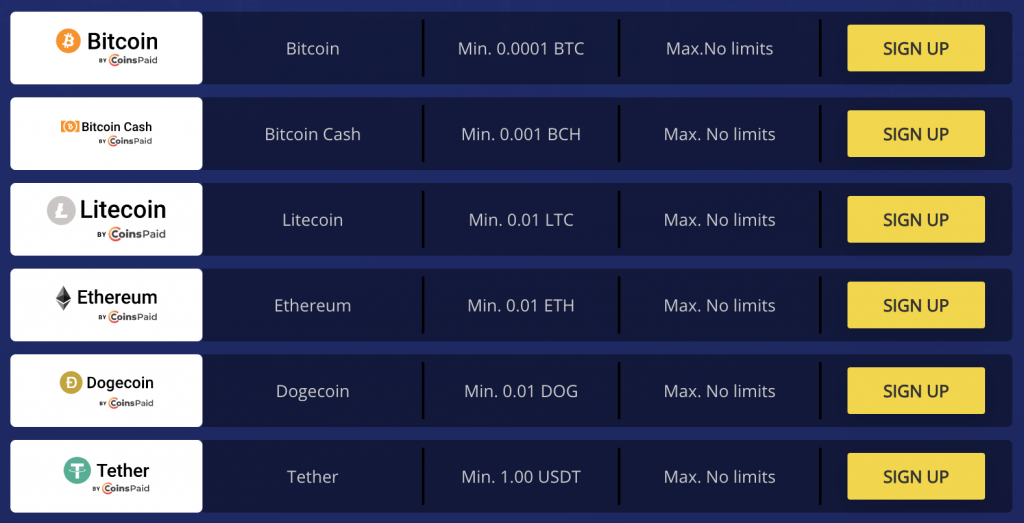 Having more options is never a bad thing though, and BetChain promises a standard gaming experience with its host of slot- and roulette-style games ready to play.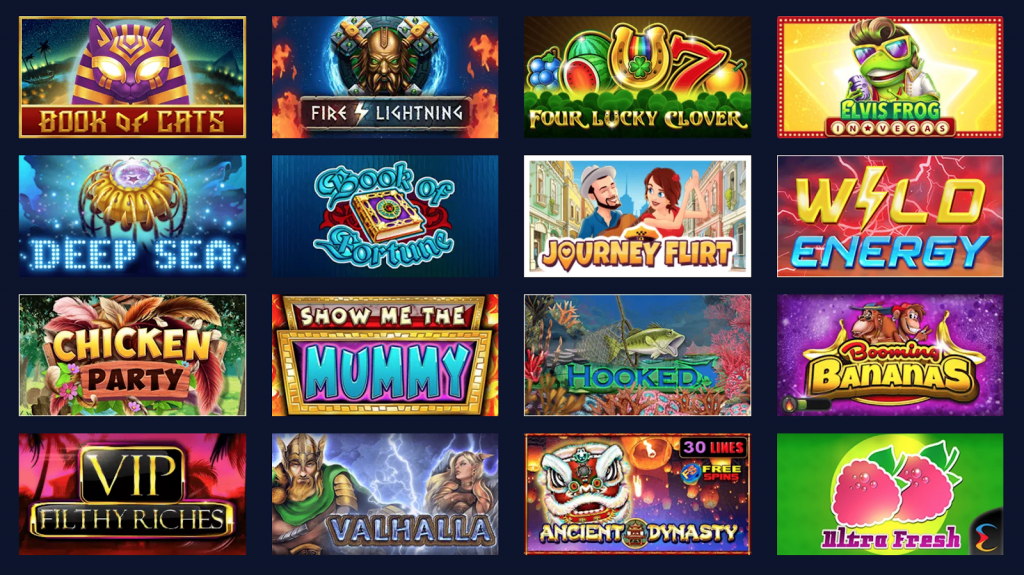 Navigating the interface is a non-issue, and while the games all look same-ish, you shouldn't run into problems gambling with your Ethereum on BetChain.com.
Ethereum Casino 5: Primedice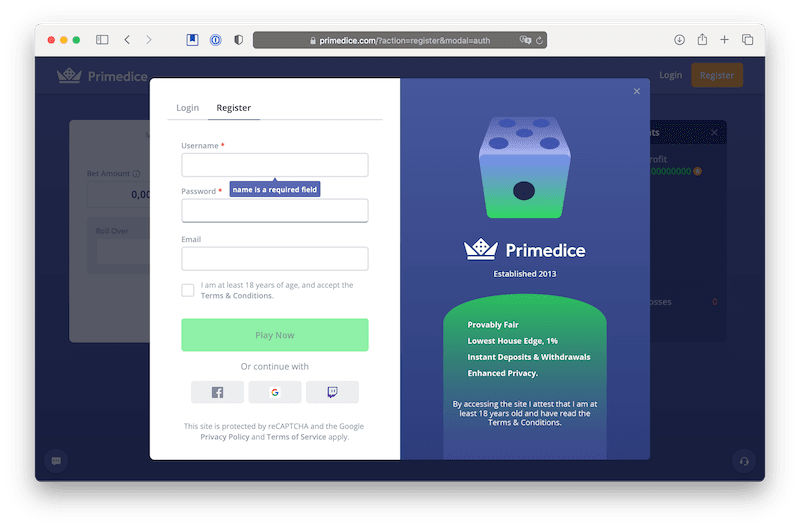 Primedice is interesting because of its hyper-simple interface which may be appealing to first-time players as well as people who want to focus on Dice only.
That's because Primedice offers Dice and nothing else.
And their features are really barebones…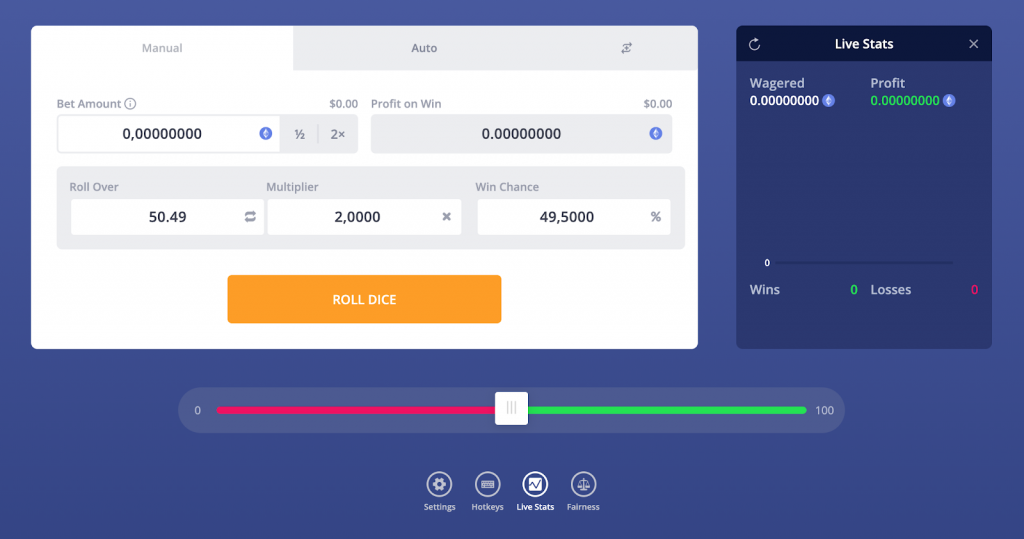 Certainly a minimalist's dream!
The Primedice casino offers a good choice of cryptocurrencies, including Ethereum, and they even allow you to purchase crypto directly from within the interface: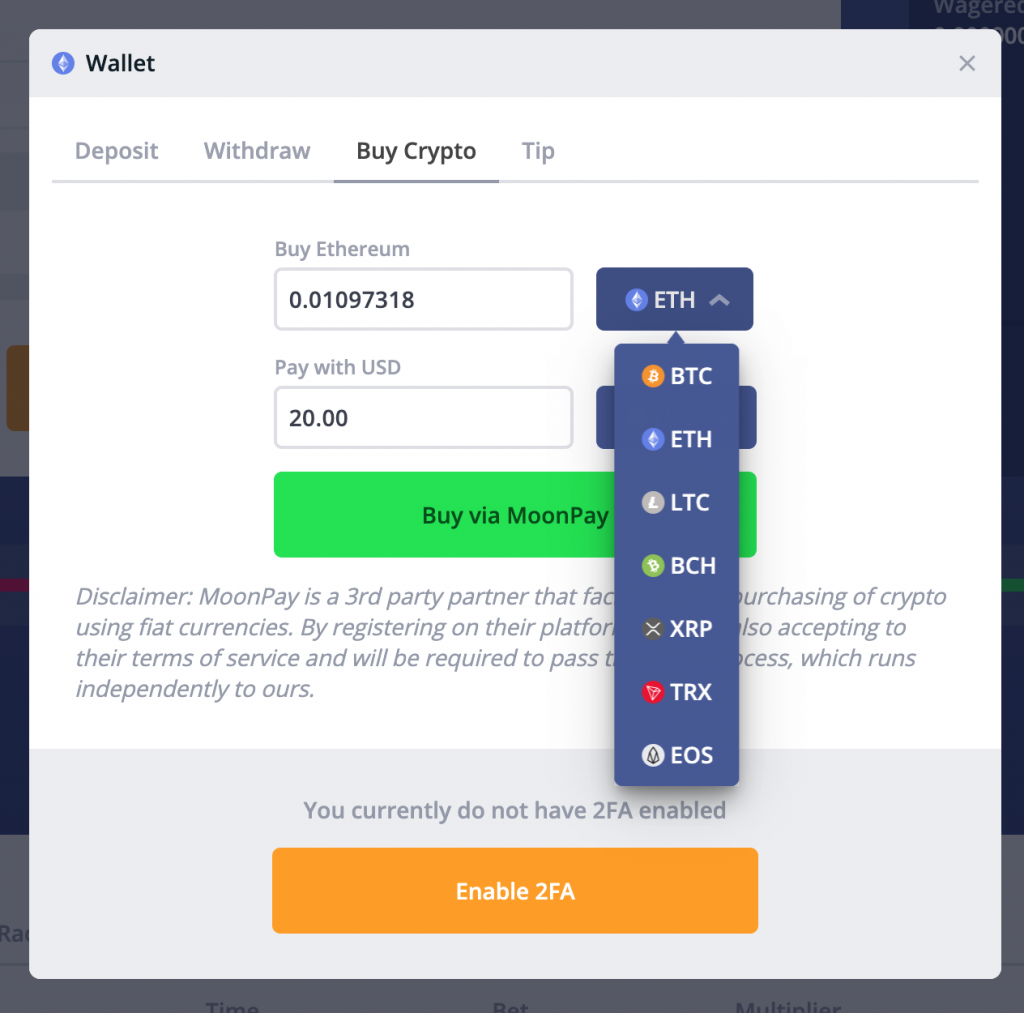 The site offers standard crypto casino features such as a VIP program, a vault, advanced profile statistics, and a few more bells and whistles. But that's about it for this minimal casino…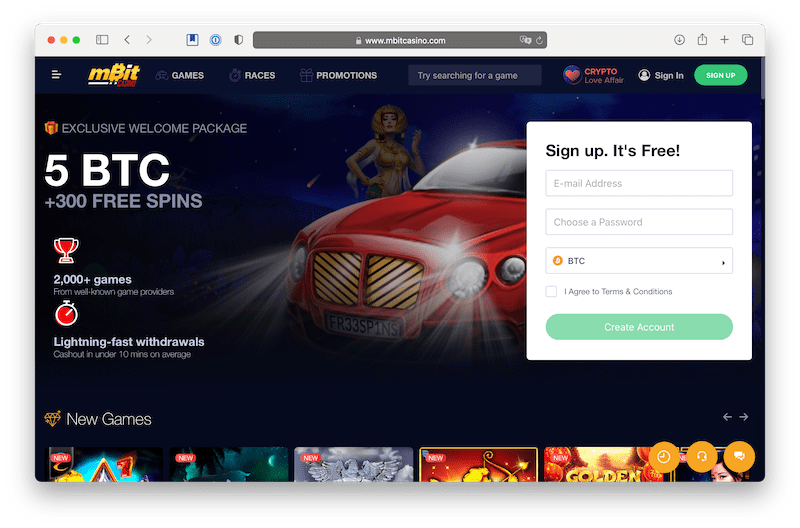 mBit Casino only offers two cryptocurrencies for their gambling experience: Bitcoin and Ethereum. The rest is handled primarily with FIAT currencies via intermediaries.
While the website is laid out well, and the games are fully-functioning, we have to admit that it feels a bit "empty," with no one in the chat, and a few pages giving out 404 errors.
Even their "Races" section doesn't show any… races.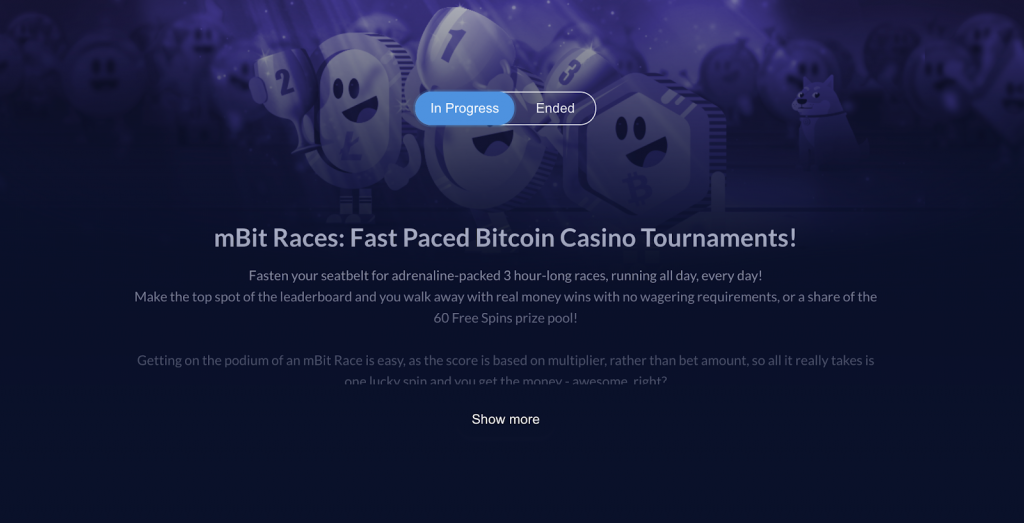 Before trying your luck and depositing your hard-earned Ethereum at mBit Casino, make sure it fits your requirements. If you're looking for some quick spins, go ahead and try it.
For long-term use, we suggest choosing another casino.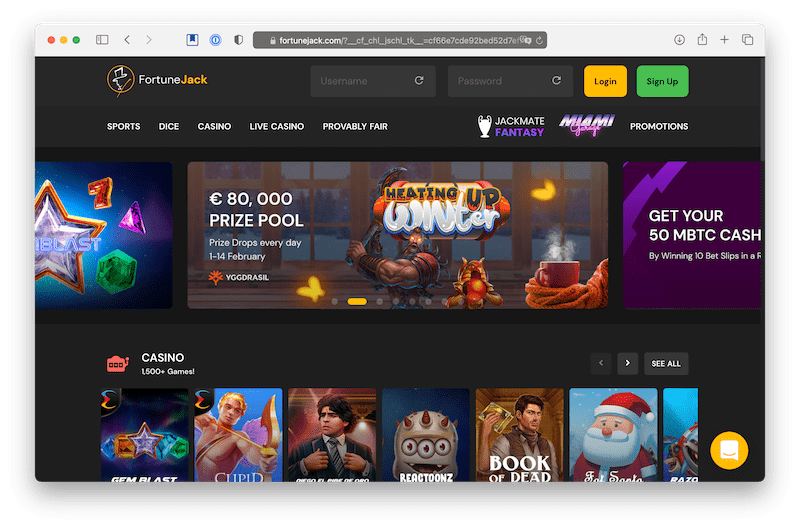 FortuneJack is another gambling site that focuses exclusively on cryptocurrencies but with an added touch of sports betting added to the casino mix (similar to Stake.com).
Their crypto portfolio is good:

… and so is their reputation.
FortuneJack has been around for a while after all. Founded in 2014, the site claims to be the "Oldest Bitcoin Casino" in the world, certainly an interesting marketing stunt.
When it comes to gameplay, there's a lot of choice: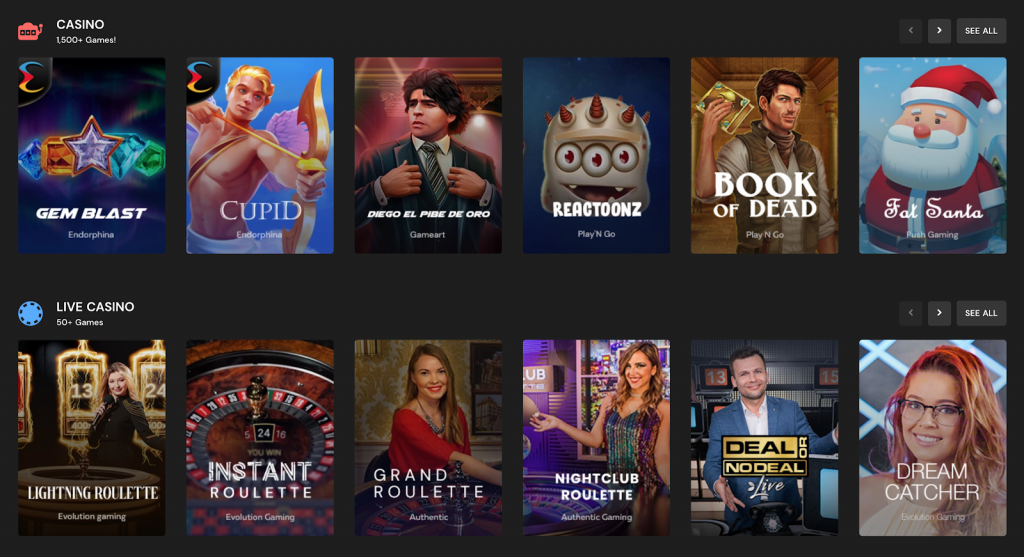 We don't love casinos that take this "balls-to-the-walls" approach with their games as it leads to many of them being recycled versions of games that have been available since forever.
Still, FortuneJack is a place you can trust with your Ethereum. So if you're curious to browse their game library and learn more about the casino, this final entry is for you.
---
Do you prefer a high-quality community experience, or a large variety of games available? Take your time to consider which of the 7 Ethereum casinos above are most interesting to you.
3 Examples of Casino Games You Can Play with ETH
If you've gambled with Bitcoin or other cryptocurrencies before, you will already know about Dice. But what about other games you can play with your Ethereum?
Dice, the original crypto casino game which is still the most popular up to this day. Features like Autobet and Flashbet make the experience exhilarating, and the ability to set the wager however you want gives you control of your win chances.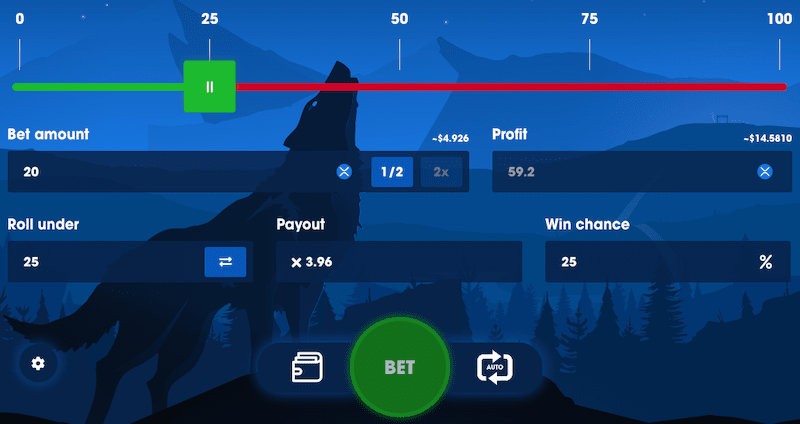 Hilo, the popular card game where you have to guess whether the next card will be higher or lower than the one displayed. The more cards you guess in a row, the more your multiplier will grow. Choose to cash out at any time in the game.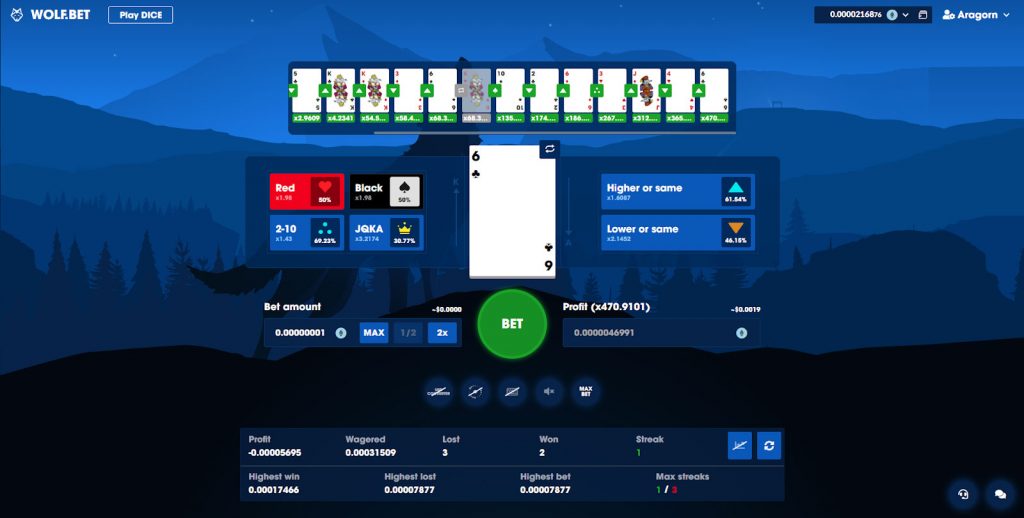 Limbo, a Dice-like game, but simpler in nature. Choose your target payout, let the system display your win chances, and place your bets. The big difference with Dice and other games? Multipliers can go as high as you want, there are close to no limits!
Starting with any of these three games will give you the most bang for your Ether, and it'll also keep you entertained for a long time. So, what game do you prefer?