While physical casino venues are still reluctant to use the digital currency, online "crypto" casinos are now offering Bitcoin as a valid alternative to FIAT currencies, begging for the question of which digital wallet is best-suited for this new use case.
Popular wallets such as Coinbase or Binance's Trust Wallet may not be the right choice as some of them penalize you for sending cryptocurrencies to gambling sites.
That is, if they can track that.
And that's the key here.
When you talk about gambling with cryptocurrencies such as Bitcoin, anonymity becomes a really important topic, and that's where many wallets shine.
Let's check out some of the best.
What Makes for a Great Bitcoin Wallet?
The basics of a good Bitcoin wallet remain the same: low or zero fees when sending crypto, strong security and reputation, and a clean user interface on mobile or desktop.
These are the barebones features of any reputable wallet. But what makes for a great Bitcoin wallet? There are some features you should always look for:
A wallet should be easy to understand and practical as its purpose is to hold your money and send it to someone else. No need for a fancy exchange incorporated.
On top of Bitcoin, a wallet should help you store other cryptocurrencies like Ethereum, Litecoin, Ripple, etc. Never trust a wallet that can hold only one coin.
Without strong security, a Bitcoin wallet is as useless as it gets. Some things to always look for are: two-factor authentication, recovery phrases, IP whitelisting/blocking, and a reputation of security best practices.
Finally, a great Bitcoin wallet should make it seamless to send your coins to anyone using their BTC address with a simple, friendly user interface.

If a wallet is missing any of these features, it isn't the right choice for you. For gambling specifically, the features required go deeper than these basic implementations. But before you get there, let's look into the different types of Bitcoin wallets available.
Types of Bitcoin Wallets Available
A wallet's purpose is to hold your digital currency (real money!) and the market for these types of financial services is highly regulated in major countries such as the US.
There are two types of Bitcoin wallets available:
Custodial
Non-custodial
The difference between the two is important to you as a gambler because it involves how each wallet provider is regulated (and whether they can deal with gambling or not).
Custodial wallets are the regulated kind (like Coinbase and Binance's Trust Wallet). These are the most appealing wallets but also the ones which cannot deal with gambling.
Why? Because the law says so!
But there is an alternative…
A non-custodial wallet is a crypto wallet that, unlike its counterpart, gives you full control over your cryptocurrencies with no third-party putting their "hands" onto it.
As a rule of thumb, if a wallet looks like it was developed into a major business, then it is more than likely a custodial wallet. You want to steer away from those for gambling.
NOTE: While digital wallets are the most affordable solution for most people, you might choose to go with a hardware wallet if you have a sizable chunk of Bitcoin or other crypto in your possession. These still keep you anonymous even though their security measures are an ongoing debate.
Additional Features in a Bitcoin Wallet for Online Gambling
Before you choose your non-custodial Bitcoin wallet, there are a few features you should be aware of to get the maximum out of your crypto gambling experience.
Here are four additional features to look out for:
Cross-platform compatibility allows you to move around freely from desktop to mobile to any web browsing experience of your choice.
No central servers means your digital wallet connects directly to the Bitcoin network through peer-to-peer transactions, keeping you fully anonymous.
Built-in device biometrics greatly help with keeping your wallet secure and out of reach from anybody who wants to access your digital finances.
Automatic backups secure your data and encrypt it even when you lose access to your digital or physical wallet (usually through recovery phrases).
Not all wallets will have all the features listed, and there are many more that could be included but these are four that are particularly important for storing your crypto.
Below, you will find a review of the best Bitcoin wallet for online gambling as well as three additional options depending on your use case and amount of crypto to store.
Blockchain.com: The Wallet All Bitcoin Gamblers Should Use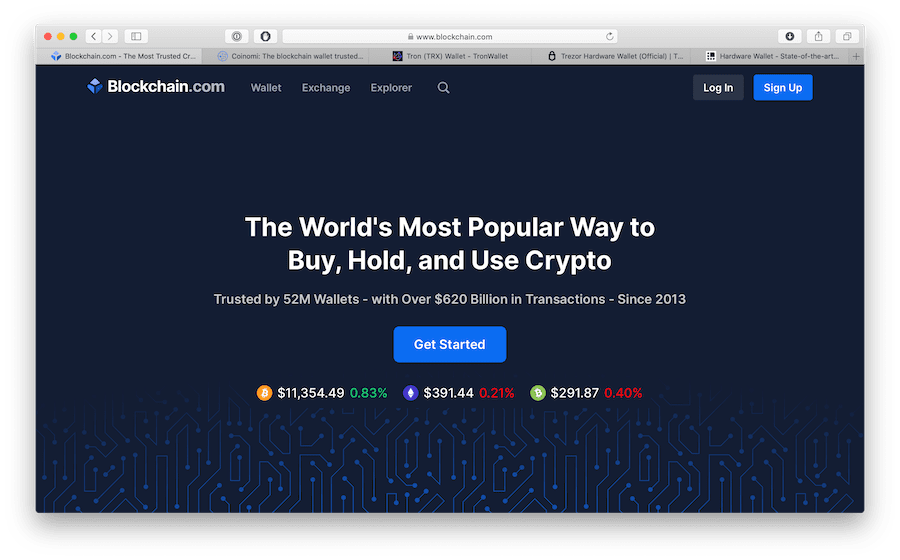 If you want to start gambling online with your Bitcoin but don't quite know where to start, you cannot go wrong with using the Blockchain.com wallet on any platform.
Spawned out of a beef between the two original founders of Coinbase, Blockchain.com (originally Blockchain.info) is now the de-facto choice for most Bitcoin gamblers.
This wallet is known for its security, reliability, and reputation. Best of all, it's a non-custodial wallet, meaning that your data is fully encrypted and kept away from institutions.
Why Blockchain.com is the Best Wallet for Online Crypto Gambling
There are several reasons why you should consider opening your own Blockchain.com wallet if you want to gamble with Bitcoin but here are four that matter:
1. Its Primary Strength is Security
The first thing you want out of any crypto wallet is security, and Blockchain.com has demonstrated that it offers probably the best experience available in that regard.
With a team of dedicated people constantly looking into security threats and a track record of reliability, Blockchain.com only stores cryptocurrencies they know they can trust:
Bitcoin
Ethereum
Bitcoin Cash
Stellar
Algorand
Tether
On top of this, the team at Blockchain.com implemented something known as "USD Digital," a stable digital representation of the US dollar.
This infrastructure begs for a secure environment.
And the service doesn't disappoint…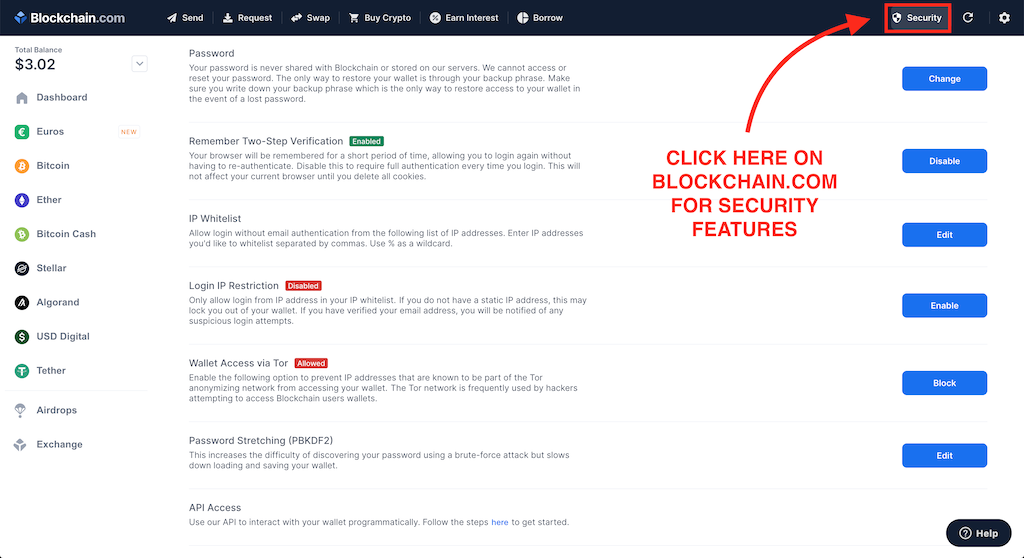 Blockchain.com takes security so seriously that they even have a dedicated "Security" tab where you can browse and manage all security features and best practices like:
Email Verification
Two-Factor Authentication
Backup Phrases
IP Whitelisting & Restrictions
Access via Tor Browser
… and more.
Thanks to the limited number of cryptocurrencies allowed onto the platform and their security features, Blockchain.com is able to monitor all threats and keep hackers at bay.
2. You Can Access It Anywhere
Multi-device accessibility isn't a trivial thing to achieve, and the folks at Blockchain.com have done a beautiful job of integrating both mobile and web experiences together.
With the world of crypto increasingly moving to mobile and many people gaining access to smartphones, it only makes sense to choose a wallet that ticks all the boxes.
For gambling, this is particularly advantageous as it allows you to deposit and send crypto back and forth between the casino and your wallet without the need of a desktop.
This is huge for gamblers who like to play while on vacation or when they're not at home, and it's an experience that only big players like Coinbase and Blockchain.com can offer.
3. It Keeps You Anonymous
Unlike Coinbase, Blockchain.com is a non-custodial wallet. When you register an account, your data is fully encrypted in a closed environment and won't be sent out to anybody.
This is the big difference between the two of them: one went for commercial might while the other kept to the roots of the blockchain as a way to decentralize finance.
Blockchain.com works wonders for gamblers because it offers that "wow, I'm in the future" experience while keeping your gaming habits away from financial institutions.
The latter tend to restrict transactions with crypto casinos due to complex legislations around how the blockchain should be used (which are still being developed).
You can forget all of that with the Blockchain.com wallet…
4. There Are No Gimmicks
Finally, the Blockchain.com wallet is a gimmick-free wallet that does all it needs to do and nothing more: it stores crypto, it sends crypto, and it helps you trade or buy crypto.
Their set of features is both minimal and powerful: a philosophy that resonates with many gamblers who are always on the lookout for the next winning opportunity.
The Cons of Blockchain.com
The Blockchain.com wallet looks almost too good to be true and, in many cases, it is. But there are a few things missing that you might want to consider as a nuanced gambler:
The variety of crypto you can store is limited. This goes back to the strong security requirements that the Bitcoin.com wallet asks of digital coins. With this wallet, you won't be able to store your Tron, Dogecoin, Litecoin, Ripple, and more.
Available features are also limited. This is mostly a good thing for beginners, but pro crypto gamblers will want a set of advanced features like trading options attached to their wallet. If you're that kind of person, this isn't the choice for you.
Some options are paywalled. With their "Gold" program, Blockchain.com is putting some of their most interesting innovations behind a paywall. Thankfully, none of the basic functionality like storing and sending Bitcoin is subject to this.
Most other options available on Blockchain.com will be satisfactory to 90% of crypto owners, including low fees on buying options and exchanges.
3 Other Wallets to Consider for Bitcoin Gambling
With its limited choice of crypto to buy and hold into your wallet, Blockchain.com may not be the right choice for you in case you'd like to hold niche coins as well.
For this purpose, you need one of the lesser-known (but still secure) wallets. These started by offering storage for a specific coin and then expanded to other digital currencies.
Here are three options to choose from: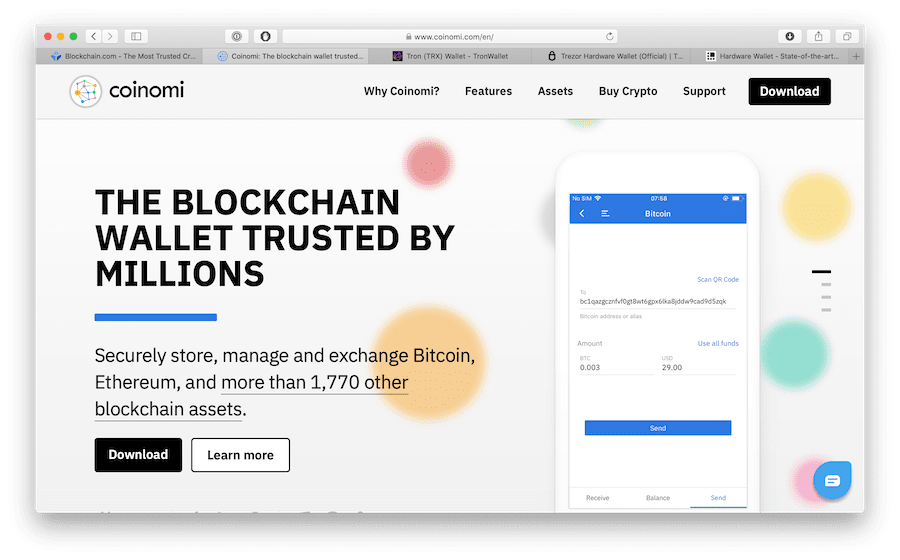 Coinomi is a feature-rich, non-custodial wallet that, unlike Blockchain.com, gives you plenty of options to work with. Its strength is the sheer amount of crypto it can store natively, including niche coins and currencies which aren't considered trustworthy by bigger players.
This can be a double-edged sword, and it comes with its challenges. One thing you should keep in mind is that you should never store all your crypto in one wallet unless you are planning to move it around and keep it spread across multiple wallets or send it to a casino.
With Coinomi, you might be tempted to migrate your entire crypto library to the wallet but you'd better keep it as an option for smaller, less used coins which aren't available on wallets like Blockchain.com, giving you a backup plan in case something goes wrong.
The wallet is great for storing small amounts of crypto that you're planning to send out, playing around with the many features, creating and managing multiple wallets, or enjoying a simple interface. Just make sure to have another wallet at hand.
Wallet 2: TronWallet (Now Klever)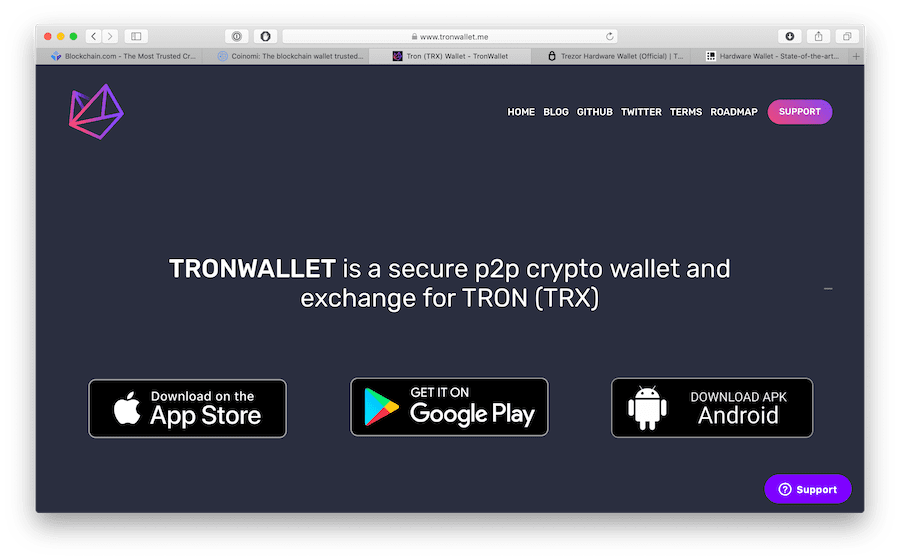 This is a smaller option compared to both Blockchain.com and Coinomi but it deserves a mention due to its unique take. Catered specifically to gamers, TronWallet offers many customization options, a stark design, and features that gamblers will love.
You can say it's the ultimate wallet for gamers and gamblers looking to have some fun on the Tron ecosystem, allowing to create many different gaming- and casino-related tokens. Some examples of this are the NoleCoin, Boss Gaming, and various casino tokens.
While fun and easy to use, it's important to know that the Tron ecosystem is still in its early phases and that many of these tokens are unreliable. Use this wallet to store your Tron and a few tokens you may be interested in but leave the rest to other wallets.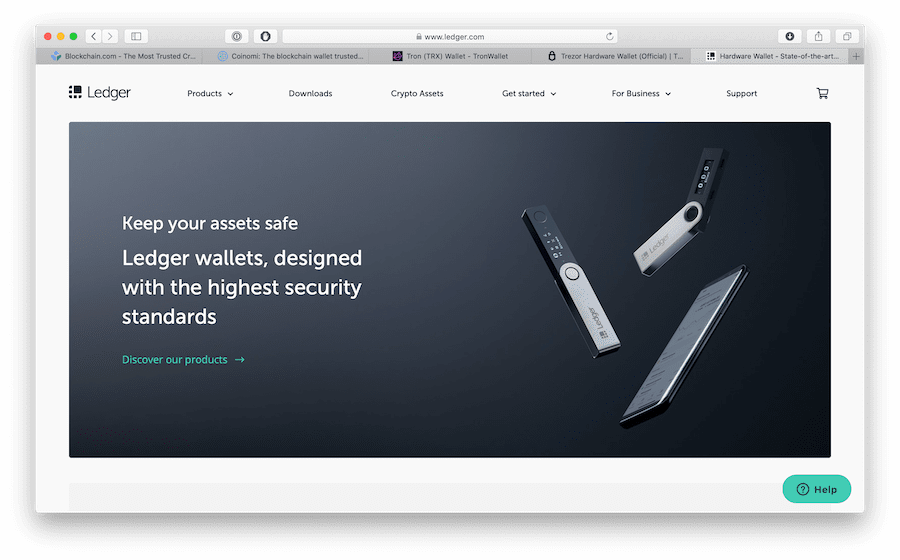 At times, you may feel like storing your crypto on someone else's infrastructure just isn't quite right. It is money after all and people want full control of it, even if in bite-sized chunks similar to how you'd store cash in your physical wallet.
That's where a Trezor or Ledger come in.
Physical crypto wallets have a number of advantages, with the Ledger being the more sophisticated option. These devices allow you to do the same things you would do with a digital wallet but entirely on your physical wallet, giving you full ownership of the crypto.
While convenient, some of it is purely a marketing pitch. Cryptocurrencies were designed to be stored digitally and choosing a trusted partner, in this case, is like choosing a bank: there are risks involved but you can lower them by using multiple wallets.
If you're interested in a physical wallet, you should open at least another digital wallet with a provider you trust. That way, you always have a backup plan when some of these startups start to show their weaknesses.
---
These options should give you enough room to choose a wallet that fits your needs. If you're interested in even more options, check out the official Bitcoin list.
Using Your New Wallet to Gamble with Bitcoin
Great, you've chosen a wallet that suits your needs and now you're ready to start gambling with your Bitcoin. But how do you go about using it to play some casino games?
The first thing to do is to send out the crypto to your casino which will provide you with a unique address depending on the type of currency you're depositing.
This is briefly illustrated below: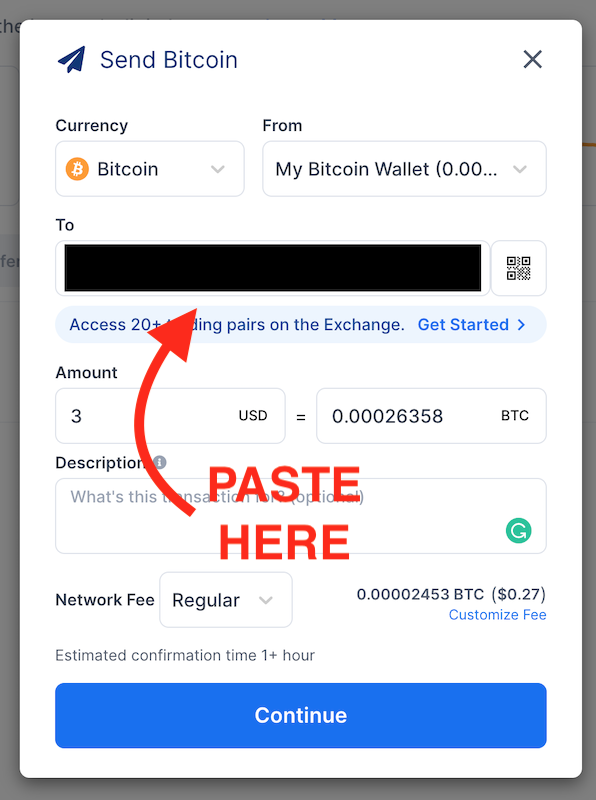 Then, once the casino has recognized your transfer (shouldn't take too long!), you can immediately start betting with your cryptocurrencies in games such as Dice or Hilo.
Once you've familiarized with the games and interface of your crypto casino, you can start implementing some more advanced strategies or auto betting features.
So, what wallet did you choose to gamble with your Bitcoin?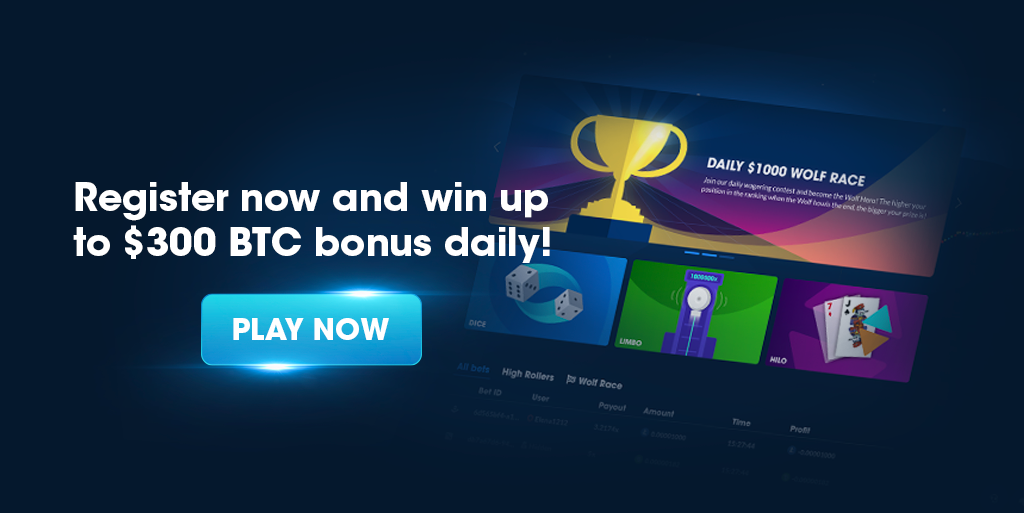 ---
Frequently Asked Questions
Can you gamble with Bitcoin?
Yes, absolutely. There are many casinos that offer different types of games such as dice, hilo, and more with Bitcoin as an available currency.
How do I use Bitcoin for online gambling?
To use Bitcoin for online gambling, you need to open an account with a non-custodial cryptocurrency wallet, a type of wallet that grants you total control over your digital currency without any boundaries set by regulators of large wallet companies.
What is the best Bitcoin wallet for online gambling?
The most secure and relevant wallet for online gambling with Bitcoin and other cryptocurrencies is the official Blockchain Wallet, giving you all the features and benefits necessary to start playing online without fearing account suspension.
Does Coinbase allow gambling with Bitcoin?
No. Coinbase is a custodial wallet, meaning that they are highly regulated as an official financial institution and cannot deal directly with gambling. In fact, if Coinbase suspects that you are using their wallet for gambling, they will suspend your account.